Insect Pictures: My Photography Progression, Cool Stories, A Tip and A Game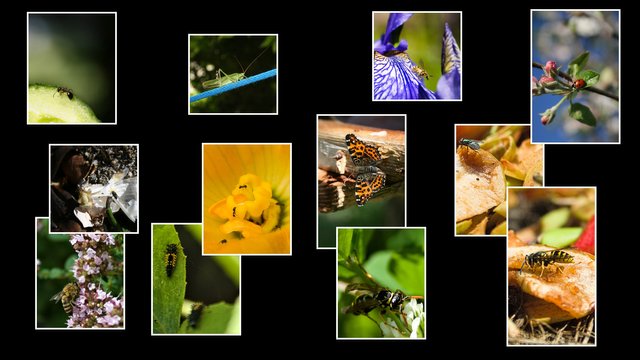 Even more cool looking pictures from my Instagram feed.
Previous post of this series:
In my last post, I started sharing/cross-posting some of my pictures from Instagram to Steemit in the upcoming days/weeks. Instead of making an extra Steemit article for each Instagram post, I lump them together and create overview articles for similar themes, topics or styles. I also try to provide some additional value/information here.
If you like my stuff, please consider following me on Steemit and Instagram ❤️🖖.
---
Live insect photography
Fascinating creatures.
Attention, trivial, pseudo-wise motivational text incoming: 😅
There are so many things happening in the world around us. They happen whether we know about them, see them, are interested in them or want them to happen or not. 🧐 Every once in a while, stop for a minute and observe 🐜. Be aware of your own mind and your surroundings. 🌎 Realize that the world does not revolve around you. 💪 Acknowledge that you are lucky to be alive and relatively well. 🏠🚿🌽🍽️ Appreciate how easy it is to survive as a human on this planet. 🐺 To exist outside the food chain, not having to fear being eaten by predators at any moment. Be thankful. 🤔 Then ask yourself what you can do to give back. 😍🖖❤️
Aaand some quotes on top 😉😂.
Leave part of the yard rough. Don't manicure everything. Small children in particular love to turn over rocks and find bugs, and give them some space to do that. Take your child fishing. Take your child on hikes. - Richard Louv
🐜 I think the 'Terminator' idea is a reasonable one - that is that one day the Internet becomes self-aware and simply says that humans are in the way. After all, if you meet an anthill and you're making a 10-lane superhighway, you just pave over the ants. It's not that you don't like the ants, it's not that you hate ants; they are just in the way. - Michio Kaku
🍎 Millions saw the apple fall, but Newton was the one who asked why. - Bernard Baruch
Photography Tip
I only have one photography tip this time...
"Shoot from the hip": Most of my shots were in broad daylight, so I could, fortunately, get away without using a tripod. Due to the short exposure time, the free-hand shots are still very sharp. Otherwise, these little buggers would be too fast to capture anyway. Only rarely will they allow you to set up "camp" and patiently choose the best settings for a shot...depending on their respective behavior, of course.
No tip, but something I've noticed. My early shots with manual camera settings were fine quality-wise but suffered in the composition department. I was more focused on setting the correct f-stop and shutter speed than on the actual photograph, the subject, composition or the final outcome. At least for me, that happened in the beginning.
Up for a game?
🧐 If you like, you can try to guess for each picture:
📸 Did I take it with my compact camera (0 points) or with my DSLR (1 point)?
Bonus point: If DSLR, did I shoot JPEG (0 points) or RAW (1 point)? 🤓 This one is a little harder. 💪😅
Sum up all points and post your overall result in the comment section. Feel free to ask if you're not sure for a specific picture. There are also some hints in the text, but not for all pictures.
🤓 Good luck and have fun. 🖖
---
---
Two older butterfly pictures, taken with a compact camera 📷 (Casio EX-H10) instead of my "current", used DSLR (Canon EOS 400D). The quality difference is huge and also your options of post-processing are limited in JPEG compared to RAW. Red Admiral (Vanessa atalanta) 🦋 on white tiles and on a wooden doorframe.
---
---
---
---
🤔 Have you ever heard anyone complain about TOO MANY BEE ON DANDELION PICTURES 🐝🌼? 😂 Me neither! 😍 One of my favorite subjects for a photograph. ❤️
---
---
---
---
---
---
---
European glowworm larva (Lampyris noctiluca) and an ant on windfall apple. 🐜
---
---
---
...and another compost pile photo. How many flies do you see in this picture? 🔎
---
---
Hoverfly (family Syrphidae) on wild arugula (Diplotaxis tenuifolia). ❤️ 👌🙃 Its weight pulls down the flower quite a bit, giving it a beautiful bend. 😍👍 Good old gravity, eh? 😏😅🖖
Gravity may put the planets into motion, but without the divine Power, it could never put them into such a circulating motion as they have about the Sun; and therefore, for this as well as other reasons, I am compelled to ascribe the frame of this System to an intelligent Agent. - Isaac Newton
🧐🤓 Turns out this wasn't the only thing Newton was wrong about... 😏😅🖖
---
Wasp (Vespinae) on white clover (Trifolium repens) 🍀 ...it was crawling around, presumably unable to fly for whatever reason. Can you spot the bee? 🧐 🐝
---
---
---
😍🦋 Mating damselflies on water plant leaf and a Red Damselfly on a wooden gangplant. I actually already published these on Steemit in my post from May 2018, Dragonflies and other Pond Dwellers.
---
☠️ Dead dragonfly in the shadow. Found with a severed head.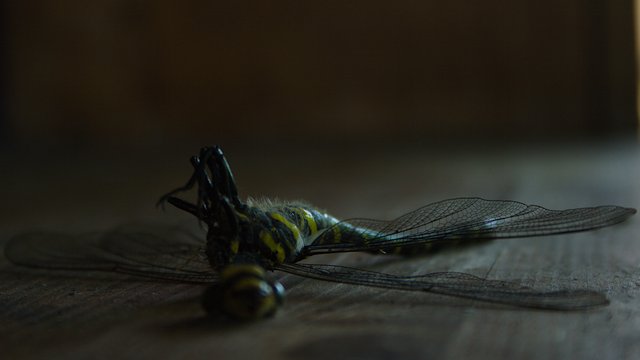 Yes, I said live insects, but I just wanted to include this one too. 😅
---
---
---
Any feedback is highly appreciated!
Let me know what you think...general thoughts, tips, tricks, questions, advice, funny comments, disses, bashes, whatever!
Thank you to everybody 😘.
Have fun and stay awesome! ❤️ 🖖
---
| Follow me: |   |
| --- | --- |
| | 🔥 Taste my wisdom 🧙‍♂️. ✍️ Articles about life, philosophy, travel, tutorials, gaming, videos, live streaming, development, meta-blogging, photography, and more... |
| | 📰 Wanna stay up to date? Twitter is the best place for quick and short announcements. |
| | 📷 Posting at least one of my own pictures a day. Topics: Everything and nothing, and all the things in between. |
| | 🎞️ 🥇 Watch my best gaming moments. Highlight clips, videos & live streams. |
| | 🎮 ✌️ Watch me live stream games like Heroes of the Storm, Hearthstone, Minion Masters. Hang out, say hi! |
| | 🤝 ⁉️ Subscribe to my Subreddit. Discuss anything. |
| | 🗣️🎙️ 🔉👂 Join my Discord server. Come have a chat, let's play some games or talk about anything. |