It Feels Good To Finally Be A Resident Of Colorado!
I took a bit of a break from authoring new posts on Steemit, but now I am back! (I never really left. I have still been upvoting my favorite authors and reading my favorite trending pages) But now I am back with some epic content to share! 
This summer I moved from Virginia to Colorado! 
Every winter for the last 5 years or so I have flown to CO to snowboard and hang out with some of my best buds. Now I have mountains, adventures, some of my best friends, and cannabis dispensaries all around me. It's pretty sweet. 
I hit a Rockies game the other week and snapped this photo: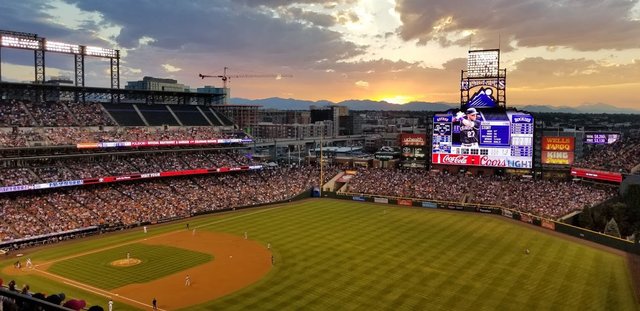 Check out those mountains! 
Get excited 
I have already started photographing and filming my Colorado adventures! A couple of hikes and a drone flight have already been checked off on my list. Stay tuned.

Hi there, I'm Will. First and foremost I am an entrepreneur and voluntaryist. I aspire to help build a more free world, one that we all want to live in. Some of my biggest passions include cryptocurrencies, marketing, finance, cannabis, traveling, bodybuilding, snowboarding, motorcycles, and Subarus. All pictures are my own unless otherwise stated. I release everything under CC0.
My Links:
Affiliated STEEM Accounts: @bitcoinshirtz & @trueliberty