Wolfgun Mountain, on the left side of this image, basks as alpenglow hues color the multiple layers of stratus clouds that are blanketing the mountain range. I lensed this of the Livingston Range from a unique perspective above Sullivan Meadow on the North Fork of the Flathead River.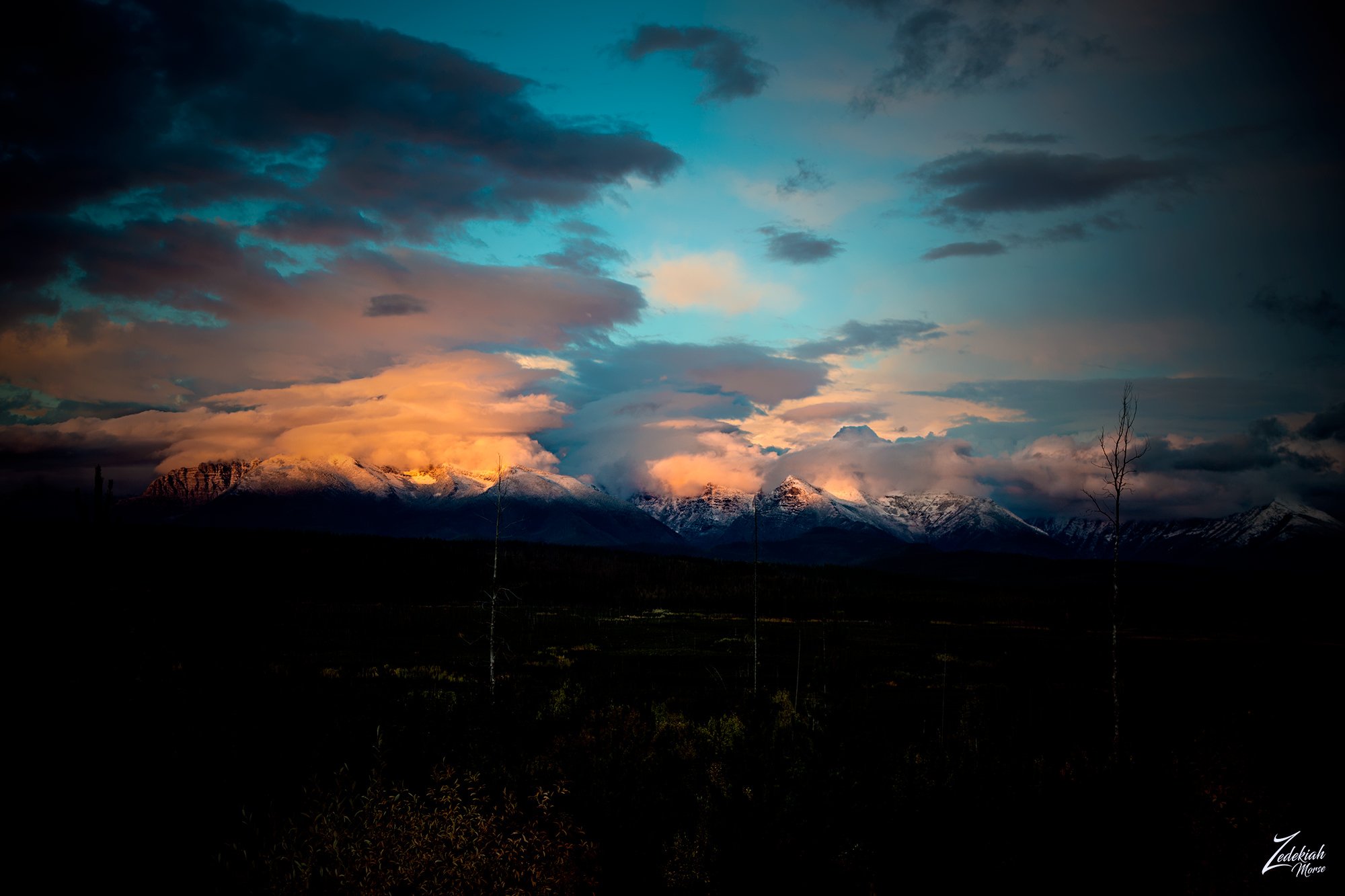 This is one of the most remote locations in the Glacier National Park, and can only reached by traveling a great distance on rough dirt roads along the cliffs and banks of the Flathead River. I love is that this view has never changed, in all the time man has existed on the face of this beautiful planet, this view you are looking at has always been there. 
Sitting proudly high in the sky with all the world spinning around, it has remained a constant, a magnificent juxtaposition of majesty and peacefulness.
This image above is part of a 180° panorama that I lensed above Demers Ridge on the eastern side of the Flathead River, overlooking the long and gorgeous valley known as Sullivan Meadow. This land has always been a sacred hunting grounds to a number of First Nations Tribes for many thousands of years. The Cree, Flathead, Blackfoot, Salish, and Kootenai have all used this grand valley for life-giving sustenance. The Kootenai (also known as the Ktunaxa) called this valley: "kqaskanmituk".
To view the rest of this post on this beautiful place and to see a panoramic image I took of the entire valley please go here to visit my project website for "Where Eagles Fly". 
About The Project
Where Eagles Fly - The American Wilderness Expedition is my personal mission to introduce people to these amazing locations that surround us. I am piloting a bush plane while exploring and filming throughout the remote back-country areas of North America to raise awareness of the 47% of the USA and 90% of Canada that remain unpopulated wilderness.
About The Author
My name is Zedekiah Morse and I'm a Bush Pilot, Photographer, Explorerand Filmmaker. I live in the Rocky Mountains and devote my time and resources to exploring as much of the world as I can by air.
If you wish to watch a short film detailing how I do my work and this project, go here. 
Thank you for your support and Yehaw!!