This is a close up aerial image I lensed of one of the thousands of offshoot tributaries on Lake Powell in the Glen Canyon area of Arizona. You can see the many stratified layers of rock that have been eroded away from the wind and weather over millions of years. This erosion process continues to this day and is constantly rearranging the landscape, although in geologic time to us humans is barely perceivable.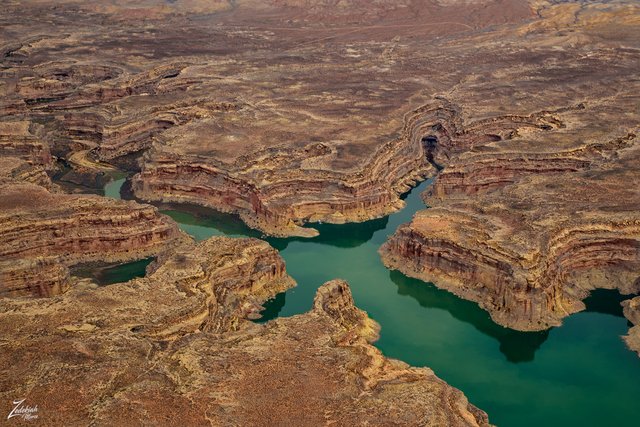 This is from my project "Where Eagles Fly". 
About The Project
Where Eagles Fly - The American Wilderness Expedition is my personal mission to introduce people to these amazing locations that surround us. I am piloting a bush plane while exploring and filming throughout the remote back-country areas of North America to raise awareness of the 47% of the USA and 90% of Canada that remain unpopulated wilderness.
About The Author
My name is Zedekiah Morse and I'm a Bush Pilot, Photographer, Explorerand Filmmaker. I live in the Rocky Mountains and devote my time and resources to exploring as much of the world as I can by air. If you wish to watch a short film detailing how I do my work and this project, go here.Thanks for your support and Yehaw!!