Dusk on the Middle Fork of the Flathead River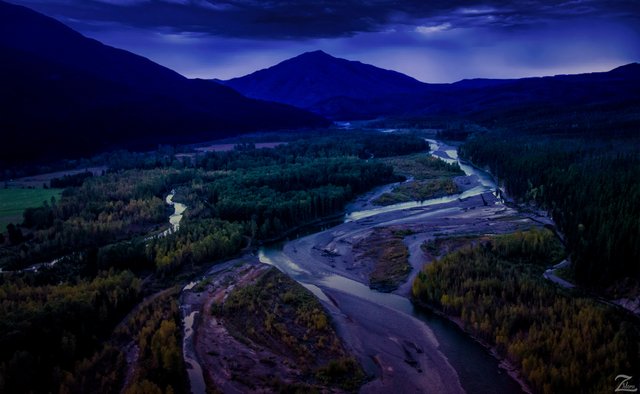 Flowing circuitously throughout the northwestern part of the U.S.  state of Montana, the Flathead River is known by the First Nations Salish as "ntx̣ʷetkʷ, ntx̣ʷe".
Originating in the Canadian Rockies to the north of Glacier National Park it flows southwest into Flathead Lake, then after  a journey of 158 miles (254 km), empties into the Clark Fork.  
(Research Source)    
In this image I lensed late in theeveing dusk while flying back to my base camp at Ryann Airfield near the Glacier National Park. This is the Middle Fork of the Flathead River as it flows serenely through the Theodore Roosevelt Pass in the John F. Stevens Canyon. 
In the distance lies Belton Hills. On the horizon, right side of the image is Loneman Lookout Mountain, which was named in either 1885 or 1902 by J. W. Schultz after he and two companions were on a winter camping trip on Nyack Creek when the temperature reached -33 degrees Fahrenheit.
In addition to the  above information found in Place Names of Glacier National Parkby Jack Holterman, he states that he is not sure who Loneman was. 
This is from my ongoing project in which I am trying to raise  awareness of the 47% of the USA and 90% of Canada that remain  unpopulated wilderness.