Here is my entry for summer days #photocollagecontest. As summer is heating badly these days but I'm enjoying cool weather of Pune. The monsoon( rainy season) has arrived here and I'm loving my most favourite weather. I feel good in rain, it makes me happy and excited.
The photos which have made of collage has taken by me.
1st Picture: I took when I was talking to my best friend online on facetime as he is on his bike tour these days...I love the view and took a picture.
2nd Picture: I took when summer days started and I wanted to change my wardrobe according to weather. I went to one of my favourite shop where I was surprised to see all pastel summer colours, all bright and light which suit us in heating sun.
3rd Picture: When I went to my society garden where this flower colour took my attention and couldn't resist to take a picture.
4th Picture: When I was going to my native place, there were lot of greenery on fields and farms. It was looking soooo beautiful.
5th Picture: I took it when I had gone to Imagica( https://www.adlabsimagica.com/water-park/) theme water park, I never been to Disneyland but people say Imagica water park gives the same feeling. I had fun there while taking amazing rides and having yummy food.
Hope, you liked reading my short and sweet journey to different places in summer days. Thank you!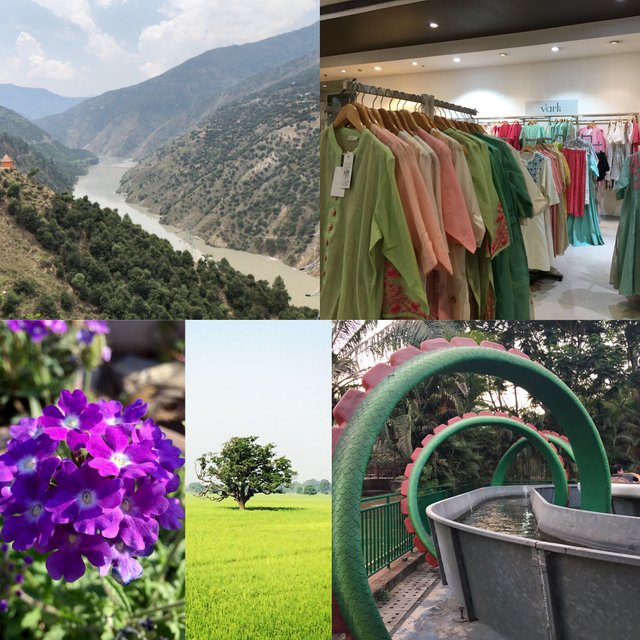 All photos belong to me @shanu
If you want to participate in this amazing contest please visit https://steemit.com/photocollagecontest/@marcovanhassel/photocollagecontest-13-prizepool-3-sbd-and-winners-photocollagecontest-12
Thank you @claudiaz for informing me about this contest run by @marcovanhassel.