meeting on a round stone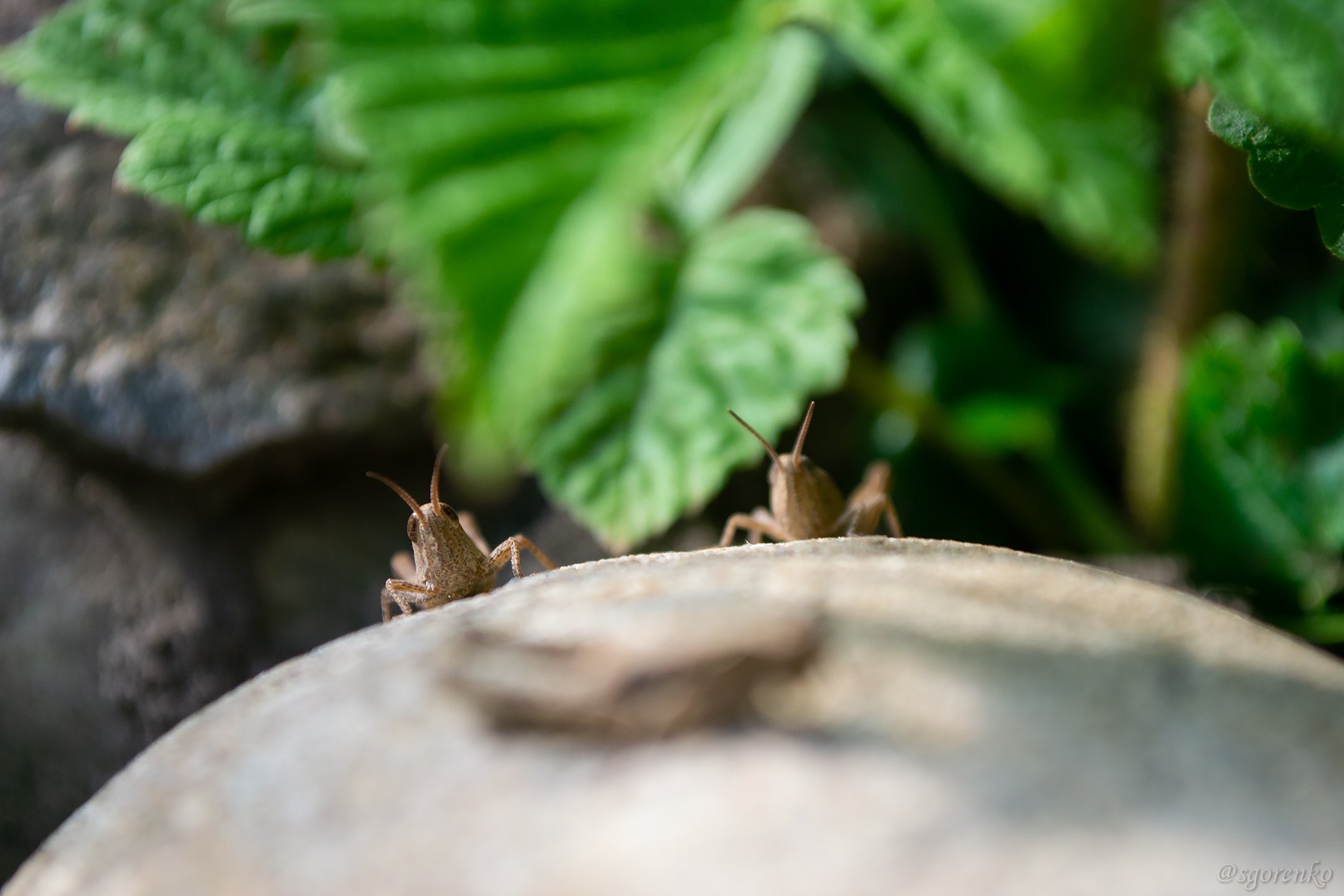 ISO 200 55 mm f/5.6 1/80 sec
Be sure to click on the image to view full screen!
| | |
| --- | --- |
| EN: Where grass grows, in the summer, you will surely find a grasshopper... I was luckier - I watched the meeting of three young grasshoppers on one stone. | UA: Там, де росте трава, влітку, ви обов'язково знайдете коника... Мені пощастило більше - я спостерігав за зустріччю трьох молодих коників на одному камені. |
| | |
| --- | --- |
| Unfortunately, because of the features of shooting in macro mode, I could not show all three in focus. One of them is almost completely blurred. But there were three of them... ;-) | На жаль, через особливості зйомки в макро-режимі, у мене не вийшло показати в фокусі всіх трьох. Один з них майже повністю розмитий. Але, їх було троє... ;-) |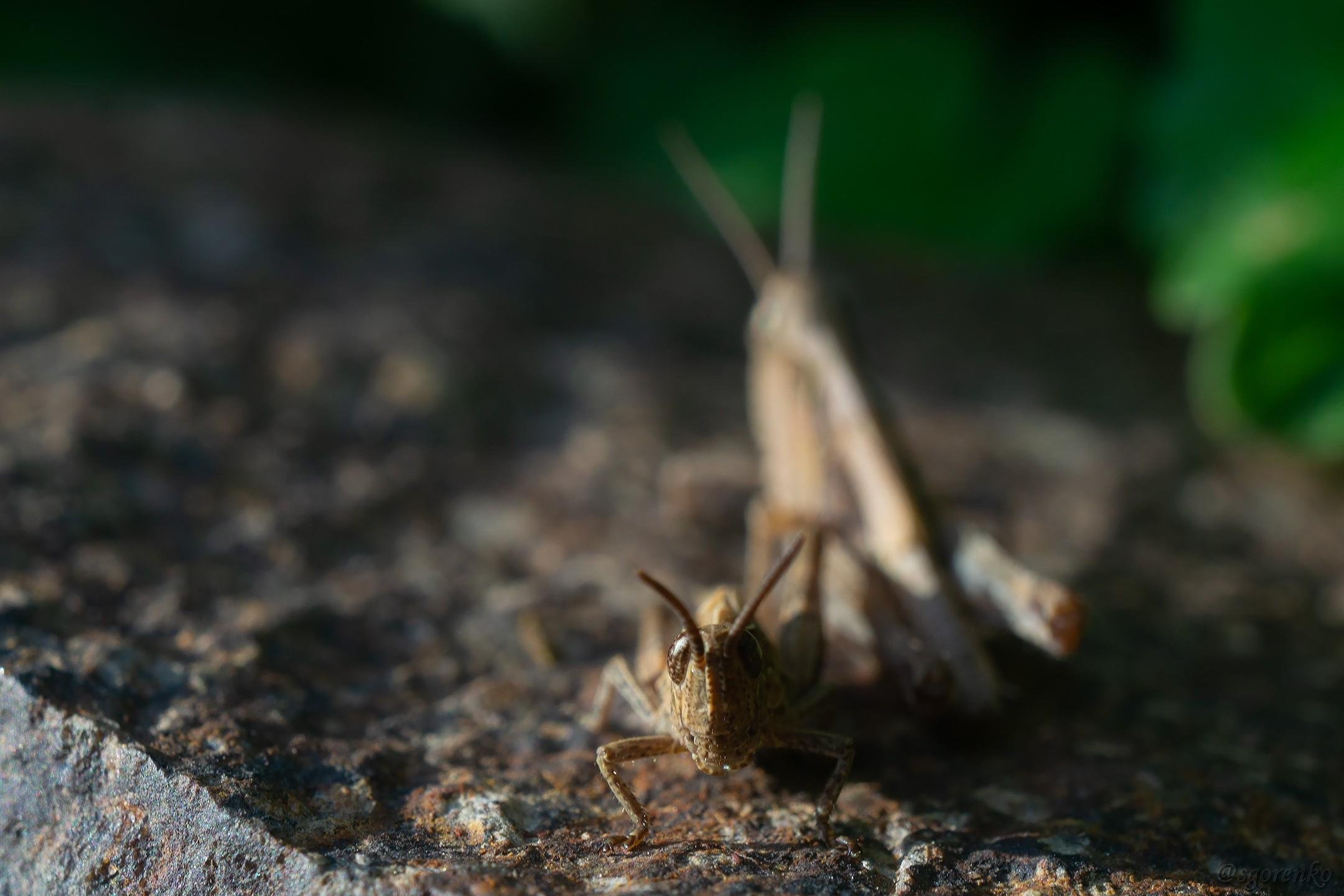 | | |
| --- | --- |
| I have never seen more than one grasshopper in one place and always thought that these insects were "every man for himself." But, perhaps, they decided to just sunbathe together on a warm stone. | Я не бачив ніколи раніше більше одного коника на одному місці і завжди думав, що ці комахи "кожен сам за себе". Але, можливо, вони вирішили просто позасмагати разом на теплому камені. |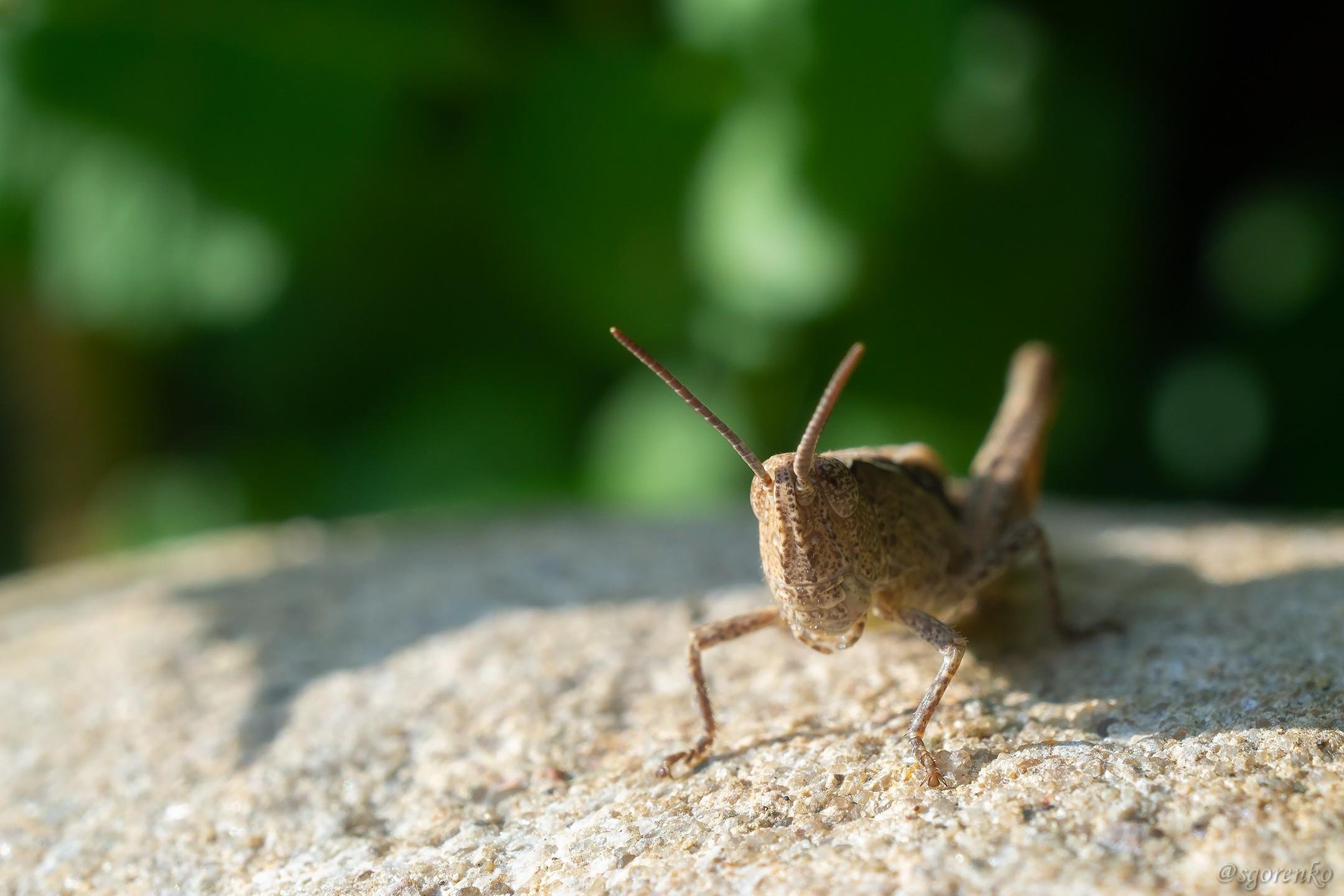 | | |
| --- | --- |
| I tried very carefully to come closer, so as not to scare them. But, they were not very afraid ... This lens is designed so that the focus is adjusted by approaching the entire camera to the subject. And it should be close, almost touching. | Я постарався дуже обережно наблизиться, щоб не сполохати їх. Але, вони не дуже боялися ... Цей об'єктив влаштований так, що фокус налаштовується шляхом наближення всього фотоапарата до об'єкту зйомки. А наблизиться треба впритул, майже торкаючись. |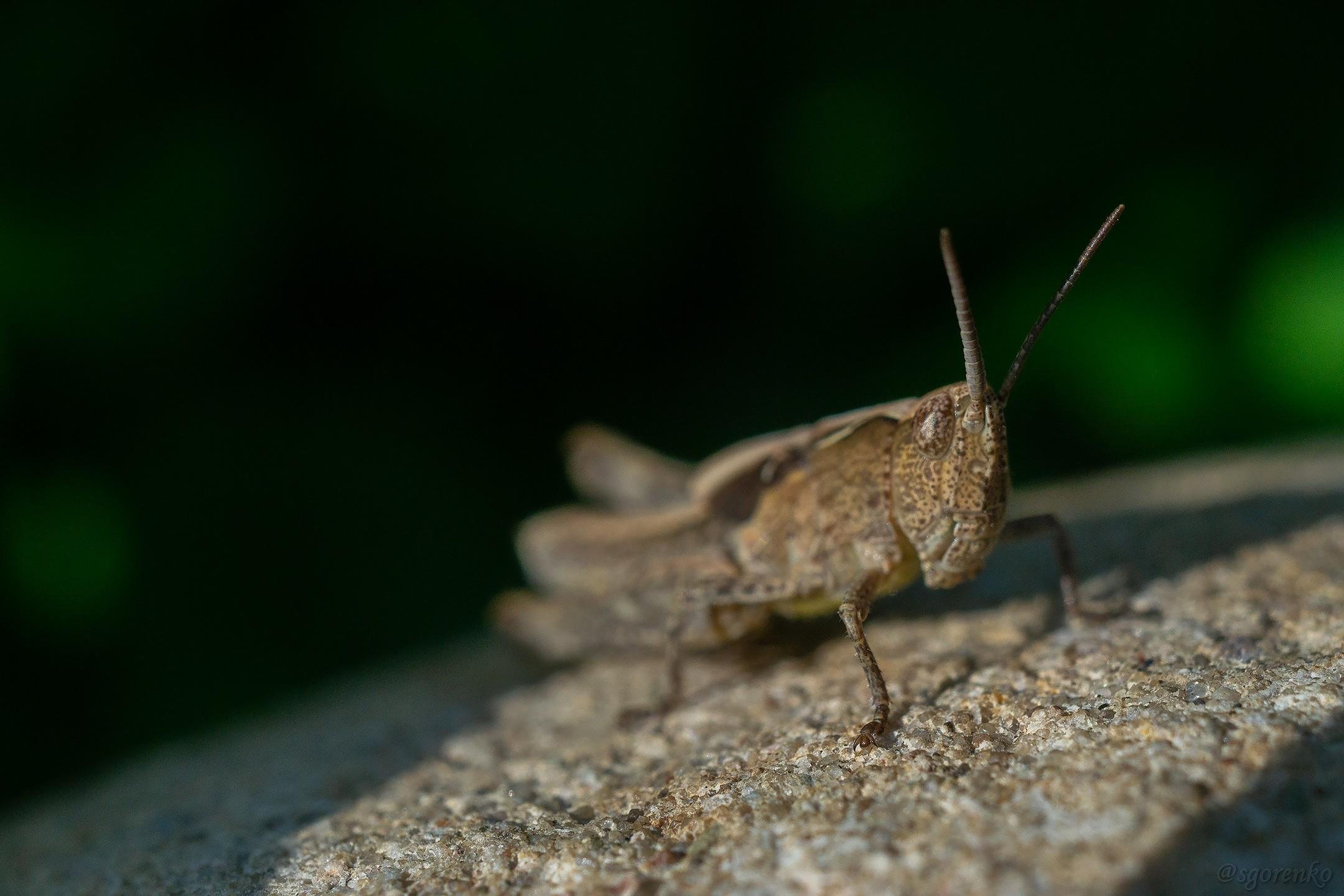 | | |
| --- | --- |
| I even thought that they were meditating, because I even tried to gently touch one, and he stayed at the same place... | Мені навіть здалося, що вони медитували, тому-що я навіть спробував акуратно доторкнутися до одного, а він залишався на тому ж місці... |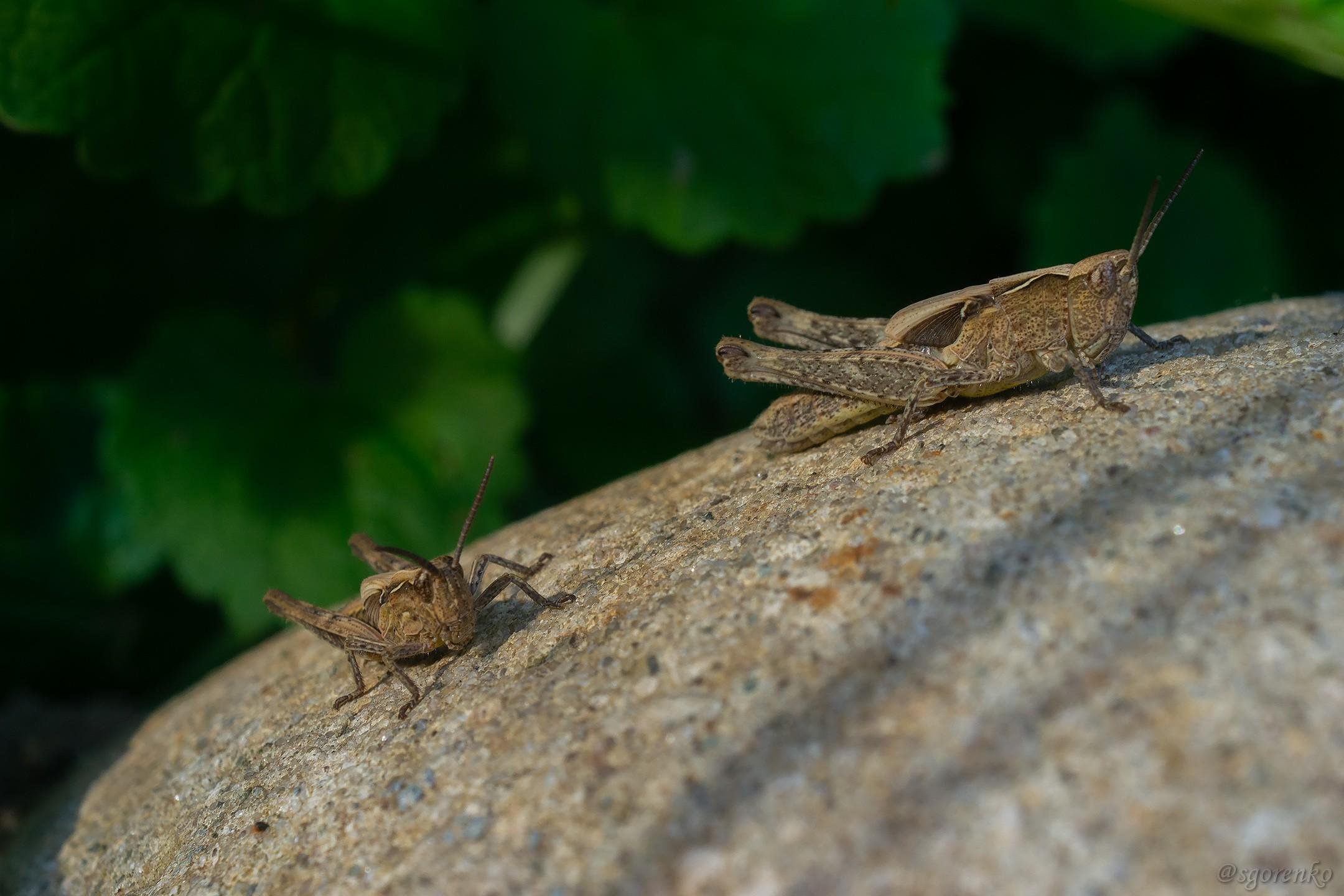 | | |
| --- | --- |
| I remember how in my childhood I caught them for fishing. Then they were difficult to catch. Although, perhaps, when they grow up, they will also become cautious and will not trust photographers so much... | Я згадую, як в дитинстві ловив їх для риболовлі. Тоді їх зловити було складно. Хоча, можливо, коли вони підростуть, теж стануть обережними і не будуть так довіряти фотографам... |
---
| | |
| --- | --- |
| All photos are made by me. | Всі фотографії зроблені мною. |
| | |
| --- | --- |
| Category | macrophotography |
| Camera | Nikon D3100 |
| Lens #1 | AF-S DX VR Zoom-Nikkor 18-55mm f/3.5-5.6G |
| Lens #2 | МИР-1В 2,8/37+macrorings |
| Location | Novoselitsa, Ukraine |
---
This is my entry for macro and colourful photography contest by @juliank. You can find the details here.
---
P.S. I thank everyone who is interested and who reads my posts. If you have questions or want to discuss something, write comments.
Thank you!
P.S. Я дякую всім, хто читає мої пости і стежить за мною. Якщо у вас є питання - пишіть коментар.
Дякую!