Puerto Rico has many problems, some caused by its own irresponsibility and others caused by the irresponsibility of the US Congress.  But, regardless, it's an absolute paradise in many ways, and mainlanders who move there can enjoy some pretty amazing tax benefits in addition to an exotic Latin lifestyle.
Puerto Rico is the only place in the world where US citizens can escape the IRS.  US citizens who are residents of Puerto Rico pay no US federal income taxes on income that is "sourced" to Puerto Rico.  Instead, bona fide Puerto Rican residents pay taxes on such income only to the Puerto Rican government.
The sourcing rules are complex, but a few things are pretty clear.  First, as a general rule, income earned from providing services (e.g., legal services, accounting services, investment advisory services, consulting services, management services, etc.) is sourced to where the provider of such service resides and not to where the customer is located.  So, if you reside in Puerto Rico and provide these or similar services from Puerto Rico to mainlanders, all income you earn for such will be taxed at Puerto Rican rates and not US federal rates. 
Second, while interest and dividends are sourced to where the payer is domicled, capital gains from the sale of intangible assets (like stocks, bonds and cryptocurrencies)  are sourced to where the owner resides.  So, again, legitimate Puerto Rico residents pay no US federal income tax on their capital gains income on the sale of intangibles like Steem.  Instead they pay Puerto Rican income taxes.
And this is where things get interesting.  Because its economy has struggled so desperately over the last decade, Puerto Rico has seen a mass exodus of its population, many of whom were among its most educated and capable residents.  This exodus has compounded the territory's economic problems immensely.  In hopes of reversing this trend, Puerto Rico now offers special tax rates to US mainlanders who will move to Puerto Rico and work from there.  Specifically, Act 20 (which was passed in 2012) taxes "export service income" (income earned by Puerto Rican residents for providing services to mainlanders) at only 4%.  And Act 22, also passed in 2012, taxes interest, dividends and capital gains sourced to Puerto Rico (on qualifying assets) at ZERO percent!  
These favorable rates are guaranteed for 20 years, but they are only available to mainlanders who agree to move to Puerto Rico and establish residency there, and some restrictions apply.  Hundreds of adventurous souls have already made the move and saved millions in taxes.  Given the adventuresome and libertarian temperament of Steemsters in general, I imagine we'll see at least a few nouveau riche Steemsters seize the opportunity in coming months and years.  Might even @ned and @dan be so inclined?  We'll see.  
My family and I spent the summer of 2014 in Puerto Rico in part to determine whether I could effectively work from there.  There were some challenges, but it's definitely doable for us.  We may make the leap in the next few years depending upon how this whole Steem thing works out.  :-)
Anyway, here are some experiences from our visit: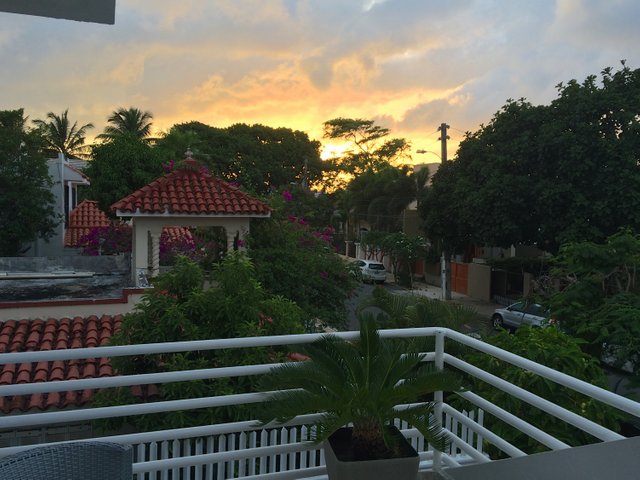 (The view from our Ocean Park house)
We rented a house in Ocean Park, an older but upscale (by Puerto Rican standards) beach-front neighborhood in San Juan.  Ocean Park is adjacent to Condado, the up-and-coming neighborhood in San Juan.  Condado is much like South Beach, Miami was in the middle 1980s--tons of potential and on it's way back.  The above photo was the view from the balcony of our house.  I could definitely tolerate seeing that every evening!
Two blocks from our house was Ocean Park beach: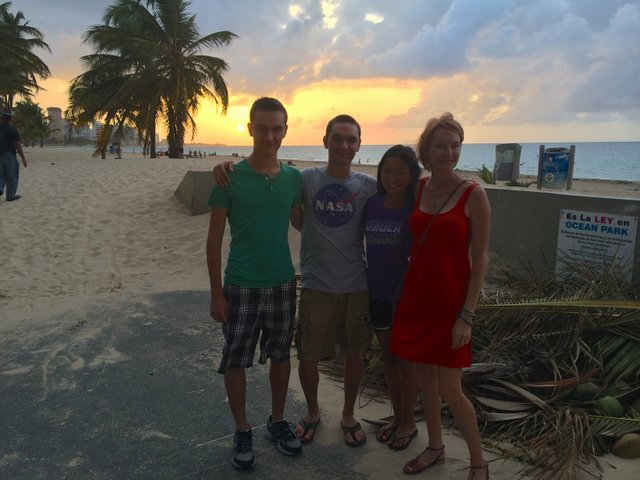 (Ocean Park beach)
Regulations are much more relaxed in Puerto Rico, or at least not enforced.  Locals sold great food and drink right on the beach (and without a license, I'm sure!).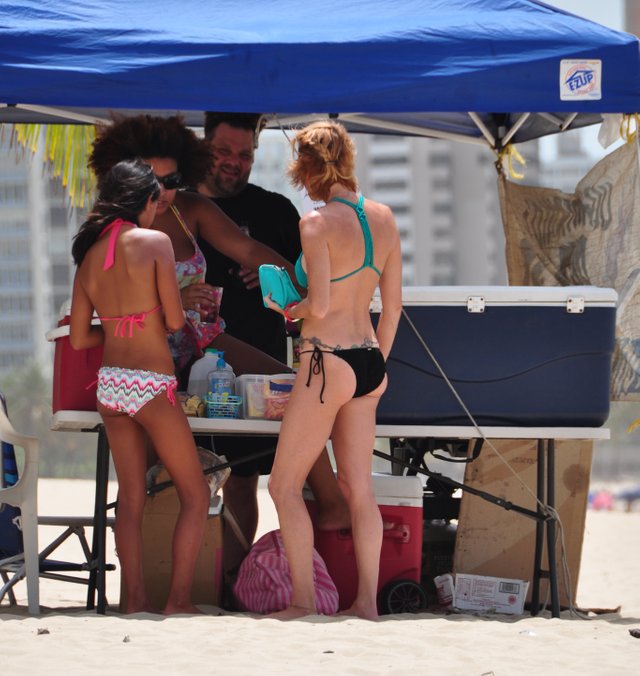 (Cindy and Clara visiting beach vendors)
There's a famous guest house on Ocean Park beach called El Numero Uno Guest House.  There's a restaurant there that I highly recommend called Pamela's.  You can dine right on the beach and watch amazing sunsets during dinner.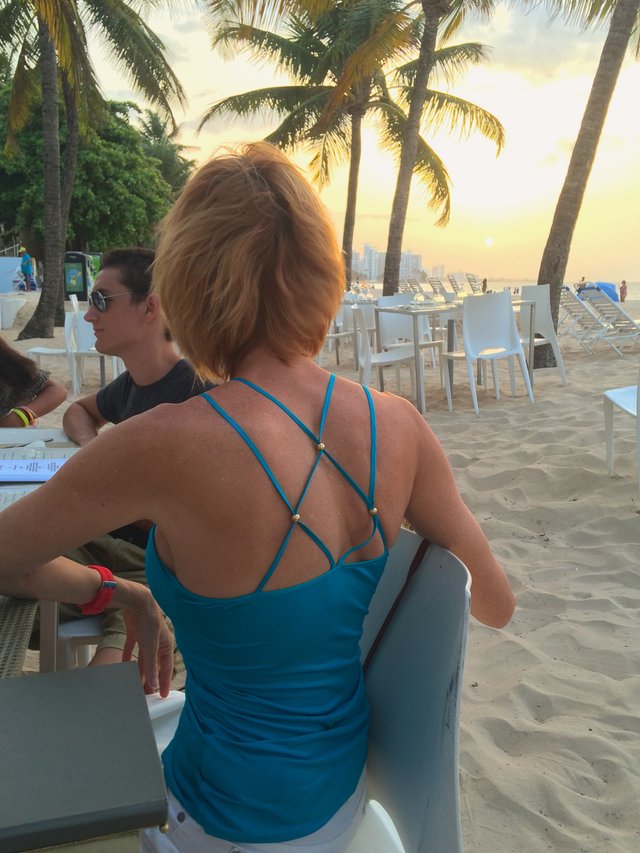 (Pamela's--dinner on the beach)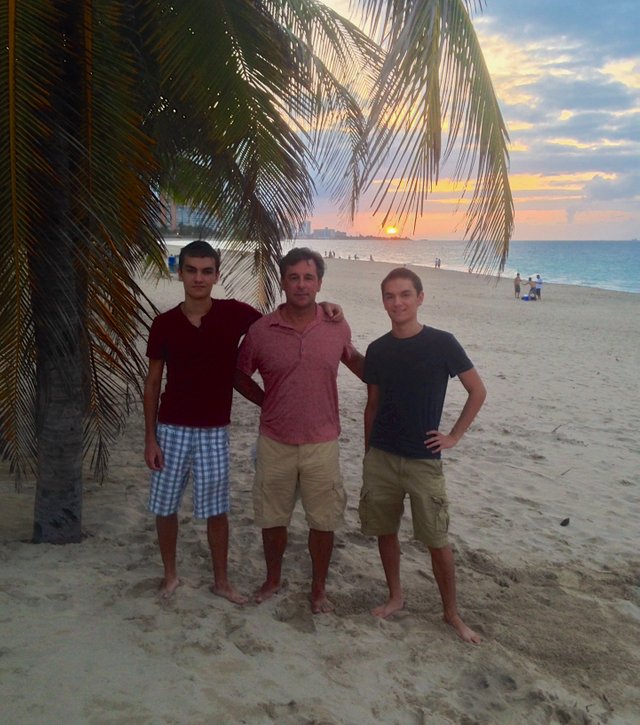 (Me and the twins--Logan and Shelton)
Condado was just a mile or two down the beach.  Casinos, restaurants, posh hotels, and some solid nightlife for those who like to get dressed up for a night on the town: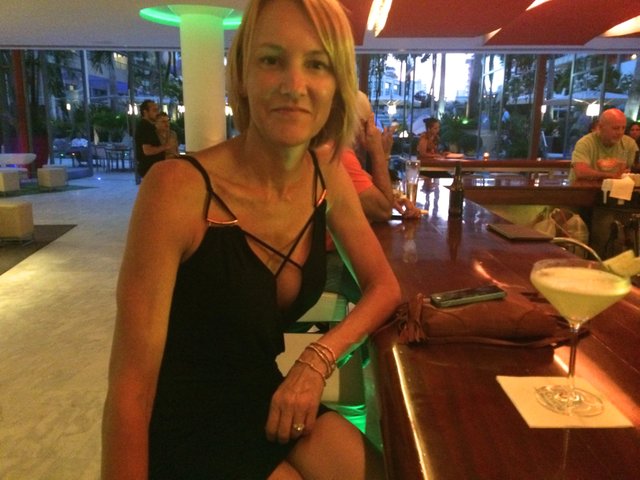 (Night on the town with Cindy aka @steemed-open)
We took several day trips to visit other parts of the Island.  One of my favorites was to Rincon, a tiny town on the western facing part of the island that's world famous for surfing.  Rincon sunsets are just to die for.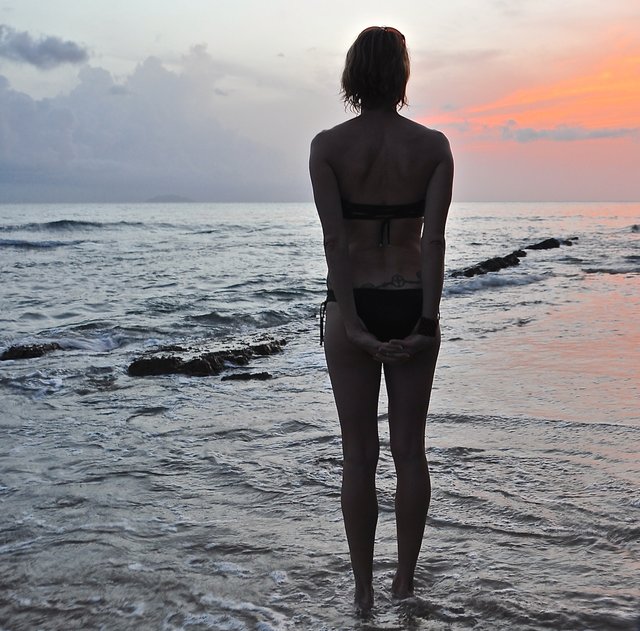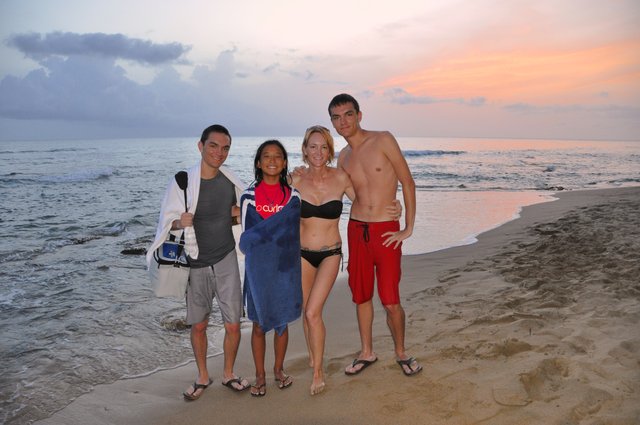 (Shelton, Clara, Cindy and Logan at Rincon)
Photo credit:  All photos are my own.  
If you ever get a chance to visit Puerto Rico, or even better move there, I hope you'll seize it.  It's a wonderful island filled with delightful people.  
Best, 
Sean