Don't Catch'm All
If you're so inclined and you Google Pacific Cod you likely to find a bunch of sites referencing fish and cooking. Which means from what I gather, this fish is highly sought after as a food fish and that about it. However I want you to get to know this fish and understand that not all fish are food and photographing one in the wild is a rare occurrence, you should feel lucky, as I was, when I ran into this fish on a dive.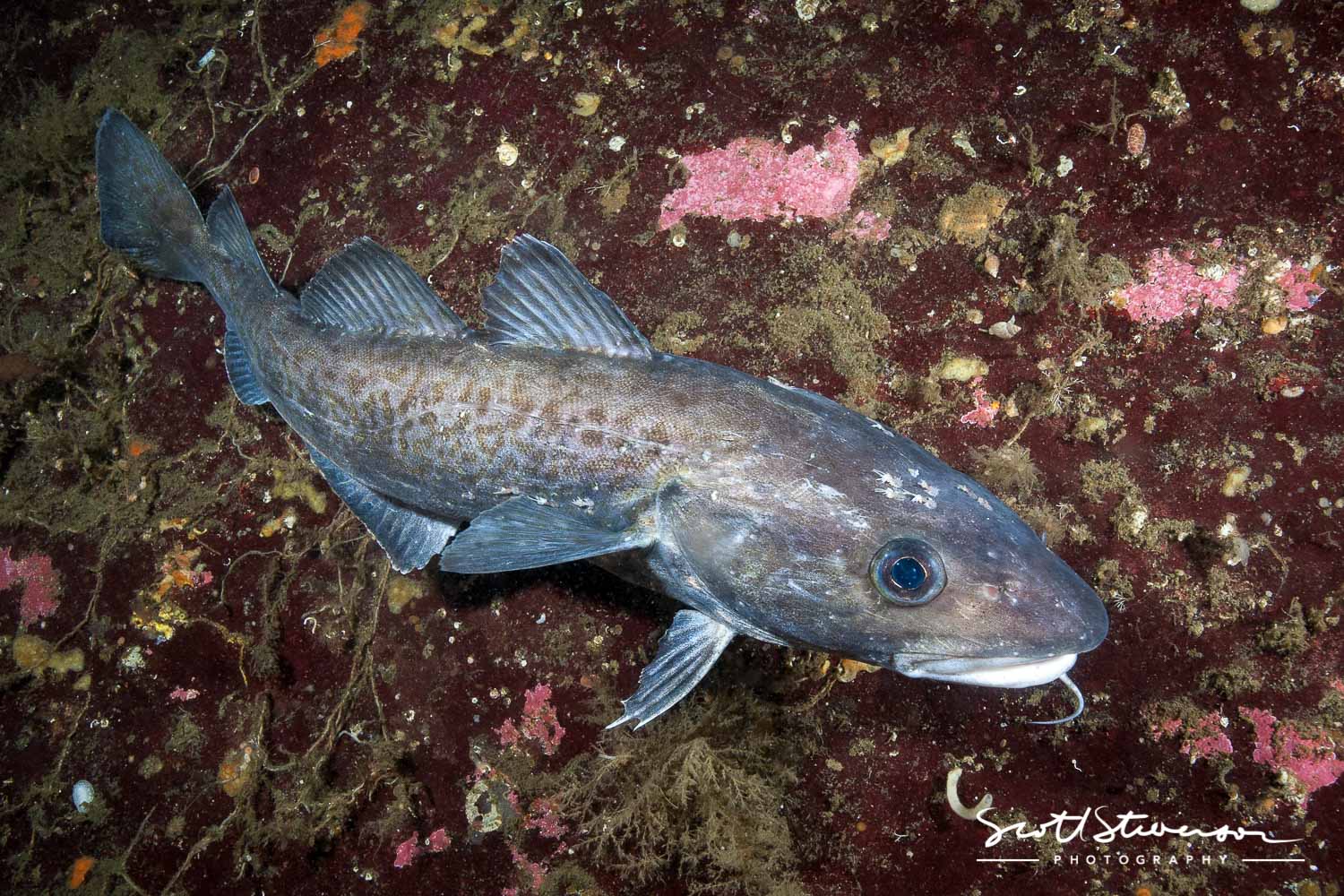 Pacific Cod (Gadus macrocephalus), are found on both sides of the northern Pacific Ocean, with their range beginning near southern California and stretching north to Alaska. From Alaska, they are distributed along the Aleutians and westward into Asia, from the Bering Strait south to Japan and the Yellow Sea. Pacific cod live at variable depths, ranging from three to more than 1000 metres. They are an important commercial fish in Canada and are considered equivalent to Atlantic cod in the marketplace.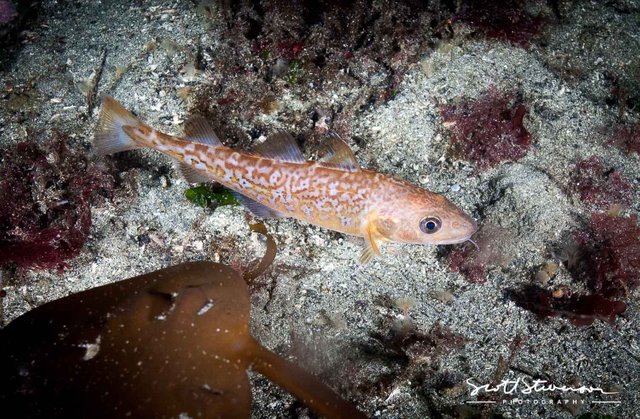 Pacific cod resemble their Atlantic counterpart, with a fairly elongated body and a brown to grey coloration on their dorsal side, generally becoming a lighter shade spotted with brown on its flanks. Their underside is pale grey to white. They have a long chin barbell, three dorsal fins and a squarish tail. Pacific cod can grow to more than a metre in length and weigh more than 20 kilograms (though they average between 2.5 to 4.5 kilograms). More southerly populations live six to seven years; farther north, they live to eight or nine years.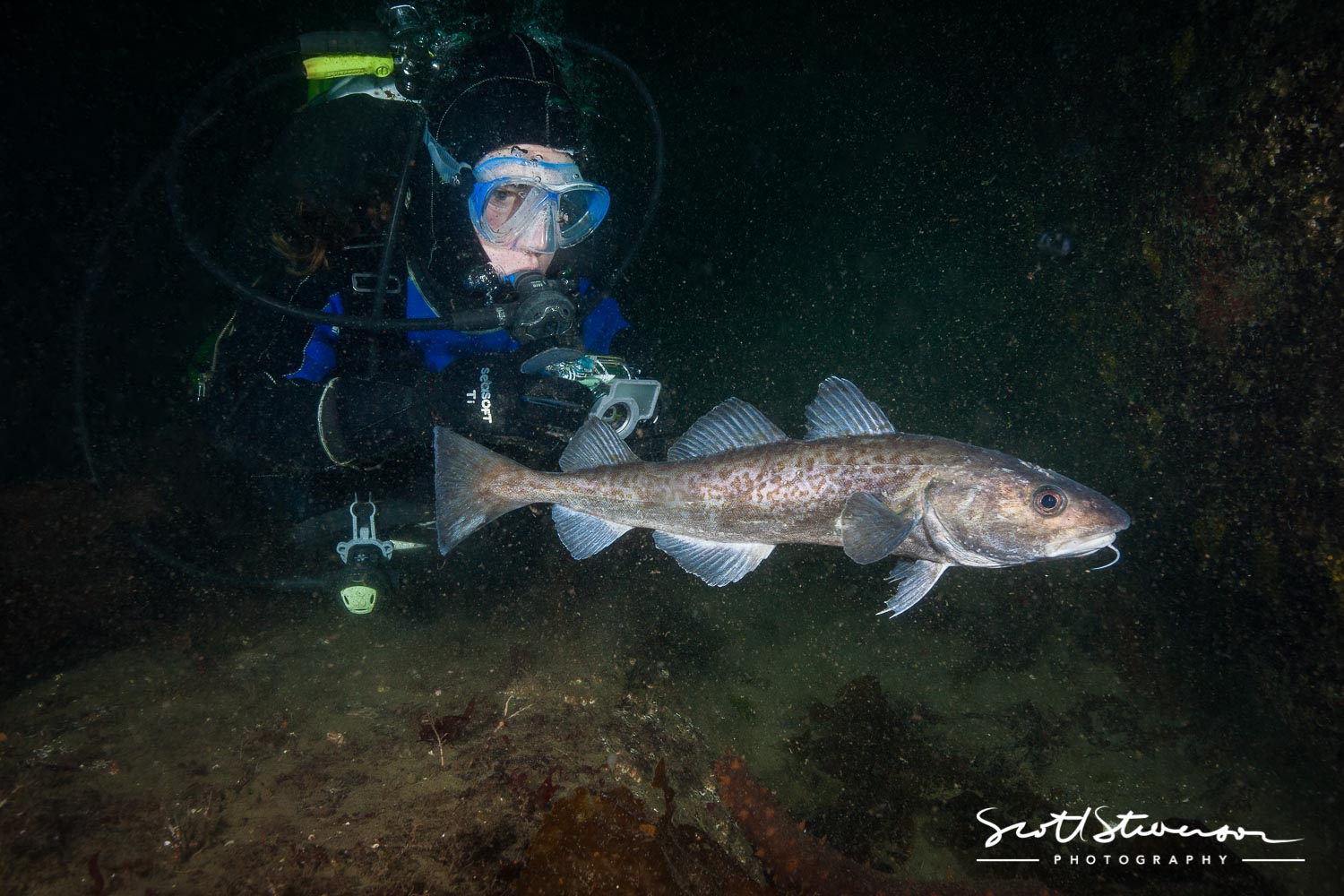 Finding and photographing this fish is something of legend, yes you could get images of it when it's hauld in on a boat or trapped in a net but that's not fair shooting. My experience with this fish the two times I've encountered it is that it's curious and flairly photogenic. Take your time and enjoy the experience even if your not snapping shots.
Due to this species of cod being so heavily fished it's truly is special encounter if you happen to run into one.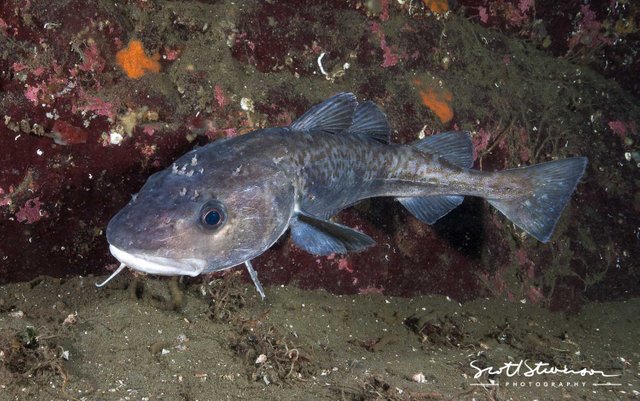 Thanks for reading.
Scott
For more stories and images - http://www.scottstevensonphotography.ca/