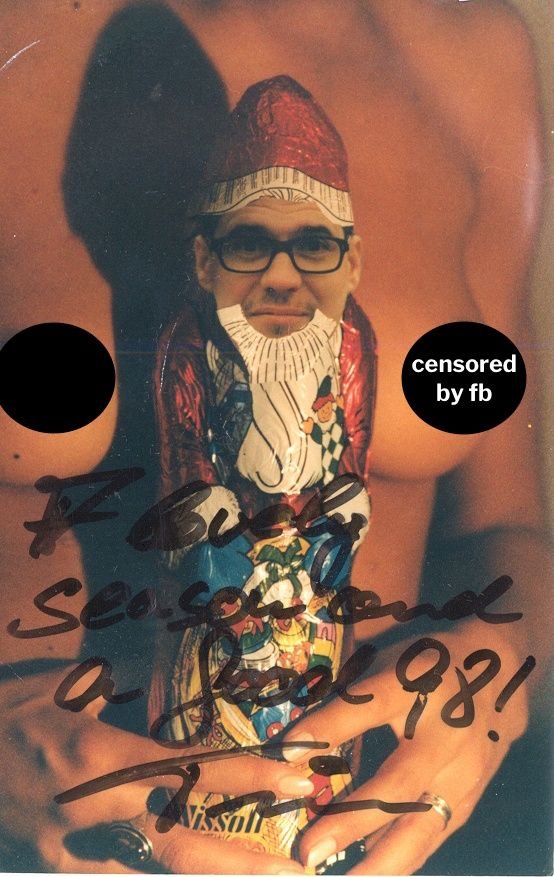 Since 1985 I have sent Christmas cards that depict myself. For two reasons: my parents had a friend who did the same thing, I remember a childhood with Karl's self-made Christmas Cards. And I liked them, not my parents, they thought a Santa Claus would be more appropiate than funny Karl. The second reason is that when 17 years old, I went as an exchange-student for one year to Oregon. After that for the first time I had international friends. Soon I figured, that instead of some Christmas Hunnybunny, a better way to update my friends is to show myself in a way that maybe describes my year, my mood or the moment in time.
Of course back then the pictures were printed and sent by mail. Not anymore. Facebook and gmail has taken over. The next will be the 33rd (!!) xmas card - that's how I call them. And thanks to my Italian friend Lorenzo Lippi, whom I met back in Oregon, the full collection is still alive. Because the first ten or more years I just sent them away without keeping a copy.
This collection is too private to share here on facebook. But this one I want to show you, it is from twenty years ago today.
When you know my page The Repugnant Pilot you see - latest by now - my leitmotif, and you understand that I am a man of continuity.
As long there is Christmas, I make my xmas card.
As long there are weather manipulations, I will expose them.
And I always will look for comfort between titts,
Tim
therepugnantpilot.com
www.youcaring.com/loving-the-unsayable
Das Buch zum #Geostorm ist da ;-) http://amzn.to/2l20big