THE BEAUTY OF NATURE!
I trust everyone is enjoying this Saturday (or Sunday for some). I am running behind schedule on getting my post up. I have tried to reply to everyone's comments from last week (and of course upvote them), I have had a headache for the past few days, secondary to excess smoke in the area. We have numerous forest fires in the Pacific Northwest USA and some of the smoke has settled in around us. A combination poor air quality and record breaking heat has been difficult. I finally found a way to change the screen so it has a black background and then I am switching back and forth between yellow and white text. Not sure yet what photos will look like, so I may have to go back to default settings.
I have not been on discord much or going to followers posts because of how I have been feeling. Please do not take it personally. I will eventually get caught up.
I hope my photograph selection satisfies everyone. I am fascinated with how there is such a diversity of favorites in my posts.

On some of my photographs the flower may look like is the same as one from a previous post. It may be but from a slightly different focus, or a similar flower to a previous post.

First flower is usually to everyone's liking: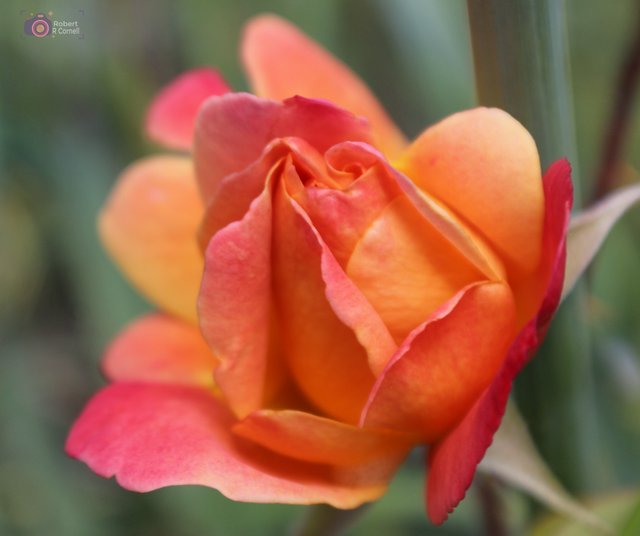 Next is a plant/herb that I planted a decade ago. It is called Lemon Balm, although some call it Lemon Mint. It makes an excellent tea, but is also pretty to look at.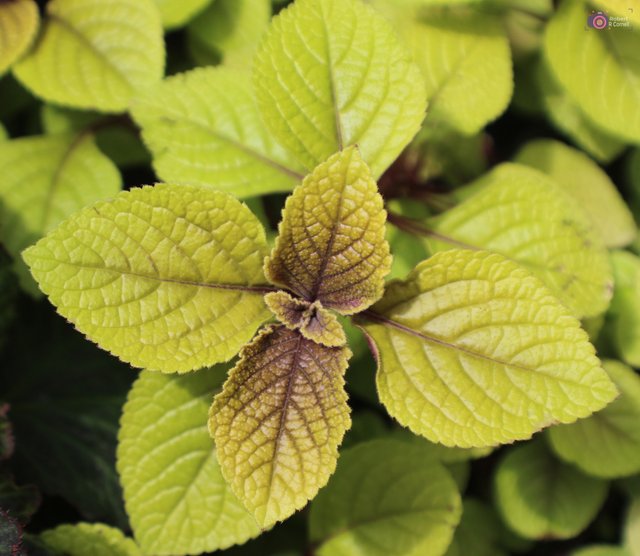 This next flower, a Dahlia is one of my daughter's flowers. I used my smart phone for the photograph. I would like to see a photograph taken with my Canon.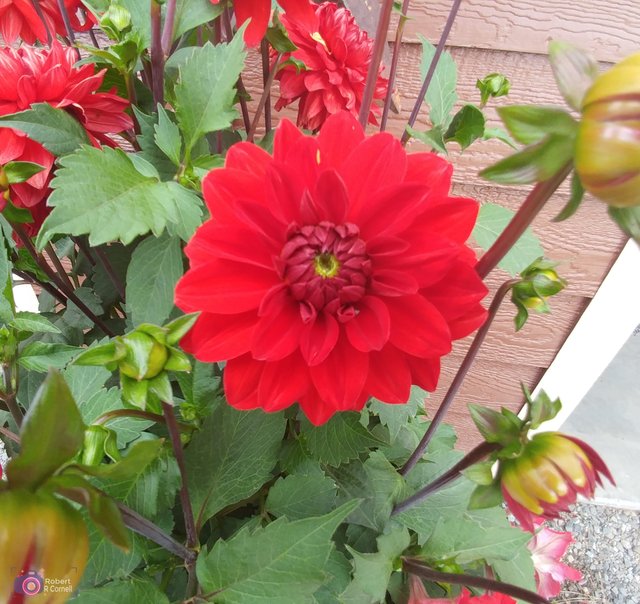 This next flower is from a noxious weed called knapweed. It does have a pretty blossom, yet it is vary invasive. The past two years I bought bugs to help eradicate it. My population of bugs is expanding nicely. It will take years to get it under control, but safer than using poison. Even with all that it is a very pretty flower.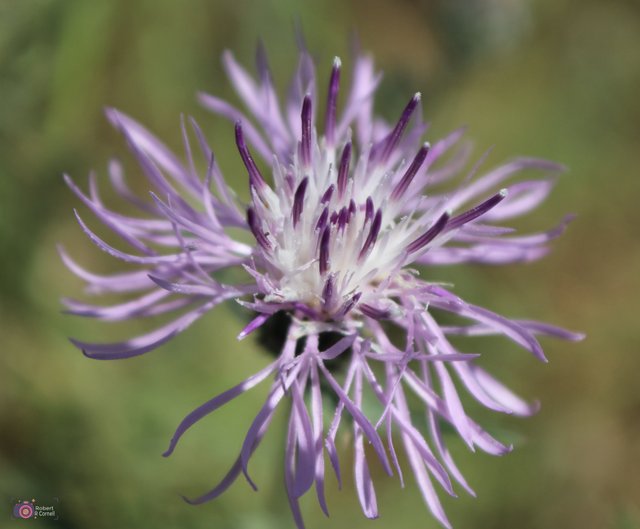 The following is another weed that grows in my area. Some refer to it as a noxious weed, but it has medicinal uses. It is called St. John's Wort.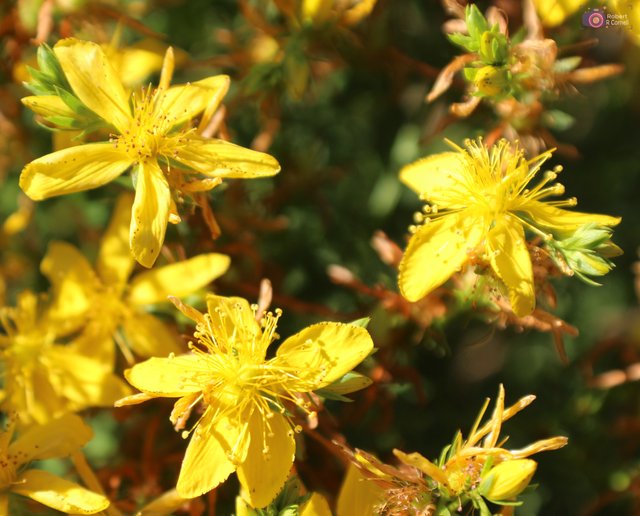 Last weekend I took a road trip to visit my daughter's weekend getaway 45 minutes north of our home. We did some sightseeing while there and I had the opportunity to get some photographs of some Bison or Buffalo. At one time there were a lot of these animals, especially in the plains states of the USA . It was a staple for the Native Americans for generations: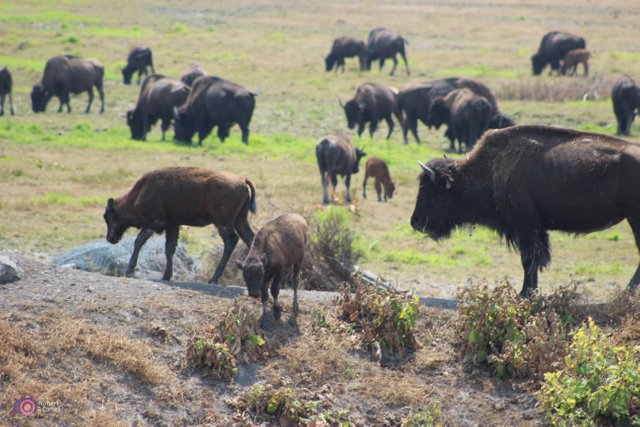 It took a few clicks to get a good photograph of this bull. He was quite the sight...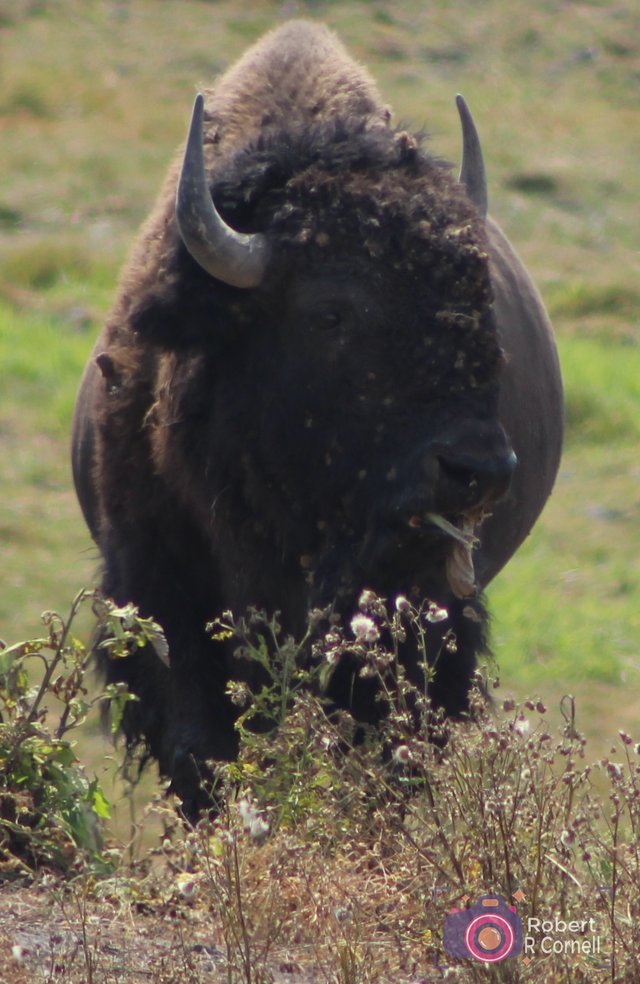 What better way to end a post than with this magnificent animal.
I am using a Canon EOS Rebel T5 for all of these photographs, except where noted. Most of my floral photographs I am using a Marco-lens that came with my camera. For the Bison photographs I used my 300 mm lens.
Upvotes and resteem are always welcome. In the event anyone wants to use one of my photos please ask and give me credit.
NAMASTE