I do not always have a chance to do a post during the week. Last week I did two short ones using Partiko App. Today, so I can finish quicker, I am using the PC.

I have had a number of people inquire about container growing food. Lately someone asked me about hydroponics. I am far from an expert on hydroponics, but grow some food indoors during the winter hydroponically. I will eventually do a post on my basic method of hydroponics. I am covering container growing because that is what I am currently working on and have used this method for over 40 years. I also have learned to combine some hydroponic with soil grown plants in containers.
Sorry no flowers this post, except for a blossom.
The number one benefit of using containers and dirt/potting mix is the cost. I have people give me all different size pots. But I have found old tubs and pails that were being thrown out that I used as well. I think it was last year that I saw a post on steemit that got pretty creative with his container growing. If it holds dirt or potting soil and is a size that fits the size of a full grown plant then use it.
It is too cold to plant much outside where I am at. I am going to show you some cucumber plants that I grew in 3 inch (7.62 cm) pots before transplanting them to 2 gallon (7.57 liters) pots. They had fruit on them before I moved them outside into a small heating greenhouse. Those living in warm climates do not have to worry having things indoors, a nice sunny location can do.
You will see I have the potted cucumber plants set inside trays to hold water. I use mostly water but periodically I had hydroponic solution because of the needed fertilizer. These plants will need more and more water and fertilizer as the vines grow and fruit production continues. I will try and do an updated post as the plants I show here continue to grow.
So here are a couple of photographs of current cucumber plants. Also this is early April and around here and growing out in my garden I usually do not see fresh cucumbers July if the weather is good. Some are not my best photography due to the light in greenhouse. The variety of cucumbers I am growing are self pollinating.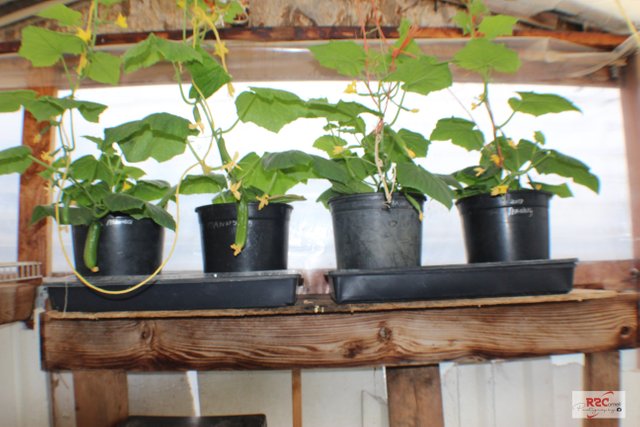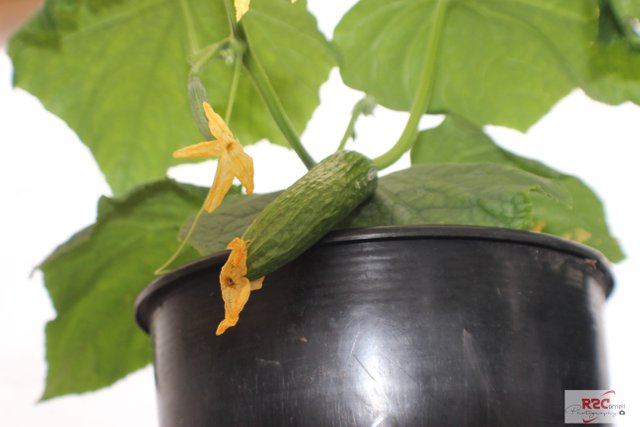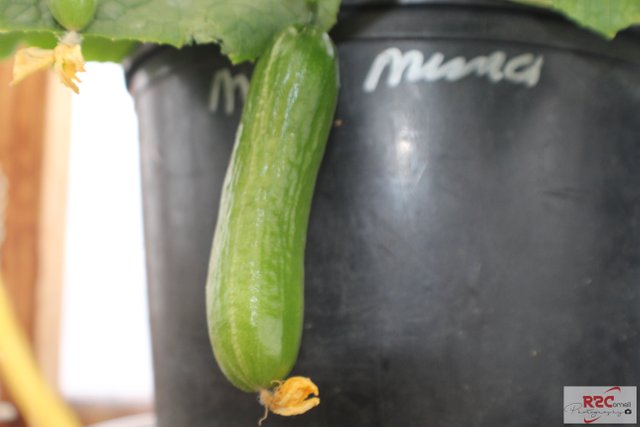 I thought I would include a squash called Zucchini, which is a "summer squash). I have two larger pots but this is the only one that is just coming through the soil. These plants get much larger than cucumbers, so they need even a larger water holding container.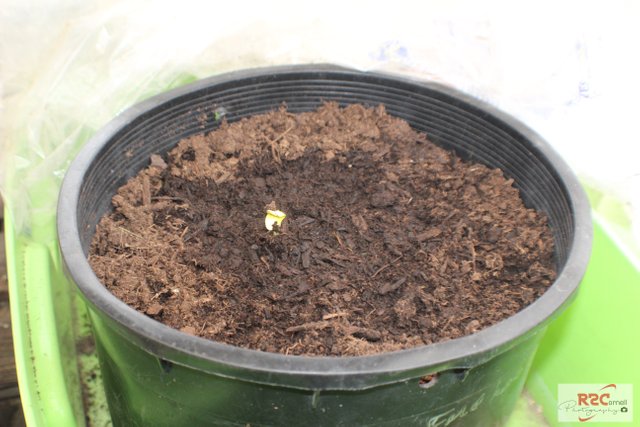 Next I am showing you my tomato set-up, again set inside a tray that will hold water for later in the season. Like cucumbers if planted in garden you will not see fresh tomatoes until late July. Many varieties may not ripen until August. These hopefully will provide fresh fruit in late May.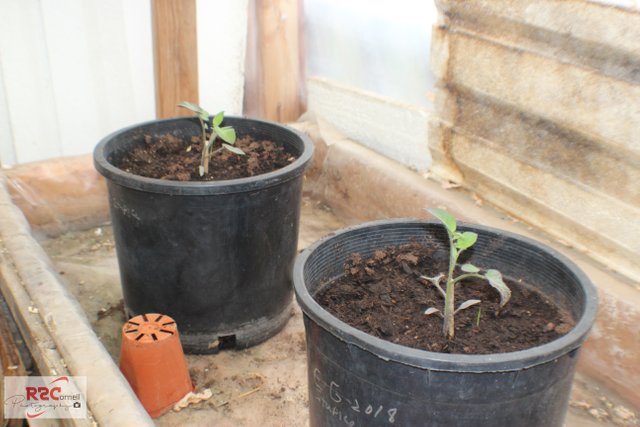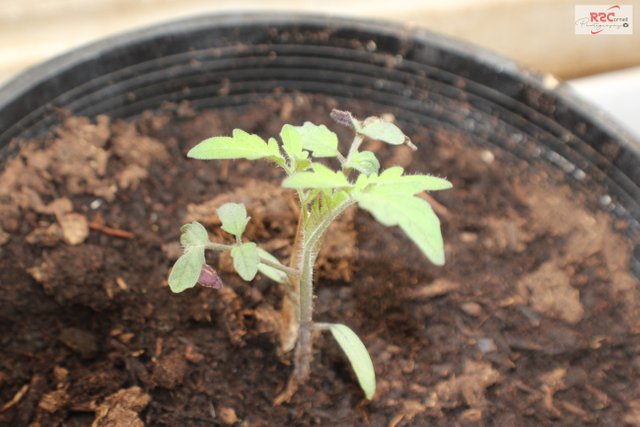 Most years my tomatoes are larger by now, but I am just happy I have them planted. I will periodically take photographs as to the progression of growth for these plants. I will also be planting addition vegetables in containers, and will share them. I will be growing broccoli, Cauliflower, and even cabbage in pots. I plan on growing many of my greens this way.
I am using an organic potting mix, but have used garden soil as well to save money. Growing in pots with dirt/potting soil is easier to work with and is much lower in cost. I know I have seen others sharing their methods of growing in containers. Recently I saw a series of photos on steemit that was part of a school project, but never thought of saving the link. I believe that we should grow what we are able to supplement what we have to by. With experience you can expand.
In the event anyone who knows of a user or a post that covers this topic I want you to feel free to share it.
Seeing this post is about growing food I want to share the latest post from @aid.venezuela:
https://steemit.com/aidvenezuela/@aid.venezuela/aidvenezuelawhydelegatetous-ubg2fvqojg
https://steemit.com/aidvenezuela/@aid.venezuela/aidvenezuelaporqudelegaralproyecto-rbrf4j7tlb
Please review this post and others as well that @aid.venezuela posts. I have seen names I recognize that donated to the Fundition porgram: https://fundition.io/#!/@aid.venezuela/30wfgrql0/backers
In the event there are any questions I will watch for them in the comments. Be patient for a response I am dealing with a household where everyone has influenza...I am still standing and hope to avoid it. But it is taking a lot of my time keeping the messes cleaned up, etc.
I am using a Canon EOS Rebel T5 for all of these photographs, except where noted.
NAMASTE