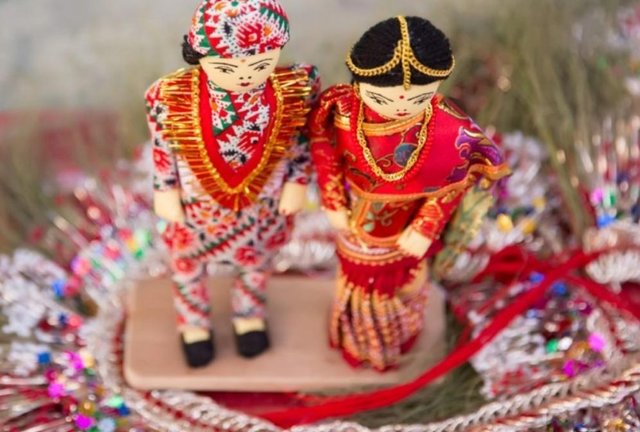 As I literally counted the number of days with fingers in my hand, I was trying to push away the worry and uncertainties of the life that lied ahead of me. Instead I was thinking of the actions and excitement that awaited me as I begun to build my new life in new place.... Two years passed in a blink. Time had healed some wounds and my parents were able to forget about what happened. It was me who maintained fainted smile across my lips but inside my heart was completely torn.
My father's phone called at work that morning changed everything. "Don't go out with your friends tonight. We've made dinner plans for you." I knew what that meant. And there was no getting out of it. Dad told me to be home and dressed by four. No excuses. He rarely stood his ground with me, but was firm in his expectations this time. I was stuck. I spent the rest of the day hovering between dread and resentment. I understood the pressures my parents were under. I was their oldest child and my past relationship was troubling them. They had educated and raised me to be independent and self-sufficient. Now all that remained was their last major responsibility: to see me married. It made no sense to me to make such a drastic change in my life just because I reached an age arbitrarily consigned by our society and culture after which I would be deemed "too old." Yet, I resisted silently because of the love circumstances I was already in.
That evening, I was quite tensed. The bell rang. I checked myself in the mirror; old jeans, T-shirt, no makeup which was the perfect outfit to demonstrate my antipathy. One glance and my mother pursed her lips. It was a silent, cold walk to the living room. I had thought this time they simply invited the young man to dinner. It made me wonder if it is a life changing event that is talking place in our life that's making me twiddle my thumbs and raise my heart beat rate?
To me, one of the most interesting parts of this is: When the girl and guy meet for the first time. This meeting is arranged by their parents. They are left alone to talk for 15-20 minutes. And there they decide whether they like each other or not. If yes, they get married, otherwise they continue looking for another girl/guy. What do they talk about in those 15 minutes? Any funny, unique and naughty incidences you can share? What was running in your head in those 15 minutes? What did you ask the other person?
I thought how my parent decided to spent whole life with each other. My father looked at my mother. He thought, "She's pretty." She brought him tea. He asked her questions. She answered them. He looked away. She looked away, too. They sat together. Minutes passed. They needed to make up their minds. They … looked at each other one more time? They … trembled? They … smiled? They decided to spend the rest of their lives together. What exactly is transpiring between these two human beings as they meet for the first time to do nothing less than make the biggest decision of their lives in just a matter of minutes? I ached to know.
My family was already agreed for relationship and the decision was left over me to decide by the meeting. But to decide the rest of my life based on one meeting seemed unfair to me. I was the one who would have to leave my home, my family and everyone I knew. My fears and doubts about Samar swung from the ridiculous to the mundane. I had only seen the sociable, pleasant side of him. What if he was an ex murderer? A possessive jerk? What if he did not give me room to breathe? Expected me to be just a housewife? What if he was disorganized? Or too particular? How would I have to adjust my personality to fit someone else's? Will I be able to live with this man? Will I be able to love him?
"This is Samar," my father said; Firm grip, warm smile, sharp features! He was tall, but not crazily so. And what do you know? He was wearing jeans too. The prospects for the evening began to look up. Perhaps it would not be as torturous as I had thought. Besides, my mother was smiling again.
Samar was laid back, looking comfortable. He shared his impressions of his first visit to America. What they were exactly, I don't recall, but I do remember that we all laughed. The liveliness and storytelling lasted through dinner. Then it came time for Samar and I to spend some time together.
I geared up for the awkwardness that would surely come once we were alone. Wrong again. "Guess it's time for 20 questions," he joked. What was he doing charming me by asking about my job, my friends, my interests, what I did for fun? Telling me funny stories about his life in New York? I had always maintained that I would prefer any other country to the U.S. It was too far from everyone I knew, too familiar and alien all at once. But after a couple of cups of coffee it did not seem so inconceivable. This was going seriously sideways. I was actually enjoying myself. In the middle of the conversation I interrupted him and said "Samar I also want to say something". I was feeling so nervous. "What if he told everything to our parents? Should I tell him or not? A chain of thought whirled in my mind.
"Sneha what's the matter he said? Anything serious. Don't say you want tell about your ex-boyfriend" joked and grinned Samar.
"Yeah, I want to tell you something about me and him.....
To be continued.....
Wanna hear another part? Wait....wait will post it once this post gets 200+ upvotes. And do share and boost the post. Thanks in advance :P