Morning mists over the new bridge in the city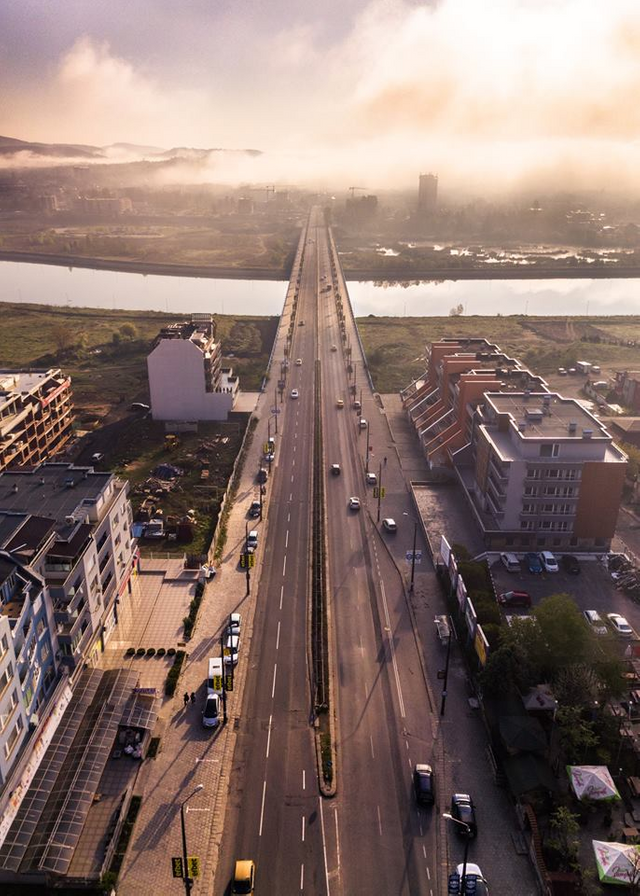 I got off the blue wagon just in time, somewhere around 5:53. I stepped on a native land with a good mood. The city was just awakening from sleep, and I was climbing the first hill that was supposed to take me home. I was walking along the bridge and watched the two trains diverge, and each one continued on his way. Performing this ritual every day, it seems to me somewhat romantic. The sun was floating between the mountains to illuminate the sky over our little town. He caressed my face with my first morning rays of love. I felt special, different, chosen, alone, but not alone.
Good morning!!!
The night was interesting, full of surprises and riddles. I left the sleeping house and walked through the empty, dark streets of the old capital. Everything had fallen asleep irretrievably. A grim, ghost town full of chariots and carriages. I felt both fear and calm, balance. I went down to the station, through the empty subways, over the tranquil river, past the gypsy barracks, across the rails of the bench in front of the warm building. I set a cigarette to make time run faster. I feel Dylan, I am obsessed with him, I adore him, I want to kill him, to steal all his glory, to grasp his brain. I was looking in the darkness, looking for a figure.
Here's the ghost train, coming to take me out of this place to take me home.
Goodbye!!!
... I'm the two faces of a chocolate coin.