Beach Yoga headstand [Comment & WIN !!!]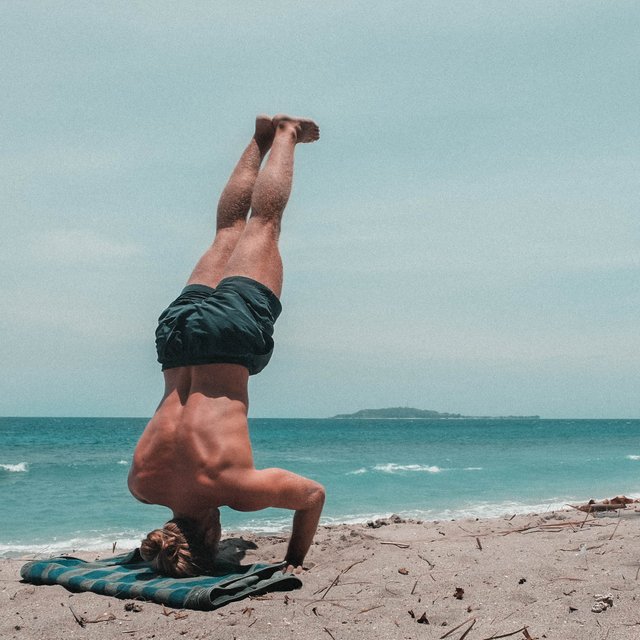 the head stand on a deserted beach in Snggigi, Lombok, an island of Indonesia.
I love editing and i do it on a daily basis. Mostly for my startup or for clients. Normally i charge around 49$ per picture set or (swiss prices for clients). You have a chance now to win such a picture edit!
How it works?
Follow me on Instagram: https://www.instagram.com/perfspots/
Comment anything on my latest post: https://www.instagram.com/p/BoWPQZPBeTc/
this is it!
i'll chose the most creative or funny comment who wins. then you send me your favourite picture you want me to edit. I'll edit it (perhaps with different styles) and send it back to you. Voilà there you go with a fresh n fancy new profile picture for Steemit, Whatsapp, Instagram or Facebook. or perhaps you'll print it and hang it on the wall ;D
Normally i post every week, so every week you got a new chance to win!
GOOD LUCK!
By the way, have you seen my latest Video Log?

ill post weekly vlogs travelling south east asia! don't forget to subscribe.
About Me & The Perfspots Project:
Hi, im Ivan.
Perfspots stands for Perfect Spots. My passion is to explore places I've never been before. While running a startup, i travel as much as possible. Here i share the Perfect Spots i enjoyed the most. Spots you can get a great meal, sip a coffee with a breathtaking view or experience an exciting adventure.
Follow and become a Perfspotter!
What i realized
"This world has more to offer than we can explore in a lifetime.", so what are you waiting for? go out there and explore this beautiful planet.
Learn more
about the Perfspots project here: https://perfspots.com/perfspots-travel-project/
Links
Website: http://perfspots.com
Steemit: https://steemit.com/@ivansnz
instagram: https://www.instagram.com/perfspots/
facebook: https://www.facebook.com/perfspots/
youtube: https://goo.gl/5GCWhB
flights: https://goo.gl/HRhxoy
hotels: https://goo.gl/9UxEDR
equipment: http://amzn.to/2EA1LNg
*some of the links in this post are affiliate links. This means that if you follow the link and make a purchase or a booking i get a small commission at no extra cost to you. If you want to buy or book any of the options and want to help me out at the same time then please use one of these links! It fuels my Perfspots Porject :D