Today is February 17. Until the spring there are less than two weeks. Аnd a day of my birth. On the occasion, I will publish an almost biographical article about how I started filming underwater in Russia.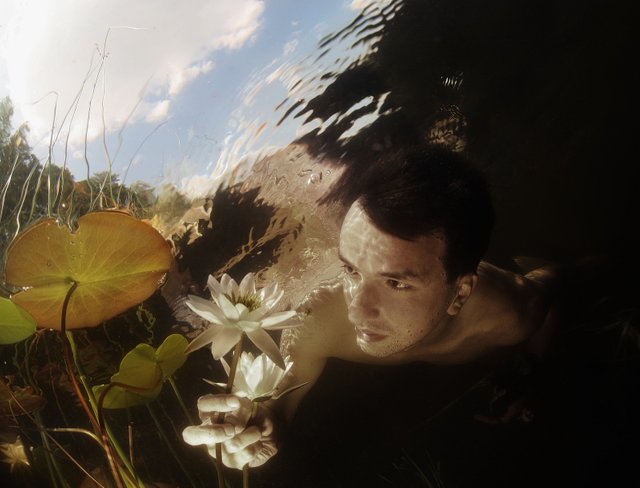 Most people in our country believe that underwater photography is necessarily somewhere far away, deep and of course expensive. With at least two of these three points, I'll try to argue in this article. Since all this happened personally with me, I'll tell you in chronological order.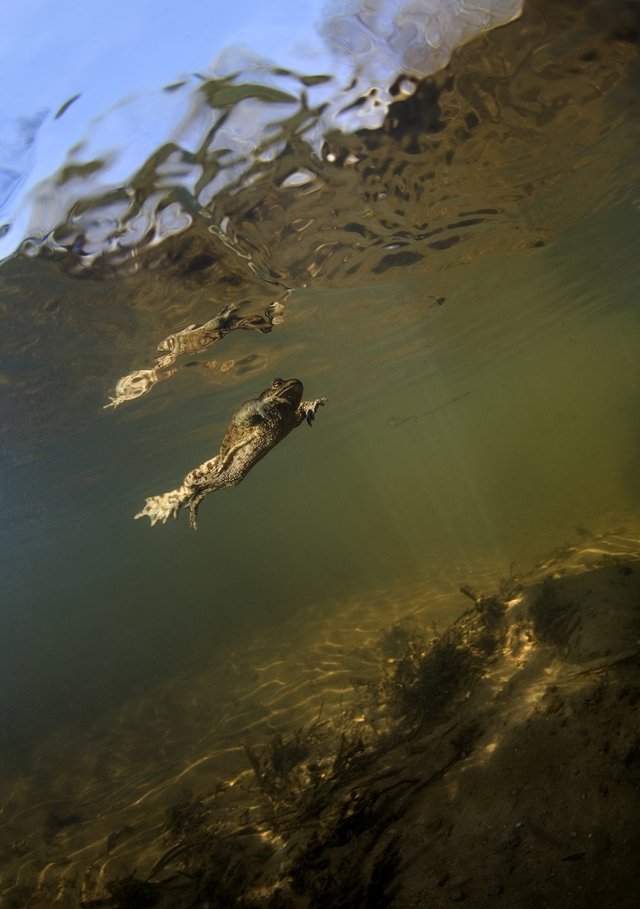 It began in 2008 at a regular meeting of photographers in Moscow. I suddenly saw a toad instead of cards of corals and fish. Such are the ordinary domestic toads, only under water. Then the effect of surprise and contrast worked. It can not be said that those photos were technically flawless. But they stood out against the backdrop of all the others, which completely attracted attention. Not only mine, but also my friends.

These toads and became the first step to acquaintance with native reservoirs. It took some couple of days and my friend was already going to shoot. Photos of toads, enchanted him too. We did not pull for a long time and together we went to shoot. It was the very beginning of May, quite warm, so that small streams and ponds already melted and revived.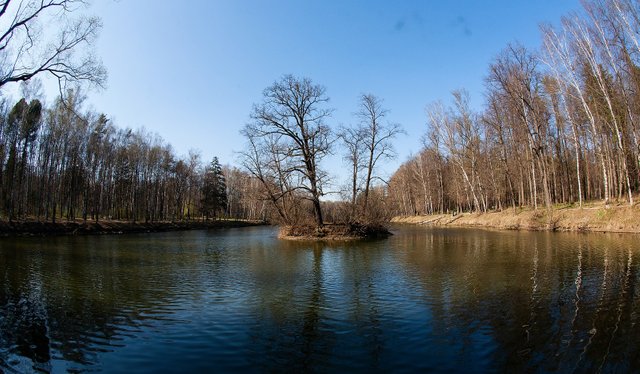 It was on a small river right on the border of Moscow that we stopped. A short walk with equipment inland from the road and you can already climb into the water. Well, how to climb. The depth there was in the range of 20 to 50 centimeters. And the temperature of degree 2. At that time, we did not have any dry suits.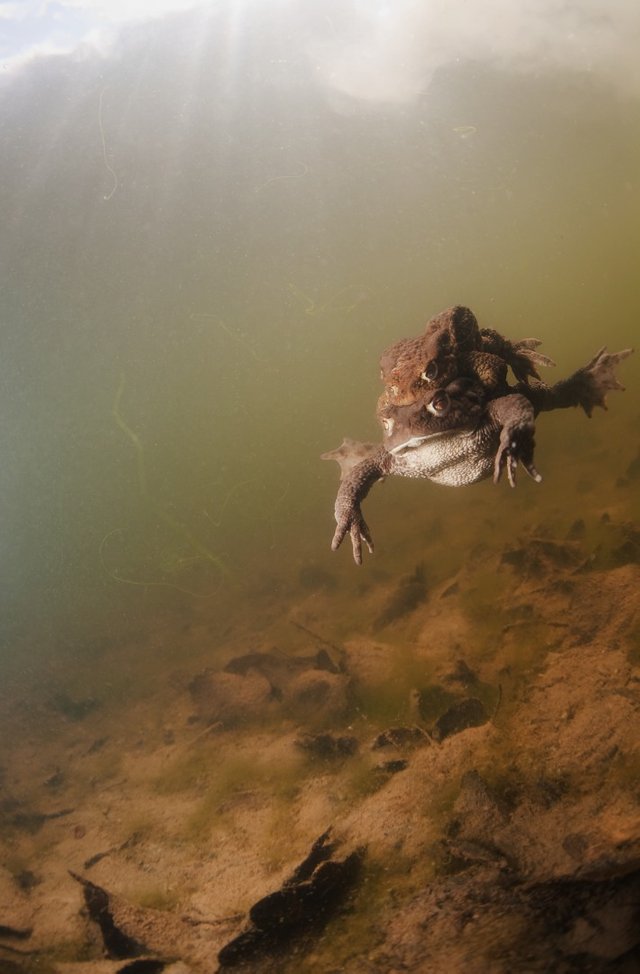 But the toads were there. The truth is not so much, as they told and showed a week earlier. The solution turned out to be simple. I put on my usual neoprene boots and went into the water about knee-deep. Cold of course, but you can live. You can not look at the viewfinder, but often you do not need to take pictures with fisheye lense. At it's viewing angle, absolutely everything falls into the frame. The main thing there is not to be. In order not to be unfounded - here is the photograph, where on the right is my boot.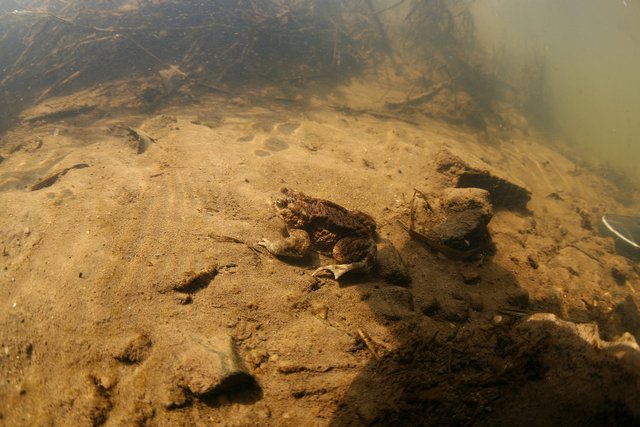 The second plus is a fisheye lens, this is to do volume out of nothing. That is, taking a few centimeters of water, you can show this as a full body of water. With the transparency that we have in the rivers, this is simply an indispensable property. In total, we stayed at the river for about two hours. With interruptions to keep the feet warm. And those pictures, you see, not only we were hooked. They won several competitions at once.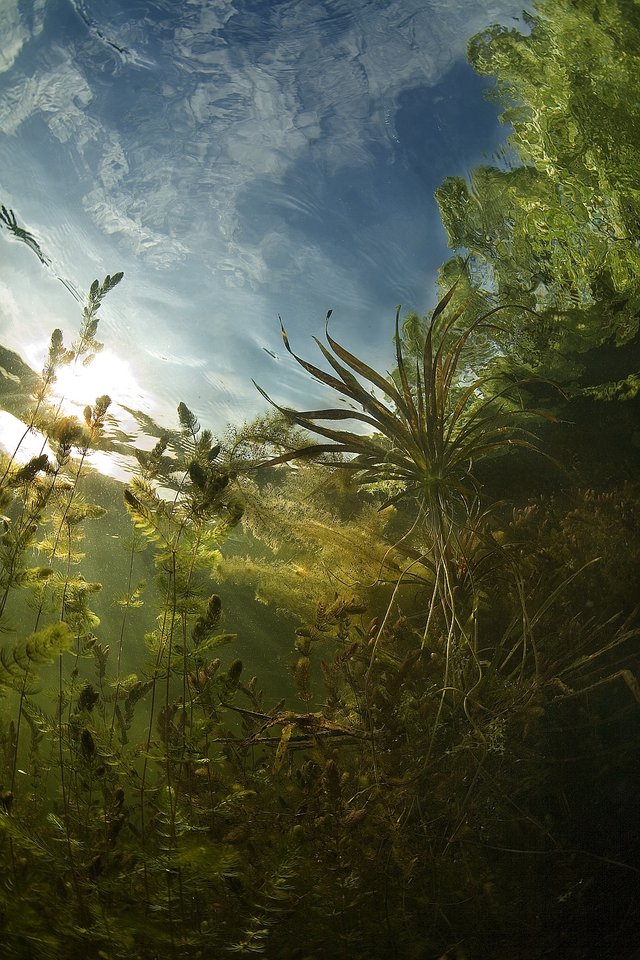 But that was only the beginning. Social networks were already beginning to rule the world, so when they saw homegrown photos, they began sharing places for us. Well, we all remember it and, if possible, check it. The second important place was the little old part of Oka river about 150km from Moscow. We called it a Magic lake. Why? First, finding it is not easy. It was a whole Camel-trophy with pulling out cars and fleeing from the field fires.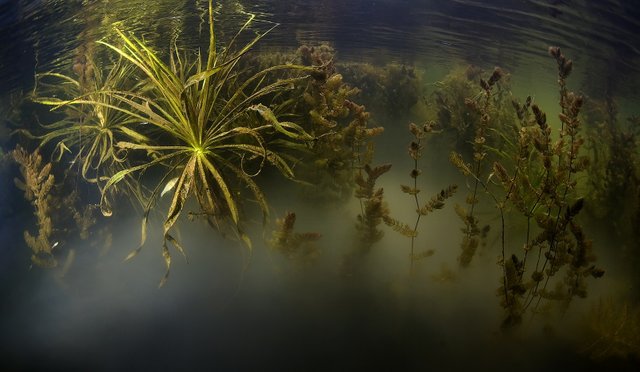 But the main thing is that the water in this place was quite transparent. Well, that is 2-3-4 meters of visibility. This is very good for our reservoirs. The Red Sea with its 40 meters is resting)) We shot grass, fish, mud and rejoiced the sun's rays. They are way in the water really look magical. Even better than in clear-sea water.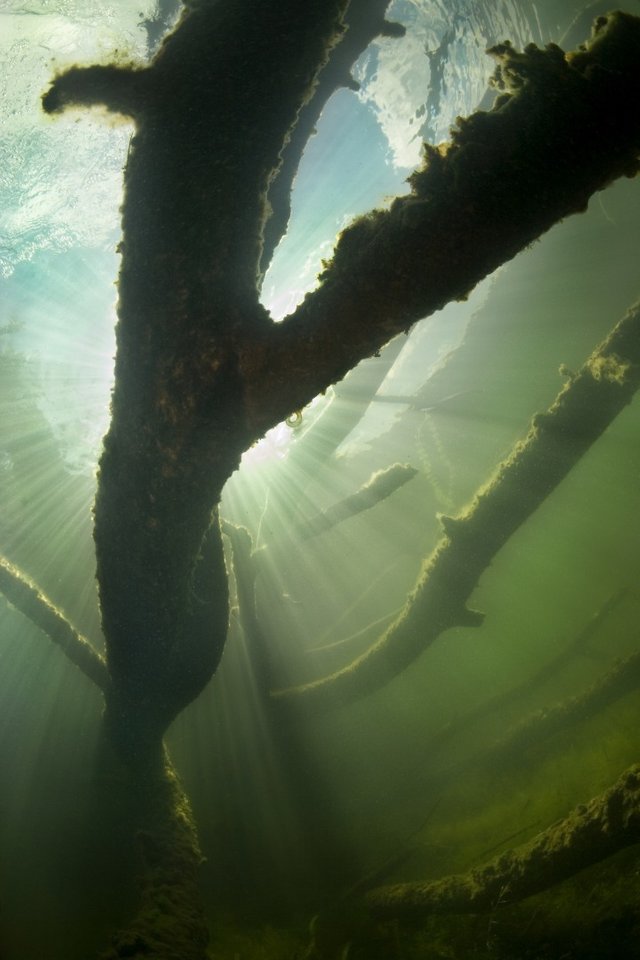 This pond was still so convenient that my friend and underwater photographer Sergei Shanin had a relatively close house / dacha there. That is the same "next to the house", about which the title says. From him we did all sorties for shooting. Dived in the usual equipment that we had. The benefit came summer and the water in a small pond warmed to about 18-20 degrees. That is, if there is an idea-fix, you could swim in the usual 5mm neoprene for an hour, or even more.
Several times even the cylinders were taken for rent.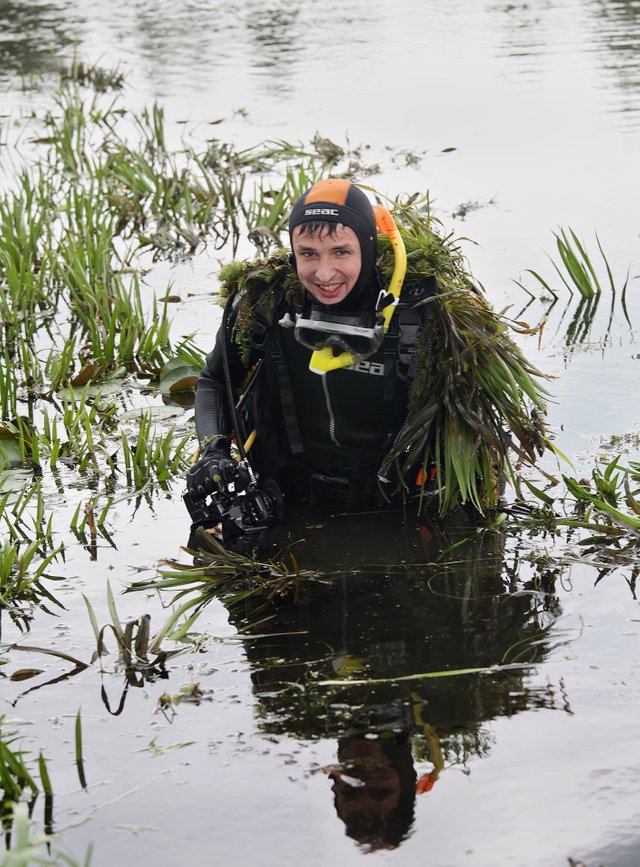 In the same place, next spring, we found toads. More precisely very much. So much I've never seen before. However, May turned out to be cold, so even the snow was coming. And on occasion we used other equipment - waders. Big boots on the chest, in which you can crawl on the bottom of a small pond almost on your knees. If you follow to accidentally get water inside not to scoop up, then it's quite comfortable outfit. Even for water, which was recently ice. You could of course dream about a dry suit. In it, and lie down in the water you can, if necessary. But only that wet-suit without exaggeration, is 50 times more expensive than my boots was.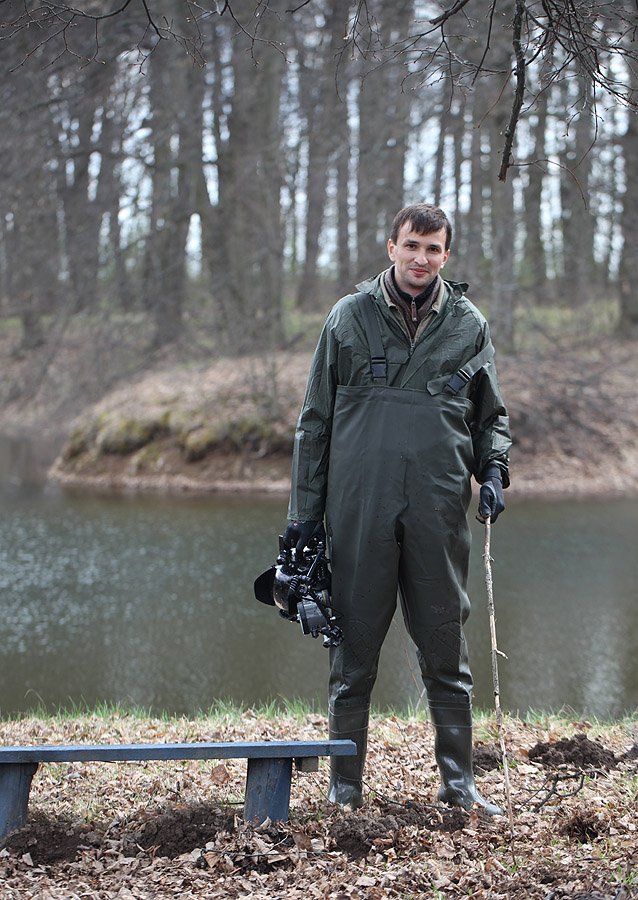 Well, we continued to bring photos. And the photos themselves found new people who are interested in it. So in a few months, we met with other enthusiasts. They drove the company to different lakes and watched what was under it.

After all, all water bodies are different. And the very "transparent" water with 4 meter visibility is still to be looked for. Especially in the summer, when the heat and water starts to bloom. So, with his eyes still nothing, but here at shooting bloom all spoils.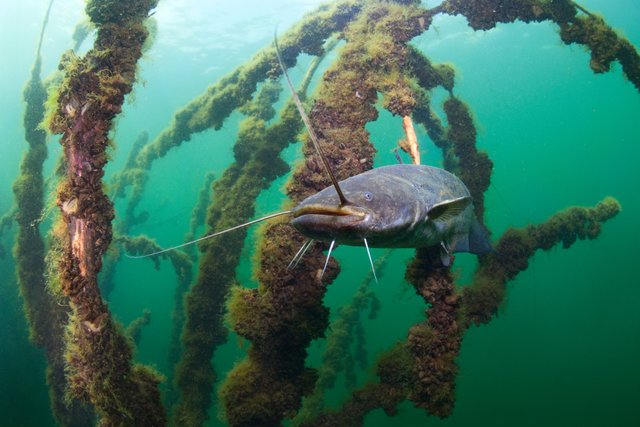 Therefore, the best time to swim is May-June, when the mud washed away after the winter, and the blossom has not yet begun. Well, or already closer to the autumn, when flowering began to descend. There are exceptions. Reservoirs, where, for example, what mineral outcrops are available. There, the water almost does not bloom. Such as the Blue Lake in Kabardino-Balkaria. Or the Shchelkovo quarry here at Moscow. The water there even has a characteristic shade.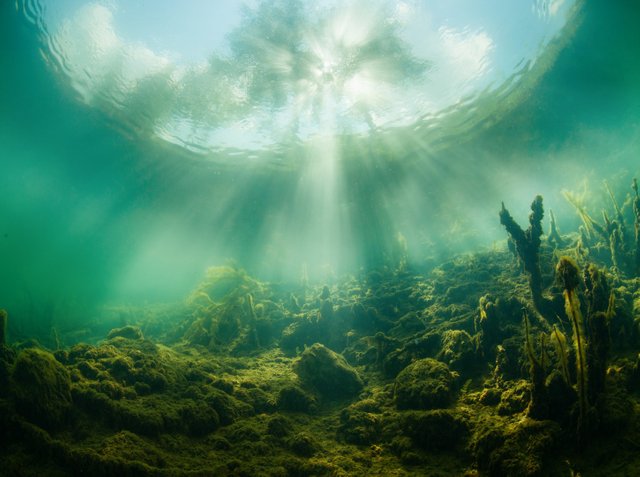 Well hold the transparency thr lake with a sandy bottom. There simply is not much to lift the suspension. Because if the bottom is muddy or if God forbid clay, then any rain and wind kill transparency for at least 3-4 days. And then for a week. That's yourself and consider what the chances are, with the amendment to our weather. The happiness is that there are a lot of reservoirs in our country. There are plenty to choose from. In small and cold rivers water is also clean for a long time. So this is a matter of desire.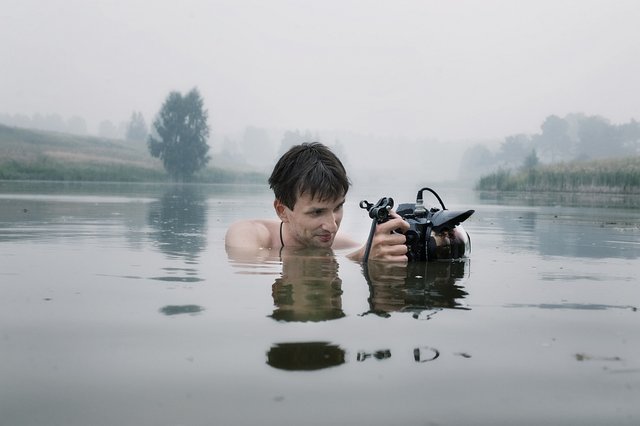 We continued our trips to lakes and rivers. They usually chose those that could turn around during the weekend. That is, beyond the Tver-Novgorod region to the north were not chosen. And I went to the south in the direction of Lipetsk-Voronezh. For all the time, a dozen or two reservoirs have been dug up. Many places came back many times, because there is not only shooting, but the rest is excellent. Such, for example, as Chepolchevskoe Lake near Vyshny Volochok. Sandy bottom, pine trees along the shore, light reddish color of water and water lilies ... beauty.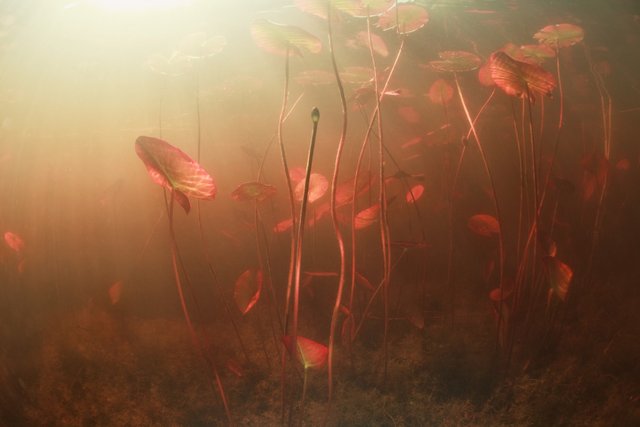 Approximately half of the trips we dived without scuba gear, and sometimes even without even costumes. The very beauty, it's at the surface. There is a lot of light and living creatures. And no restrictions on the air. While the whole day swim. Well, we swam)
Those photos are not one and not two competitions won.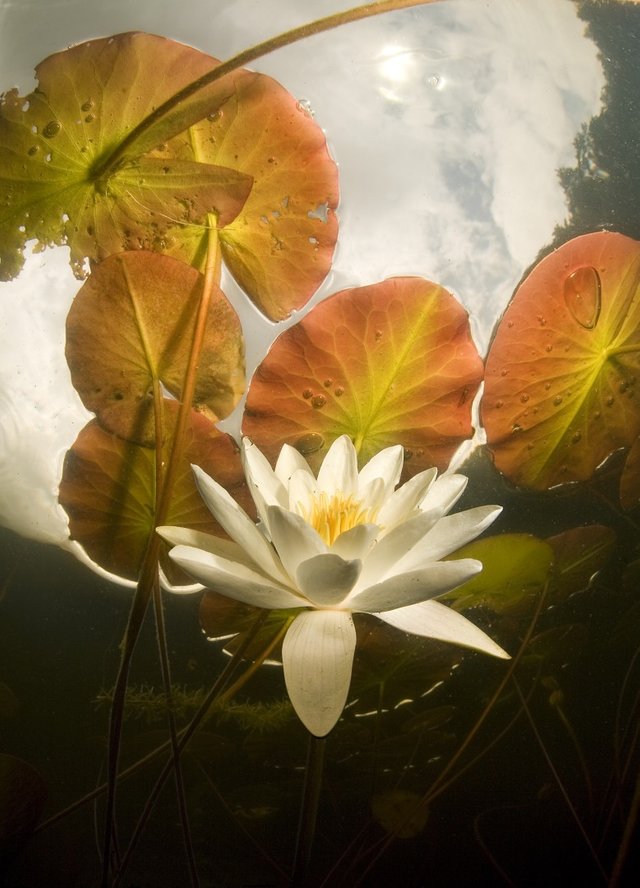 In parallel, they began to cooperate with National Parks and Reserves. We give them photographs, and they give us accommodation, well, help with transport. Several years went to the Valdai Park. It's good there. Valdai Lake itself is transparent. Even when the weather does not go well, you can dive and shoot anyway. Fish, by the way there, thanks to the work of the park a lot. It is interesting to watch the whole pack sweep before you, and how the pike attacks them from the ambush. All the same, you can see closely in the water that on land and for 100 meters you will not spy.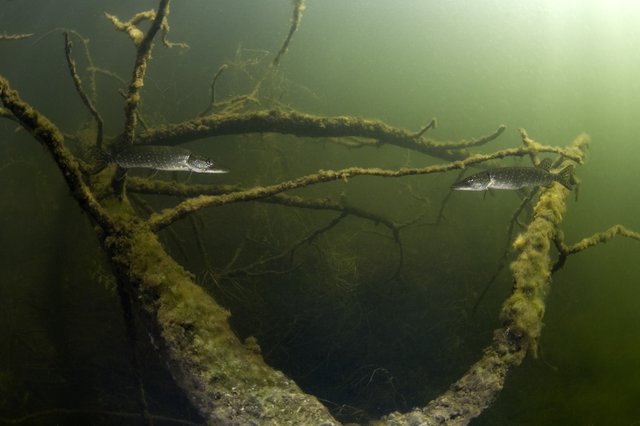 For filming in the park, we made ourselves a simplified set of equipment. We bought a 4.5-liter bottle, so that it could be easily carried and carried easily. And self-made straps instead of BSD. With him, we could swim in the shallowest waters and grass, where with a full kit does not get through. Most of the time they breathed through the tube. A balloon was used only when the bottom went to the frame to do. So for 3-5 minutes it was enough for the whole day.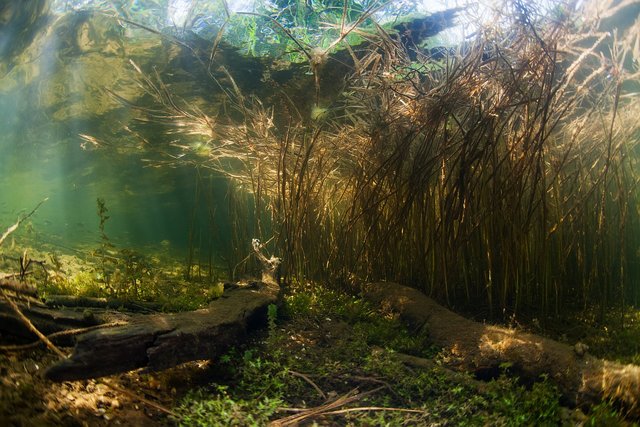 And more in the lake, nothing is needed. Mask, tube, fins and load. And then somehow they arrived, but there was no cargo, and we hung on the belt disks from the bar and the tip of the hammers. Different costumes were used. What kind of people they had. First, as I said, the usual neoprene. Diver. Then I bought a second-hand dry suit for a penny. Well, when we got to the Far East, then the suit was already freediving. Of neoprene with open at times. In such a suit in cold water you can swim, but he does not feel as constrained as a dry one. Therefore, such suits are used by underwater hunters. Just in order to swim along the rivers and lakes even in winter.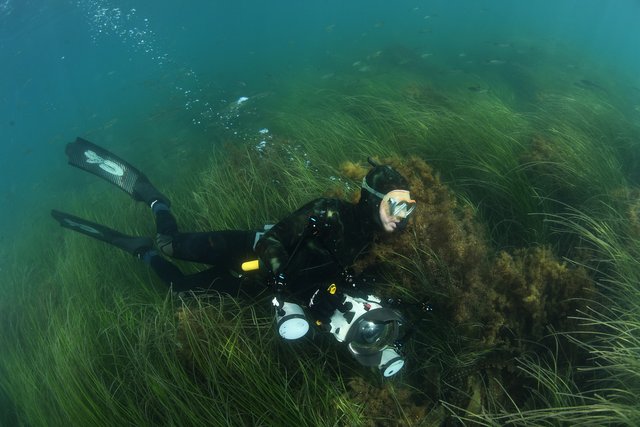 This piece is quite affordable. Compared with the cheapest ticket to the Far East (usually $ 500). My costume cost me more than twice cheaper. And certainly cheaper than a dry suit. It took a little practice to learn how to easily wear and remove it. But how can such a small thing be stopped. When at stake is the whole world and real adventures?
And you can shoot all this now almost by phone. Well, or Go-pro))

[//]:# (!steemitworldmap 55.894181 lat 37.498784 long d3scr)