Better classic...
The Ford Thunderbird is a rear wheel drive automobile which was manufactured by Ford in the United States over eleven model generations from 1955 through 2005. The Thunderbird created a market niche that eventually became known as the personal luxury car.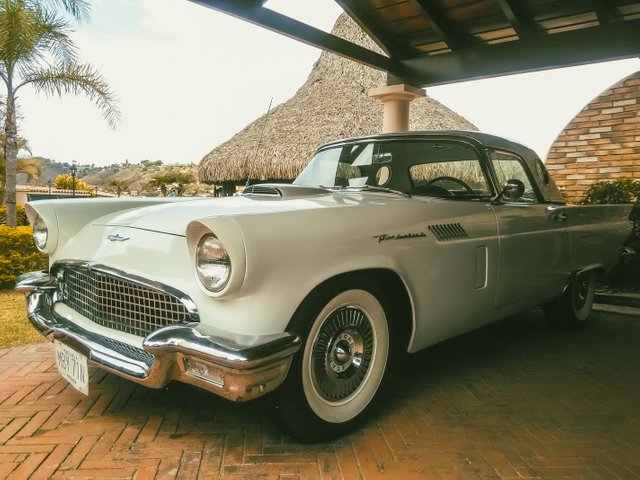 The Second to Fourth Generation Thunderbird convertibles were similar in design to the Lincoln convertible of the time and borrowed from earlier Ford hardtop/convertible designs. While these Thunderbird models had a true convertible soft top, the top was lowered to stow in the forward trunk area. This design reduced available trunk space when the top was down.
The trunk lid was rear-hinged; raised and lowered via hydraulic cylinders during the top raising or lowering cycle. The forward end of the trunk lid contained a metal plate that extended upward to cover the area that the top is stowed in. With the top down and the trunk lid lowered, there is no sight of the soft top.
The overall appearance was a sleek look with no trace of a convertible top at all. No cover boot was needed.
However, this design could present a challenge to one who is troubleshooting a convertible top malfunction. The system consists of a spiderweb of solenoids, relays, limit switches, electric motors, a hydraulic pump/reservoir, hydraulic directional valves and cylinders. While the hydraulics are not often a cause for trouble, the electrical relays are known to fail. Failure of any of the relays, motors or limit switches will prevent the convertible system from completing the cycle.
Unlike hardtop models that utilized a conventional key-secured, forward hinged design, the convertibles combined the trunk opening and closing within the convertible top operating system. As a result of this design, the trunks of convertible models were notorious for leaking.