Hello friends! I hope you're feeling happy and colorful!
Today I'd like to show you a picture I took recently on a photoshoot on a popular park in my city (you might soon see how that came out). Now when I see this picture I think it was one of those little yet very nice coincidences life makes happen.
It was actually a test photo to check if the aperture and exposure were the adequate ones, because I was about to take someone's portrait with these umbrellas as a background.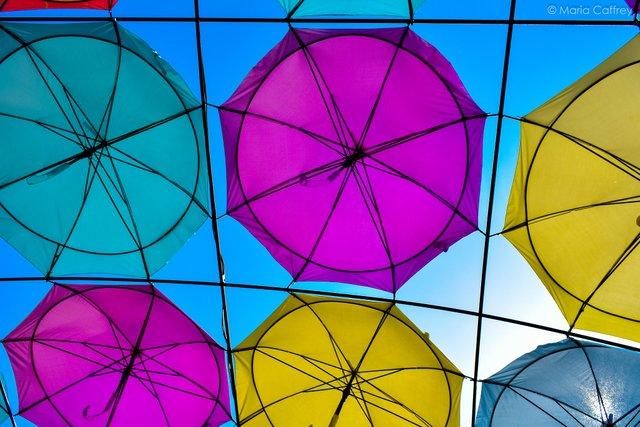 I saw it and confirmed the parameters were a-okay and I just carried on with the shoot.
Later that day, when I was checking the results of it all, seeing what to delete and what to keep, I bumped with this pic and I just wasn't going to erase THIS big opportunity to show colors, was I?
I did some editing on Lightroom to make the colors quite vibrant, and to reduce and bring back the blue on some of the burnt sky on the picture (it was about 11 in the morning so we had the sun almost on top of our heads).
Also I discovered Lightroom has a watermark option. LITTLE DID I KNOW! Every day we learn something new, am I right?
Anywho, I really loved this "accidental" shot and I hope you enjoyed seeing this nice splash of colors on your feed :)
---
Taken by @mariacaffrey using Nikon D3400 and AF Nikkor 18-35mm, with F9.0, ISO 100, 1/200s, processed with Adobe Lightroom.
Images above belongs to me; all rights reserved