📷 Chiara - Shot Technical Explanation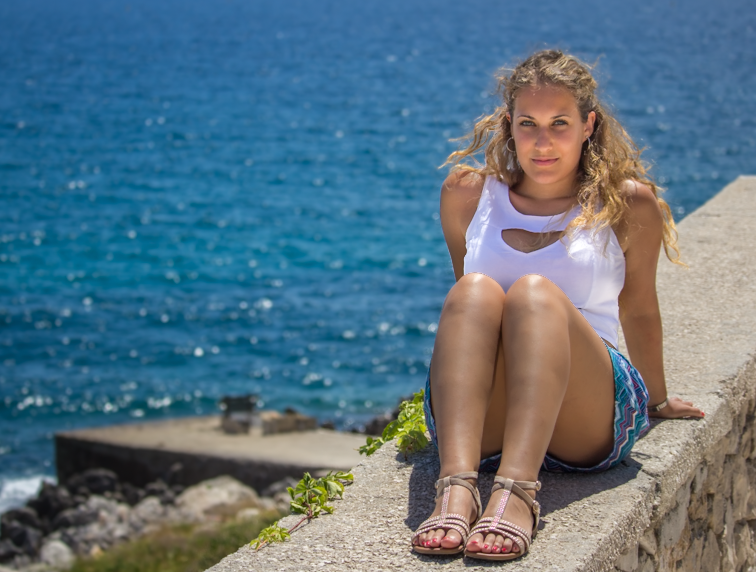 ---

Today, I want to show you another photo of my girlfriend Chiara. This shot was made in Puglia, more specifically Castro Marina. Now I explain you how I made it.
The shot
This photo was made in the middle of an August's day. The sun was very high and the light very "strong". It was quite difficult to find a place where the girl didn't close her eyes blinded by the sun. I shot this foto with a light behind the model, a sort of basis photography rule braked.
The photo was made with a Canon 1200D with EF-S 55-250mm f4-5.6 IS STM and here you can see the technical data of the shot:
ISO 100
f/4
55mm focal length
shutter speed 1/1250 sec
Post-Production

Since the sun was behind Chiara, her face resulted obviously under-exposed. In a situation like this, you can fix the under-exposed face with a simple reflective panel, that reflect the light of the sun that comes from behind the girl. But I was on holiday and I did't carry with me this accessory. So I choose to take an under-exposed photo voluntary.
The photo was taken with the RAW format file and I put it into Lightroom for the post-production. The only goal for the post-production was to take a brush and slide up the light to the face of the girl. Then I also made a bit more vivid the colors of the entire photo since with the light of the middle day the colors appears desaturated.
I hope you enjoy the photo and the exaplanation.
Se you to the next shot :)