Right after going to the volcano crater, we went to this colourful lake nearby (with the awkward smell with us...but I don't think others care?). Sitting among the mountains, mysteriously, quietly...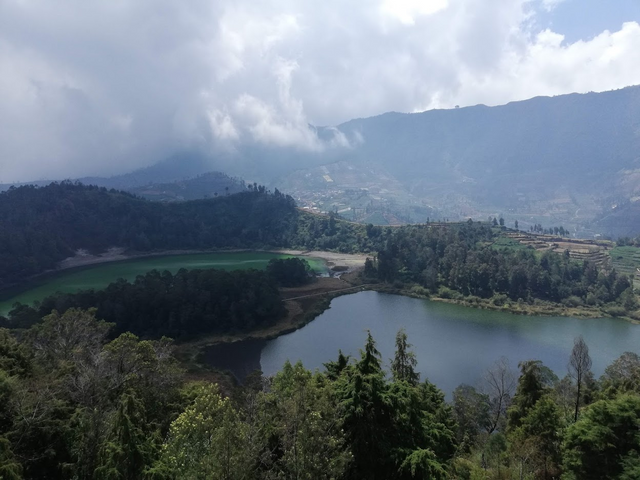 Isn't the most beautiful shot possible on the site (partly because of the clouds, I'm almost sure that it will look 2x better without the shade), but we still managed to see the colour differences on the lake :) According to this site, this is caused by a natural phenomenon as the sulphur content in the lake's water is high (remember the crater?). The site says that it is possible to see the lake in green, yellow, purple or even with the colours of a rainbow, but it looks like our luck is not that amazing that day :P
Some views around. It's a mountain area, so much greenery!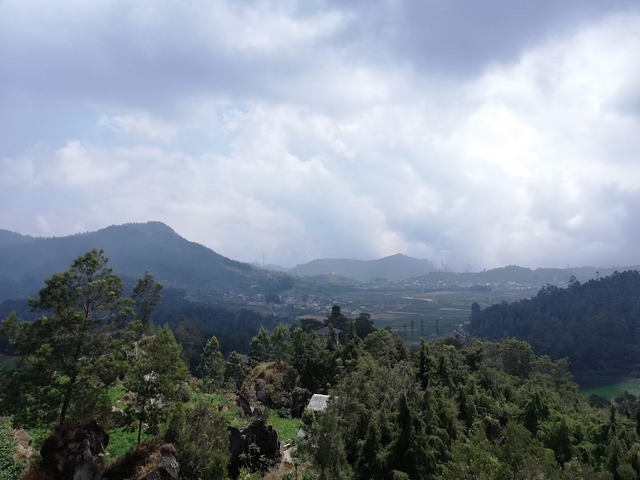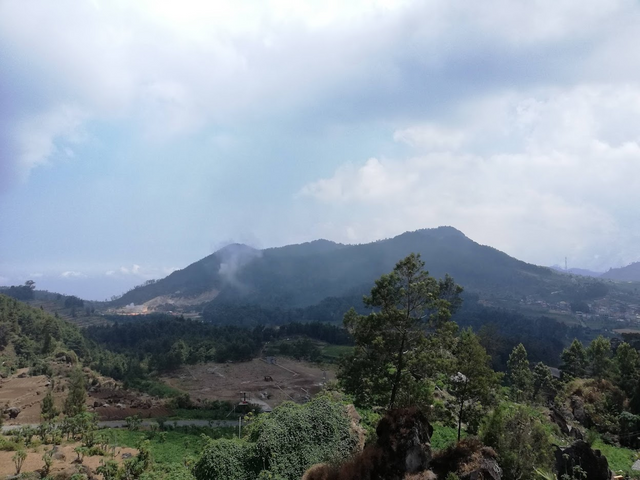 The rocky path they made that lead us up the hill to look at the lake from a higher spot (as in the first photo of this post). Yep, more presentable, my mum didn't complain this time... :P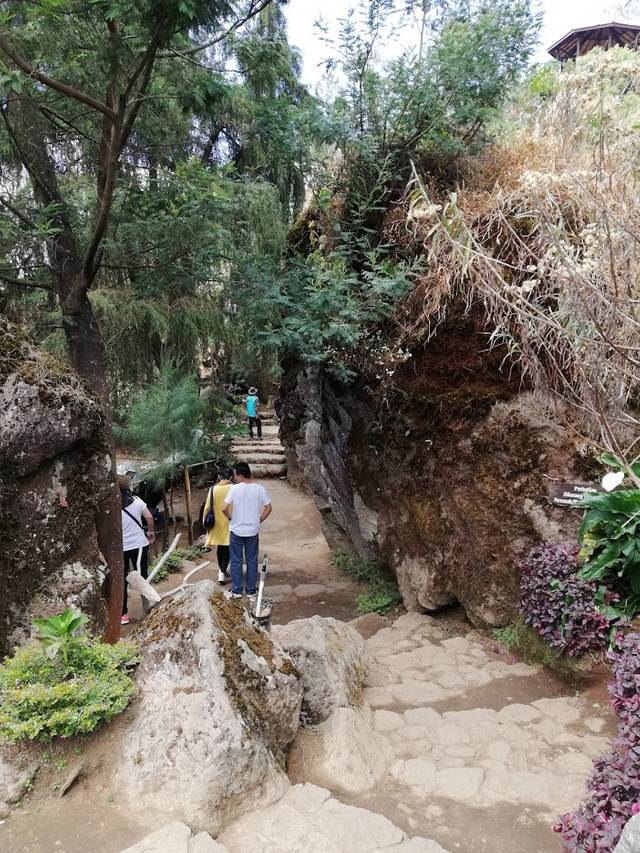 Random shot of a cobweb among the mossed rocks...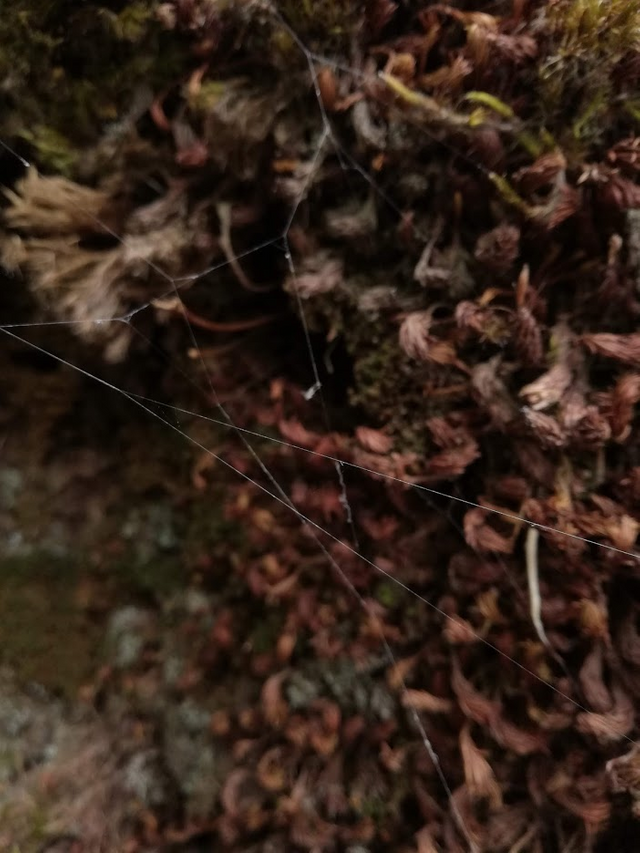 And remember the fruit I showed a few posts back? Here's the tree - it indeed looks very similar to a papaya tree, but much taller (and grows on mountains like these). Comparing to the papaya trees we normally see here, the leaves seem to be less flat and thicker. The fruit's shape is different as well, for me their shape looks like peaches/starfruits (uh, not really, but that's the closest I can go...?) but with papaya skin :P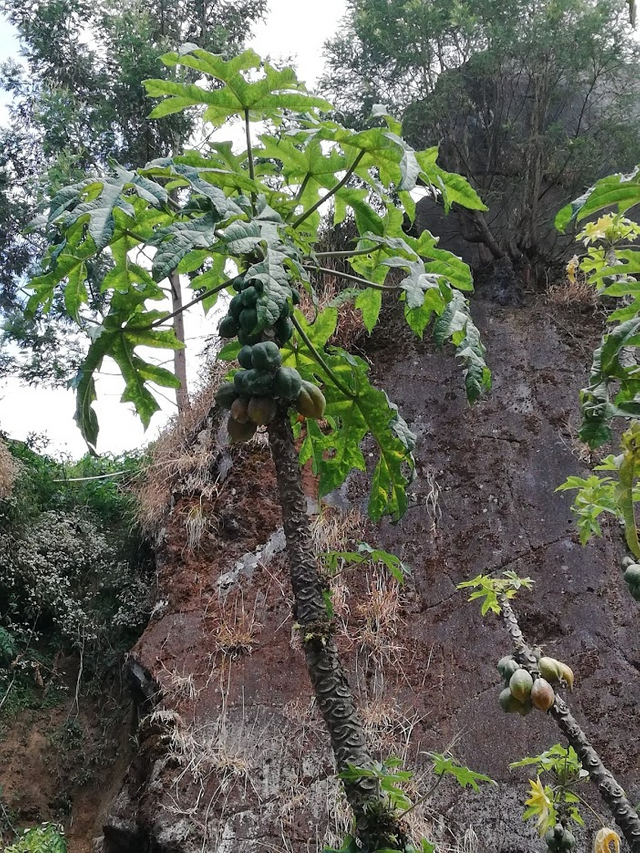 According to a friend, the fruit I last ate was unripe and was pickled, so the taste differs from what the real ripe fruit tastes like. Too bad I didn't get the chance to taste one...would really wonder how the taste feels like, lol. Maybe it's just like the papaya...
Overall speaking it's a nice place worth going, especially for the lake! And if you happen to visit the place some day, pray for good weather so that the lake can show something different for you...hehe. It's really luck-based here, but that's part of the beauty of nature, nothing is absolute!
Wrapping this up, see you next time :)
--Lilacse
---

This work above (anything below is not included) is licensed under a Creative Commons Attribution-ShareAlike 4.0 International License.
Photos may have been automatically compressed while posting, but you may reach me on Discord (@Lilacse#0020) for higher resolutions.
---