Inle: Living on Stilts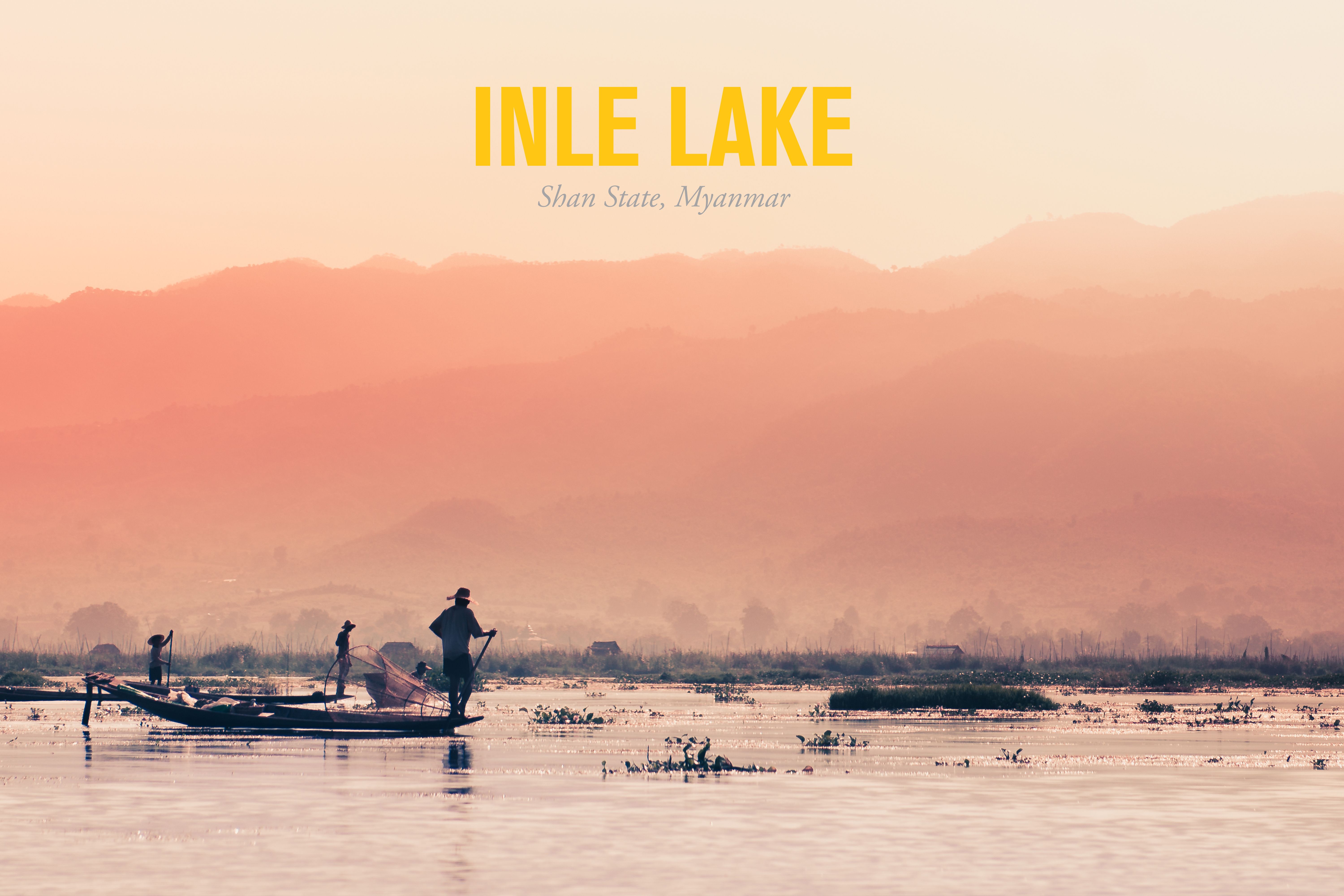 I'm constantly searching for communities with distinct ways of life. Immersing ourselves into unfamiliar customs and traditions widens our horizons and makes us more accepting of our differences. Upon seeing some photos of the Intha fishermen's one-legged rowing style, I knew it'll be worth a visit. From the floating gardens to the lotus weavers, Inle Lake is a real-life water world waiting to be discovered.
The lives of the Intha ethnic group revolves around the waters of Inle. Various innovations were developed to get the most out of the freshwater lake. This series takes you to the floating villages of Inle and looks into practices you won't see anywhere else in the world.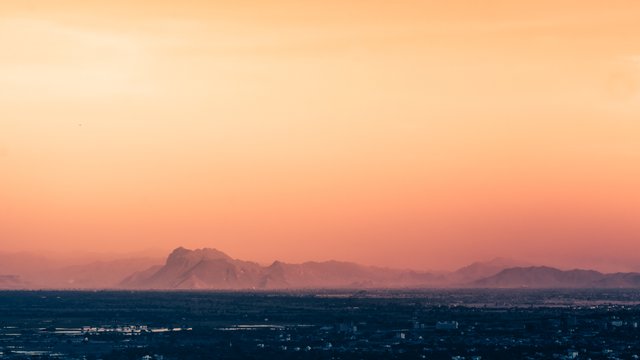 Sunset at Mandalay Hill.
IN TRANSIT
---
Reaching the stilt villages was harder than I thought. Communication was a bit of a problem and the country wasn't that ready yet for the tourism boost brought upon by its decision to open its doors to foreign tourists in 2011. I took the long hours of the bus ride as an opportunity to observe the locals.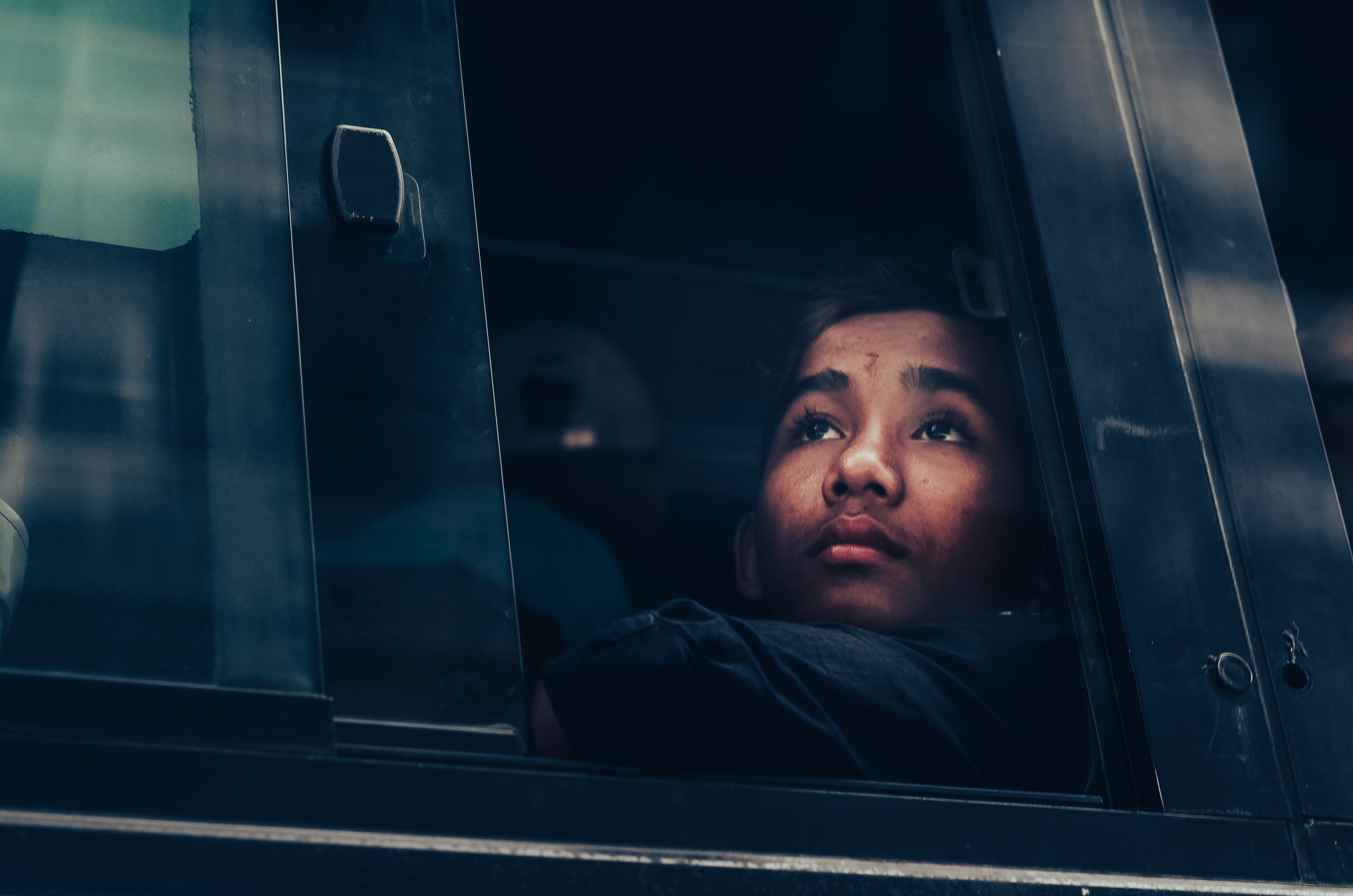 Locals who wants to practice their communication skills initiate conversations with tourists.
I got to see how Myanmar strongly upholds its rich culture and religious beliefs. Gilded Pagodas can be seen everywhere and locals wear with pride their traditional costumes.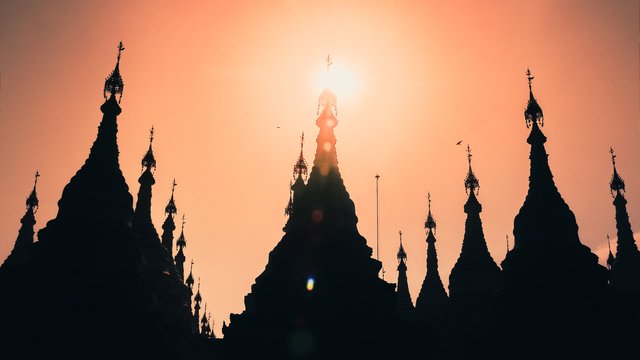 KUTHODAW PAGODA - the world's largest book located in Mandalay, Myanmar where each of the 729 marble slabs represents a page inscribed with Buddhist teachings.
NYAUNG SHWE
---
The town of Nyaung Shwe located at the north of the lake serves as the entry point to tourists wanting to experience Inle's aquatic environment. Long-tail boats docked at the jetty carry passengers as early as dawn to catch the sunrise.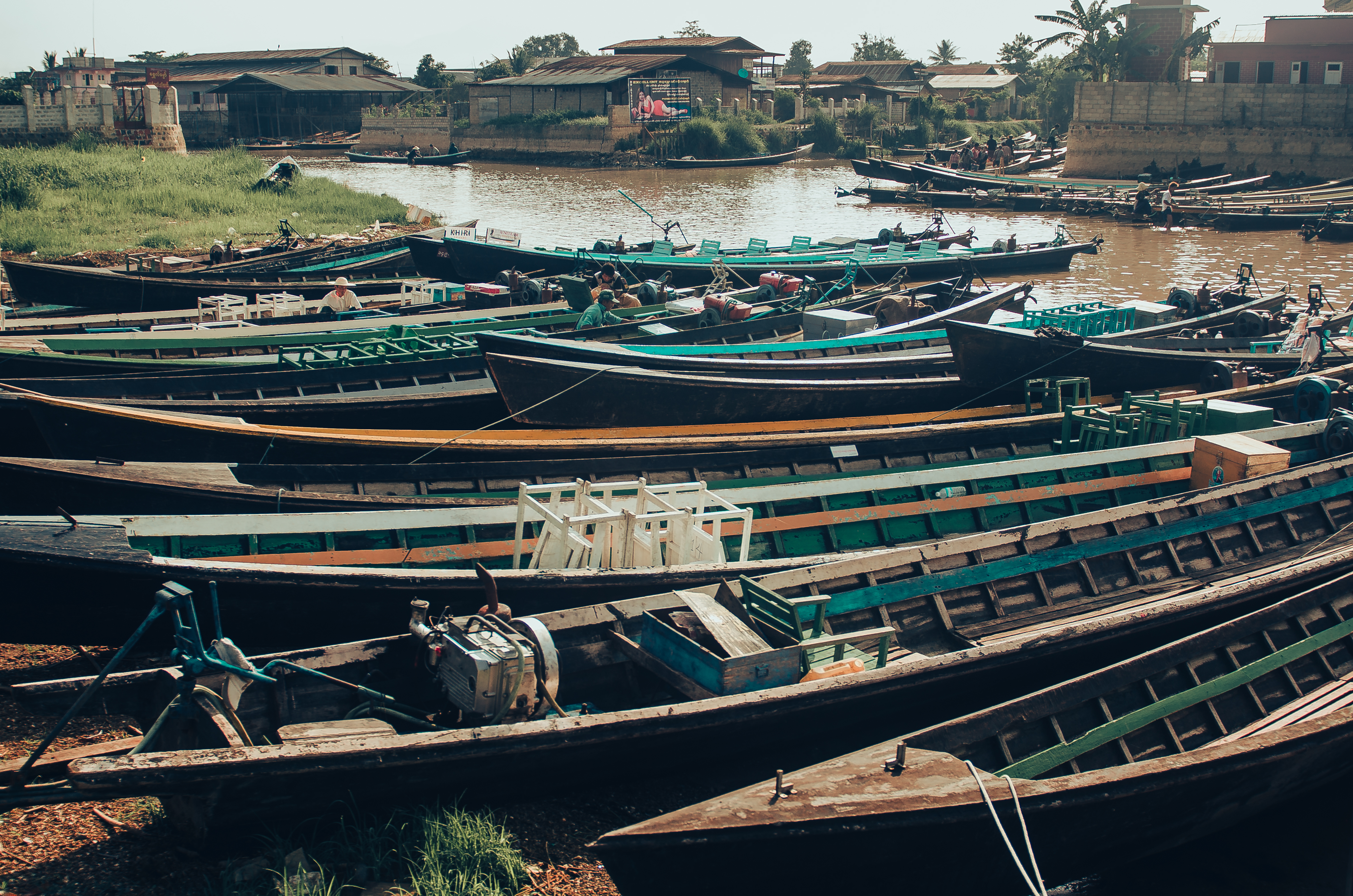 Nyaungshwe Jetty.
When the trip started, we found ourselves navigating through narrow openings underneath wooden bridges.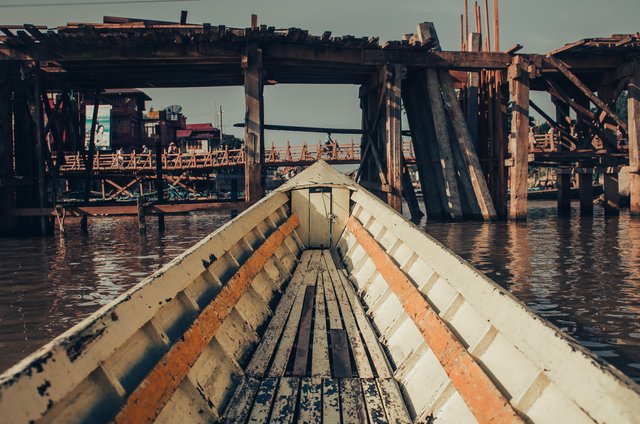 Crossing underneath this bridge requires enough experience and precision from the boatman.
You'll be travelling, side by side, with other locals starting their day early and carrying with them goods and supplies to a nearby market.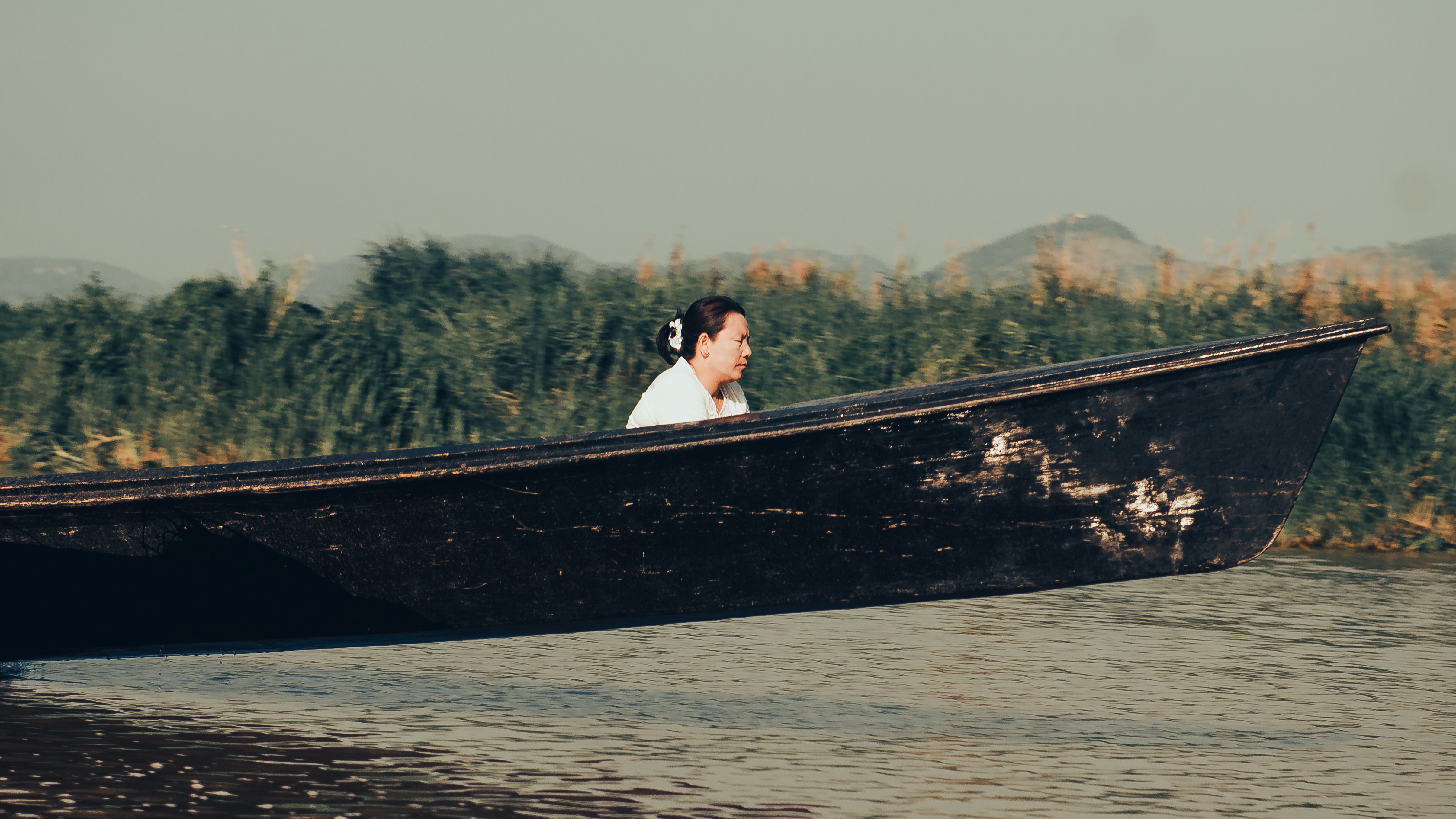 Locals sleep and wake up really early in Inle.
INTHA FISHERMEN
---
The boat slowed down as we reached the main lake and loud noises from the motors ended. You would feel the change in the atmosphere on this part of the lake. It felt like being in a theater where everything is mindfully controlled for a spectacle. The sun showed up changing what was earlier a dull environment to something warm and calm. Houses built on stilts stood against a background of scenic mountains.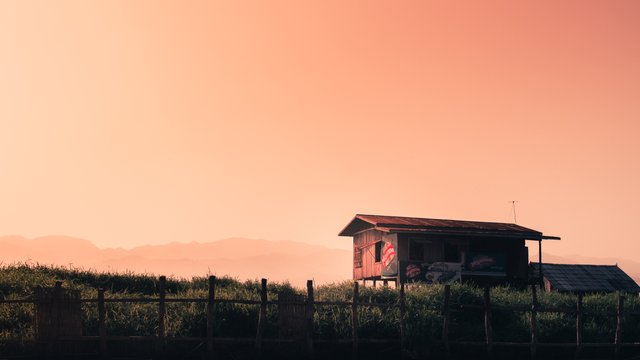 Stilt houses rise above the water.
There was nothing but silence. I live for moments like this. The scene deserved the blissful sigh I gave. Not far from our boat, a group of Intha fishermen caught our sight. They were standing on one leg while the other was wrapped around the paddle.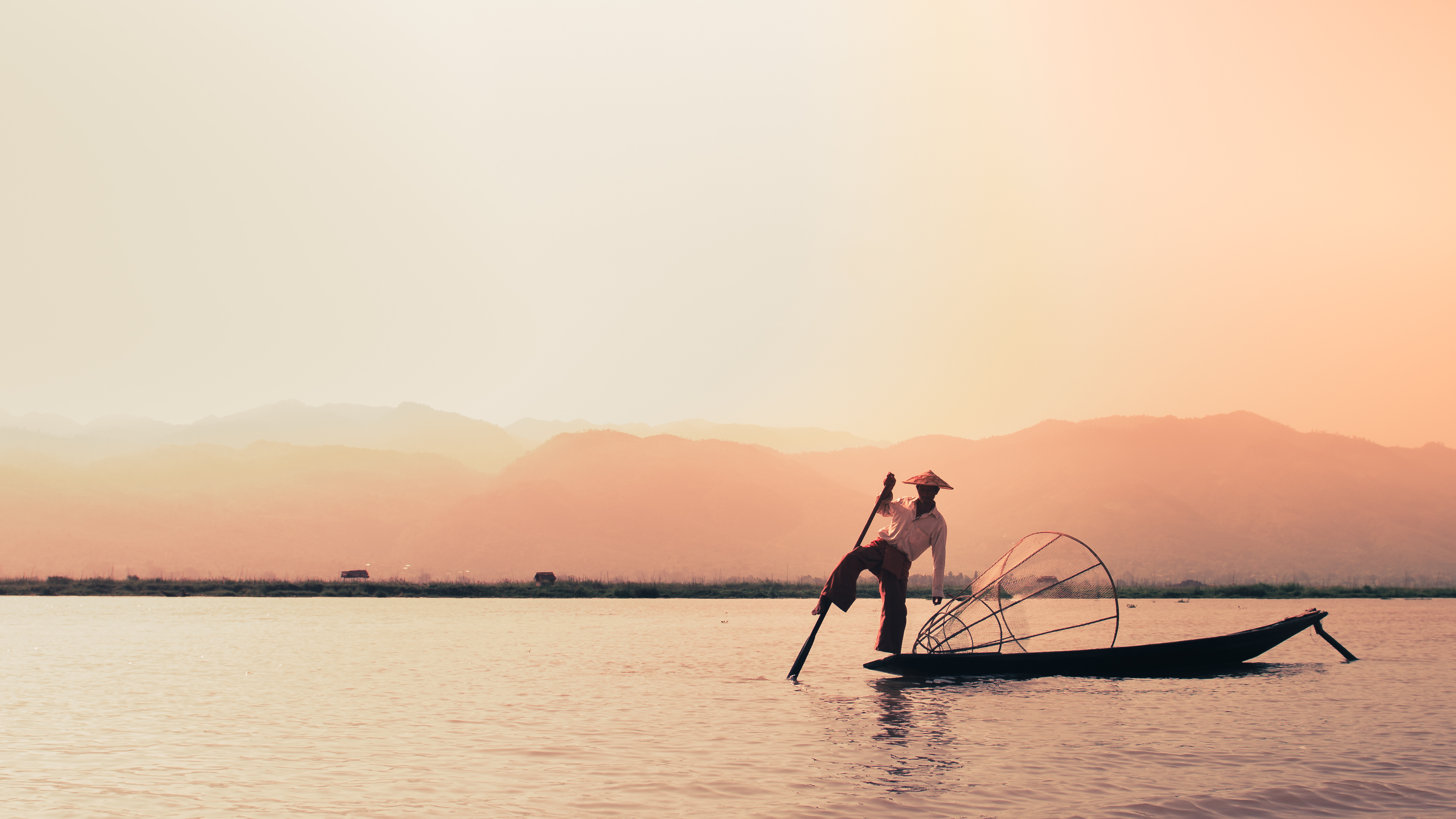 The distinct one-legged rowing technique.
These fishermen, wearing their traditional clothing, carried with them fish traps made of bamboo and net.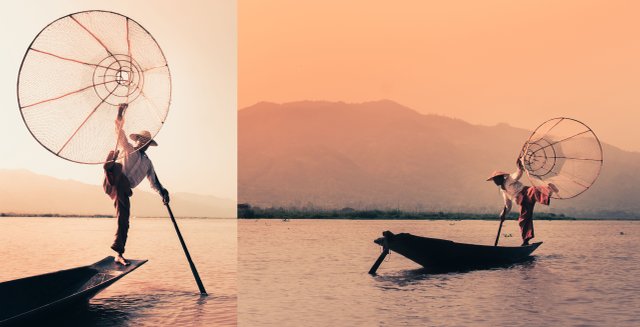 A fisherman shows off his balancing skills while trying to catch a fish.
The unusual fishing style evolved out of the need to have a higher line of sight for a clearer view of the water that's usually covered with vegetation.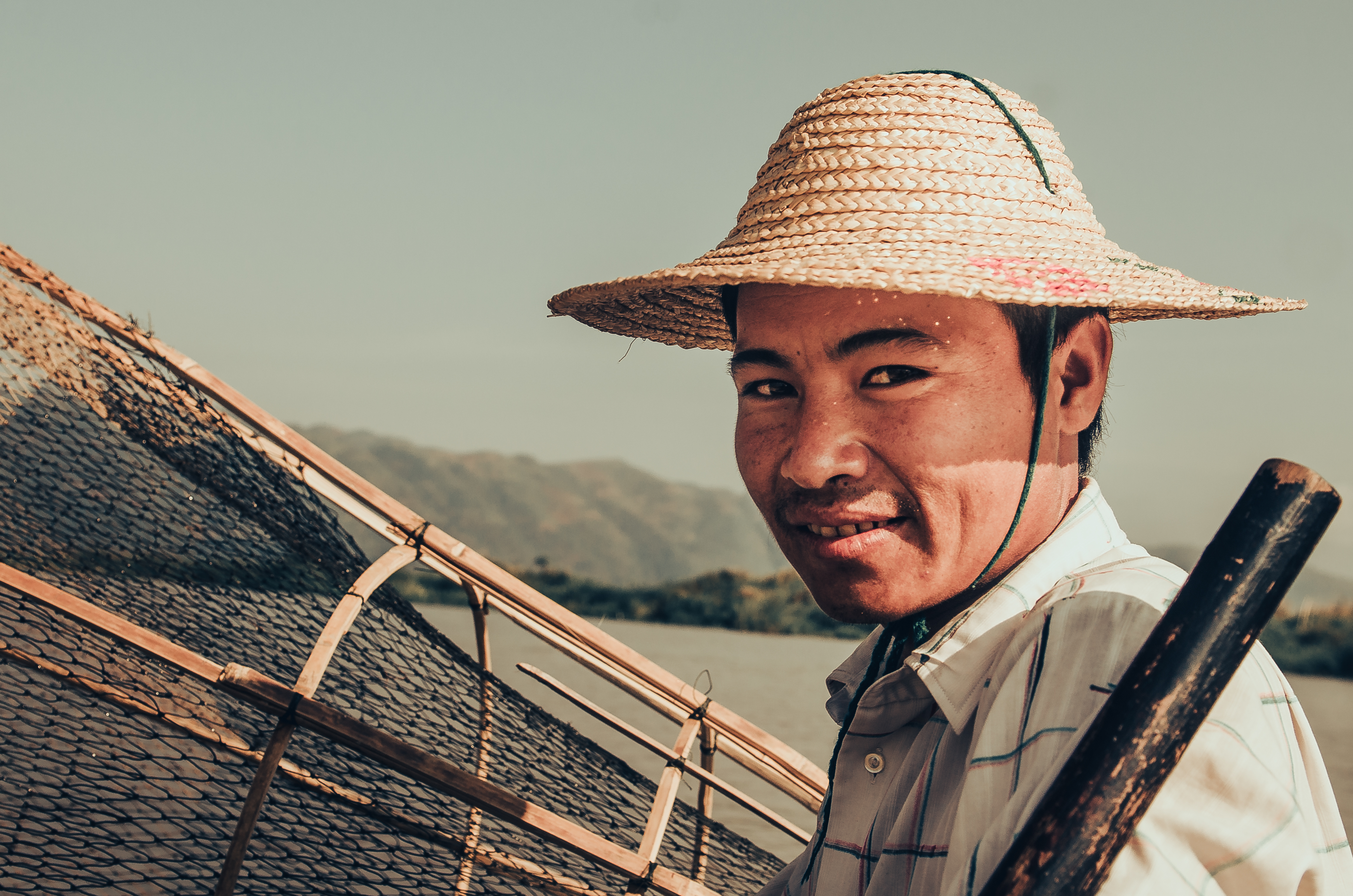 The fishermen belong to the ethnic group called Intha which means "children of the lake".
LIVING ON STILTS
---
I started seeing more stilt houses as we glide past the main lake. Their sizes impressed me. I have seen houses built on stilts before but they were light and small. The ones in Inle were comparable to the large houses we see in cities and some even have three levels.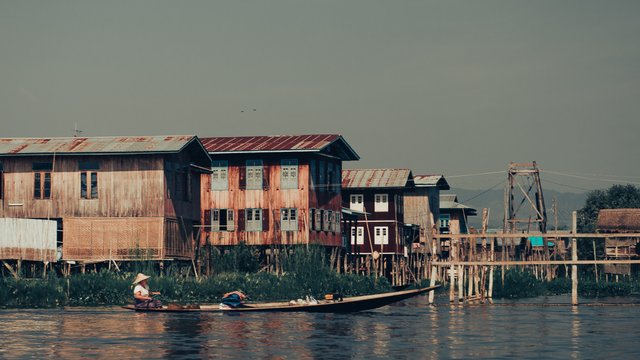 Real-life waterworld.
Each household has more than their basic needs. The only difference this community has from those living on land is the mode of transport. Other than that, it's basically the same. They have electricity, appliances, and even restaurants.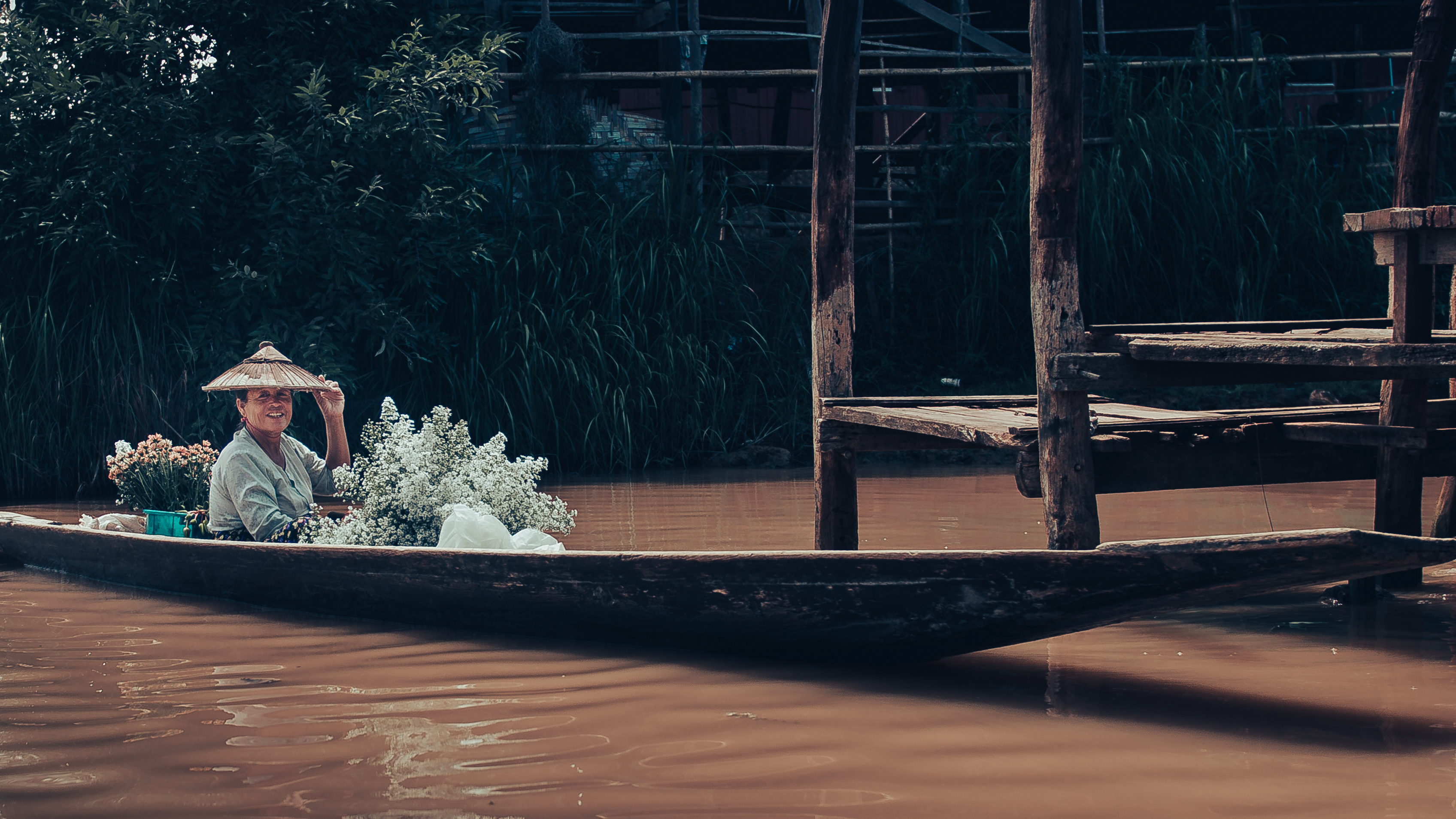 A flower vendor greeted us as we enter the village.
Tea is part of every Intha's morning. We were lucky to get invited by a group of locals drinking tea to sit with them. It is through these gatherings that they get the chance to bond and share stories. It was, for me, a great way to start your day.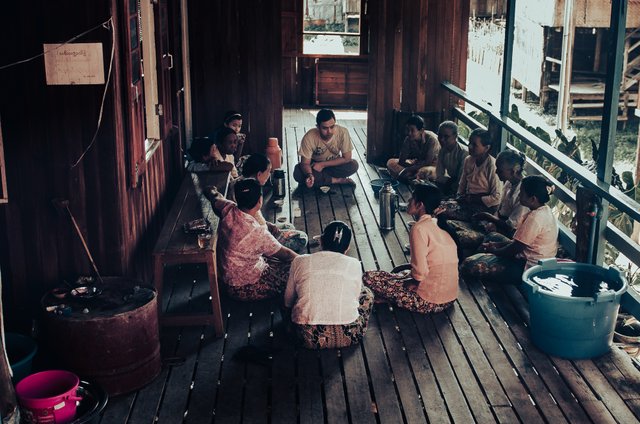 Shan state, where Inle is located, is considered as home to the most tea grown in Myanmar.
Trying out local dishes was part of the itinerary. They filled the table with a lot of side dishes. Rice is a staple in every meal along with fish and freshly picked vegetables from their floating gardens.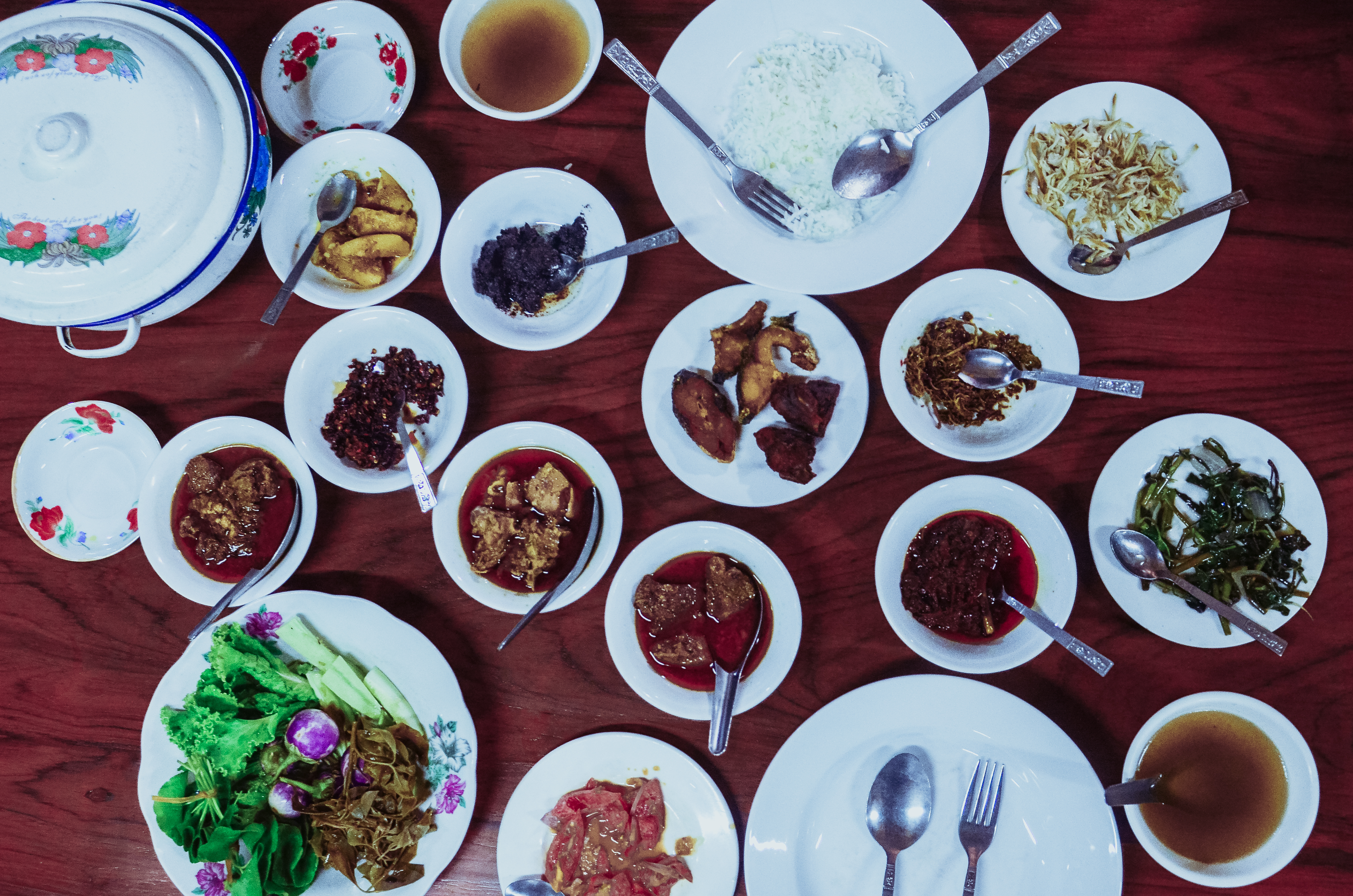 A Taste of Inle.
Our guide shared with us a fun fact about Burmese meals. Locals would only use their right hand for eating because the left hand is designated for toilet use. I'll never look at eating with bare hands the same way again.
FLOATING GARDENS
---
There's no better thing to do after that satisfying meal but to drop by the main source of the garden-fresh vegetables. The locals found innovative ways to build floating gardens in the lake. Bamboo poles are anchored at the bottom and water hyacinths work as incubators.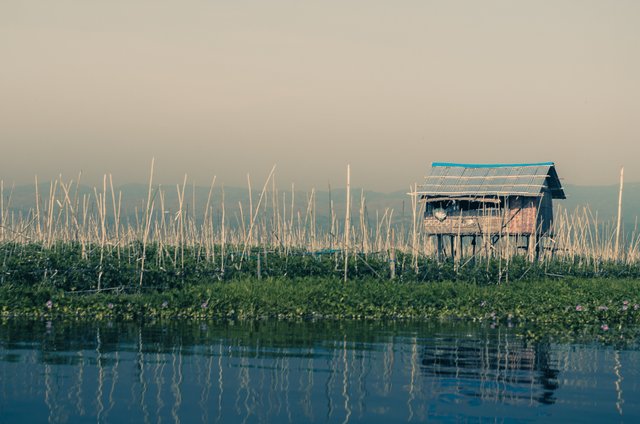 25% of the lake is covered in floating gardens.
Inle is also known as the Garden of Myanmar. Tomatoes are the main produce of these floating gardens and are considered the finest in the country.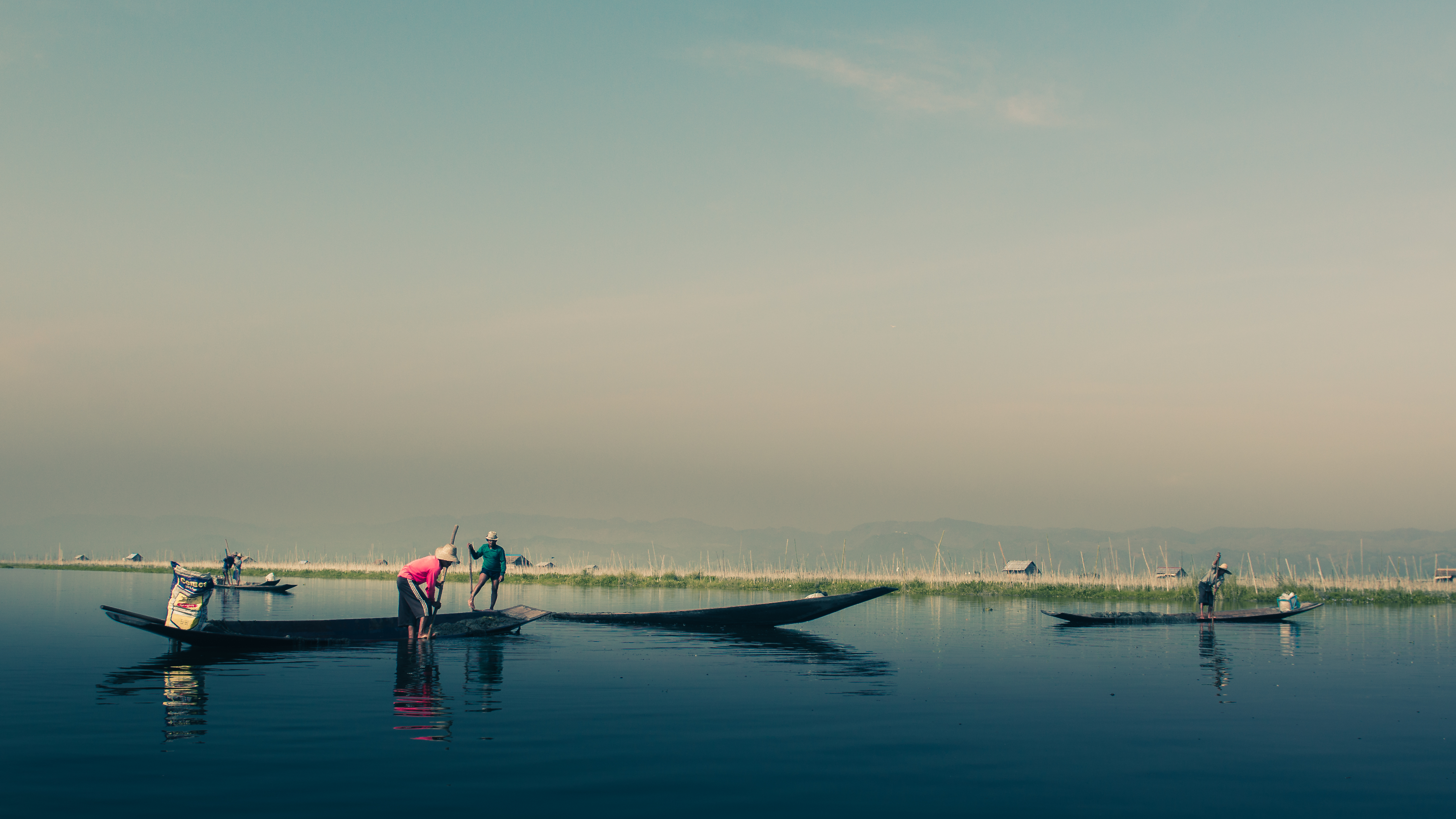 Farming on the lake became possible with innovations developed by locals.
LOTUS WEAVERS
---
As we set off to another village, the course we're taking became smaller and smaller because of lotus plants taking up a good amount of space on the lake. Another practice only unique to Inle is Lotus Weaving. We went inside a weaving workshop and a guide walked us through the whole weaving process. It's considered a rare art since no one else in the world is doing it because it's labor intensive and time-consuming.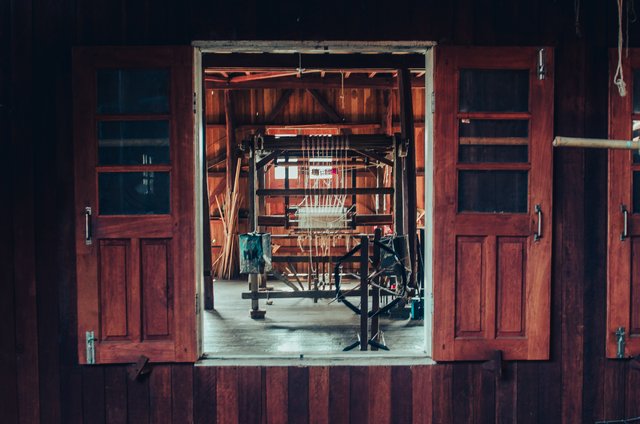 The rare art of lotus weaving.
Looms were installed in the workshop and each of them has an assigned weaver. Around 4,000 lotus stems are needed to make a small scarf and around 40,000 for a large one. That's the reason why those scarves don't come cheap.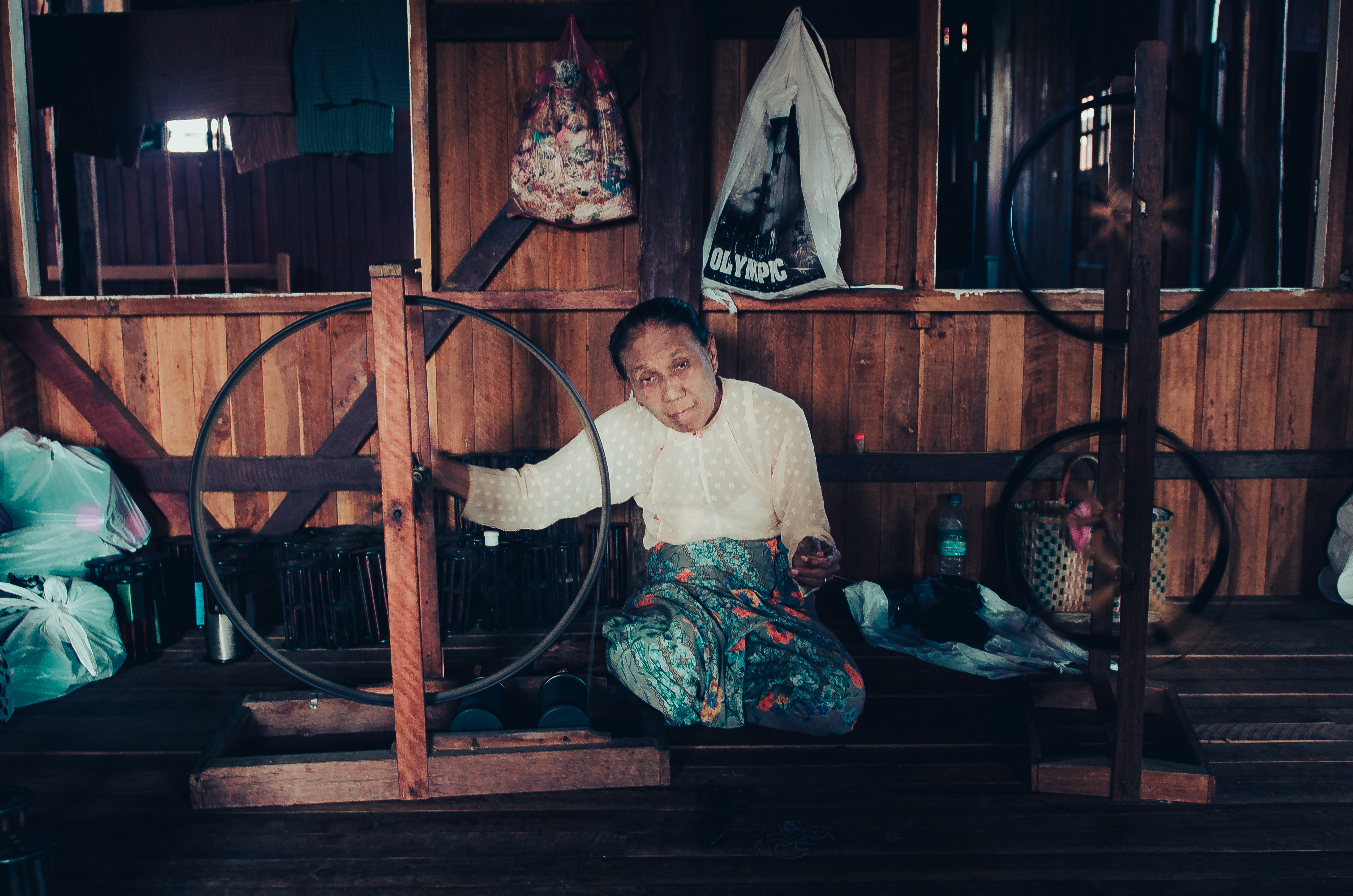 An elder weaver demonstrating how to use the spinning wheel.
The weavers were all women and I noticed that some of them were of really old age. Elder weavers can work as long as they can. They approve the designs and serve as mentors for new weavers.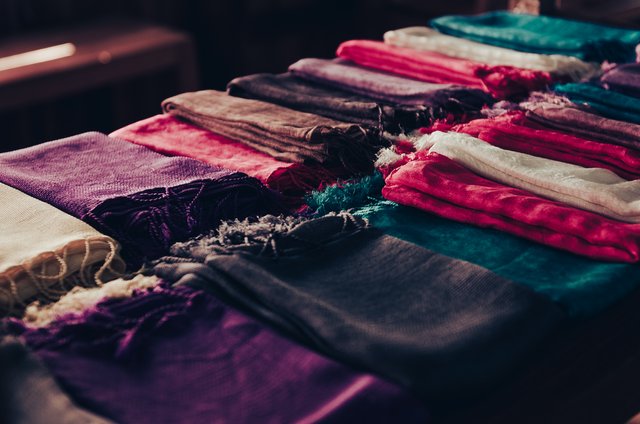 Scarves and shawls made of lotus.
CHEROOT
---
The next house we visited was where they make hand-rolled leaf cigarettes called Cheroot. It is as natural as it can get that even the glue used to hold the cigar together is made of sticky rice. Cheroot is filled with tobacco leaves with optional fruit additives for flavor.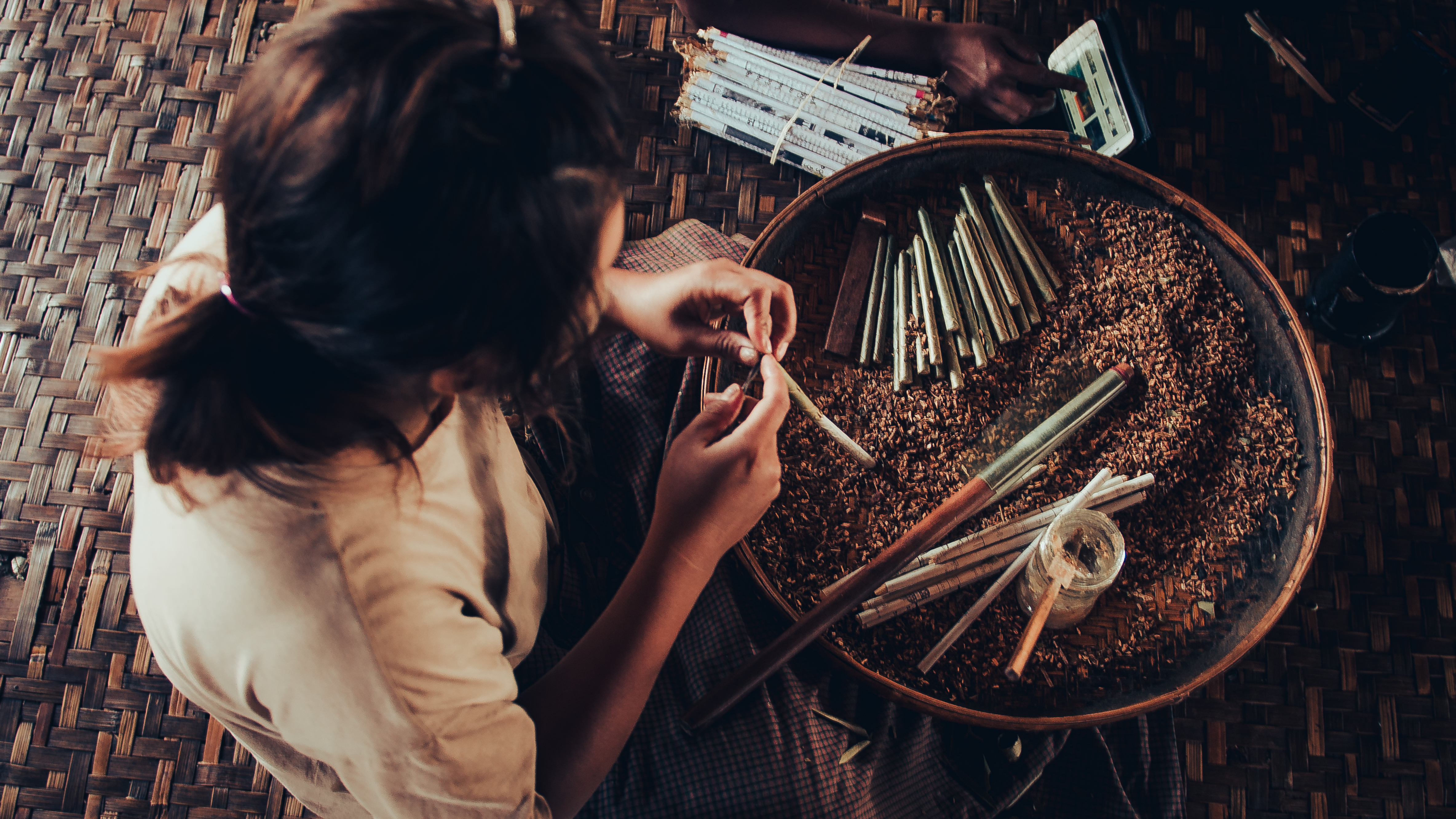 Hand-rolling leaf cigarettes is a skill these girls have mastered.
These girls wrapped the Cheroots by hand swiftly in Tha-na-phet leaves and added the corn husks that served as filters. I don't really smoke but the aroma was quite tempting. Most locals in the countryside prefer smoking Cheroot and this is evident on the streets of Nyaung Shwe.
The high demand of cheroots in the countryside gave job opportunities to Intha people.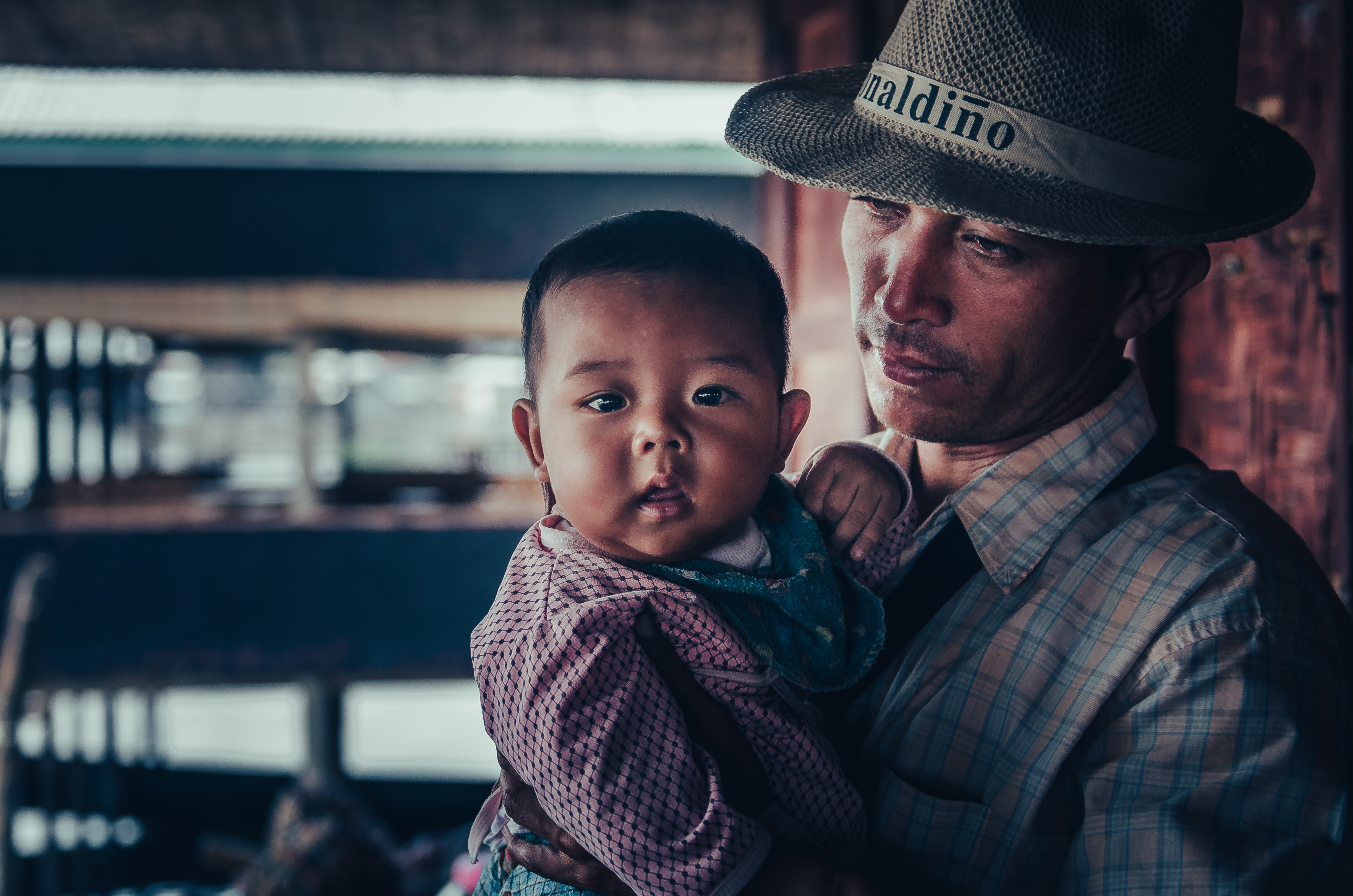 The factory served as a playground for this little one.
PADAUNG WOMEN
---
The Padaung women are from the Kayah State visiting Inle to sell handcrafts.
Aside from the Intha fishermen, I really wanted to meet the women of the Padaung tribe. I have a lot of questions prepared before meeting them but didn't really had the chance to ask since they know very little English.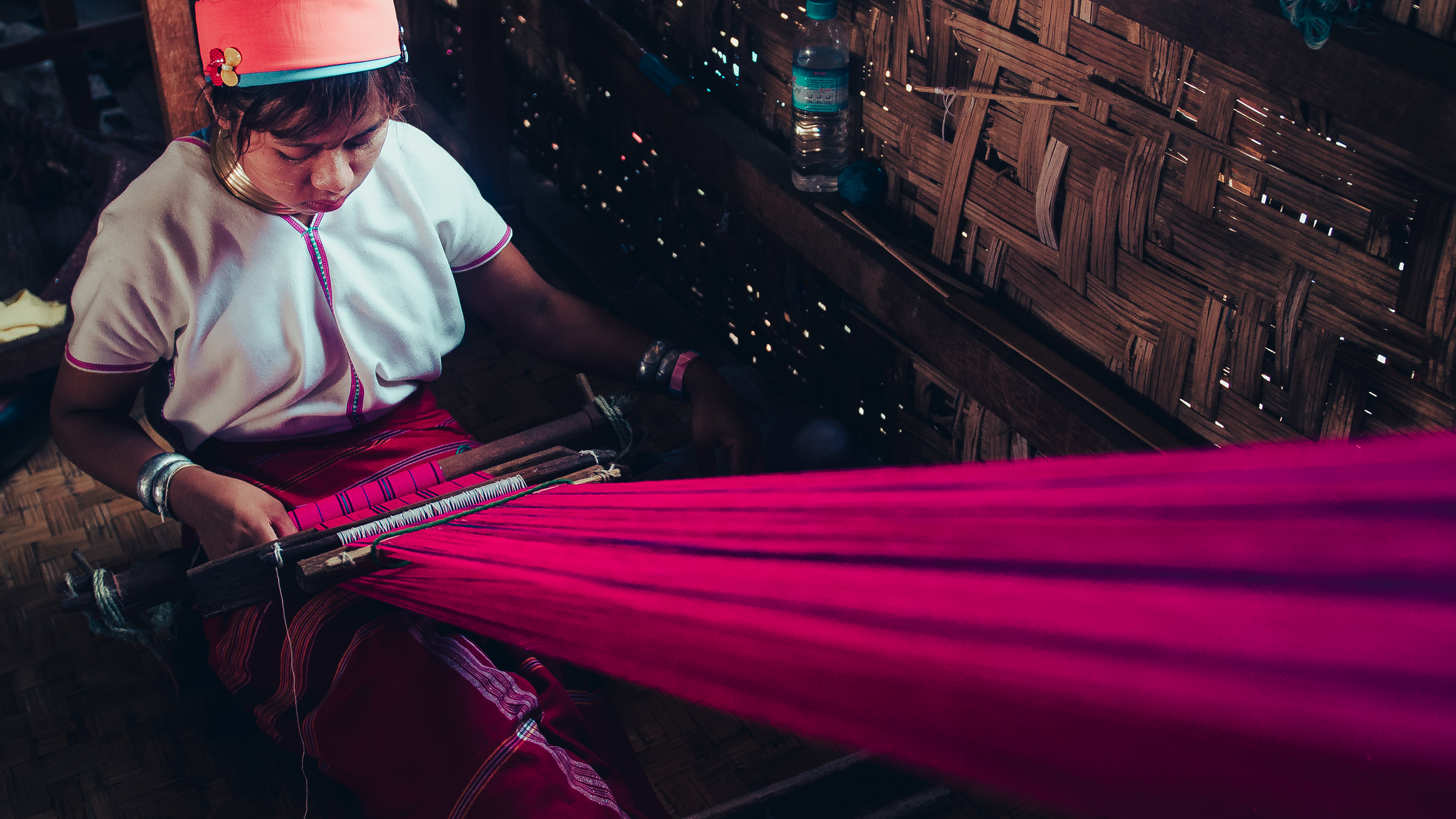 The younger ones demonstrate the weaving process.
There's a lot of stories about why they're wearing coils on their necks. The most popular one is that it's part of their tradition and that the number of rings is a measure of beauty in the tribe. Most of the handicrafts are now made by the younger generation. They're also wearing rings but not as much as the elder ones. The girls start wearing it at five years old and a ring is added as she ages.
The coils can weigh up to 20 pounds.
Contrary to what most of us think, the coils don't actually stretch their necks. Instead, it weighs down the muscles around the collarbone and the ribs get compressed giving the illusion of a longer neck.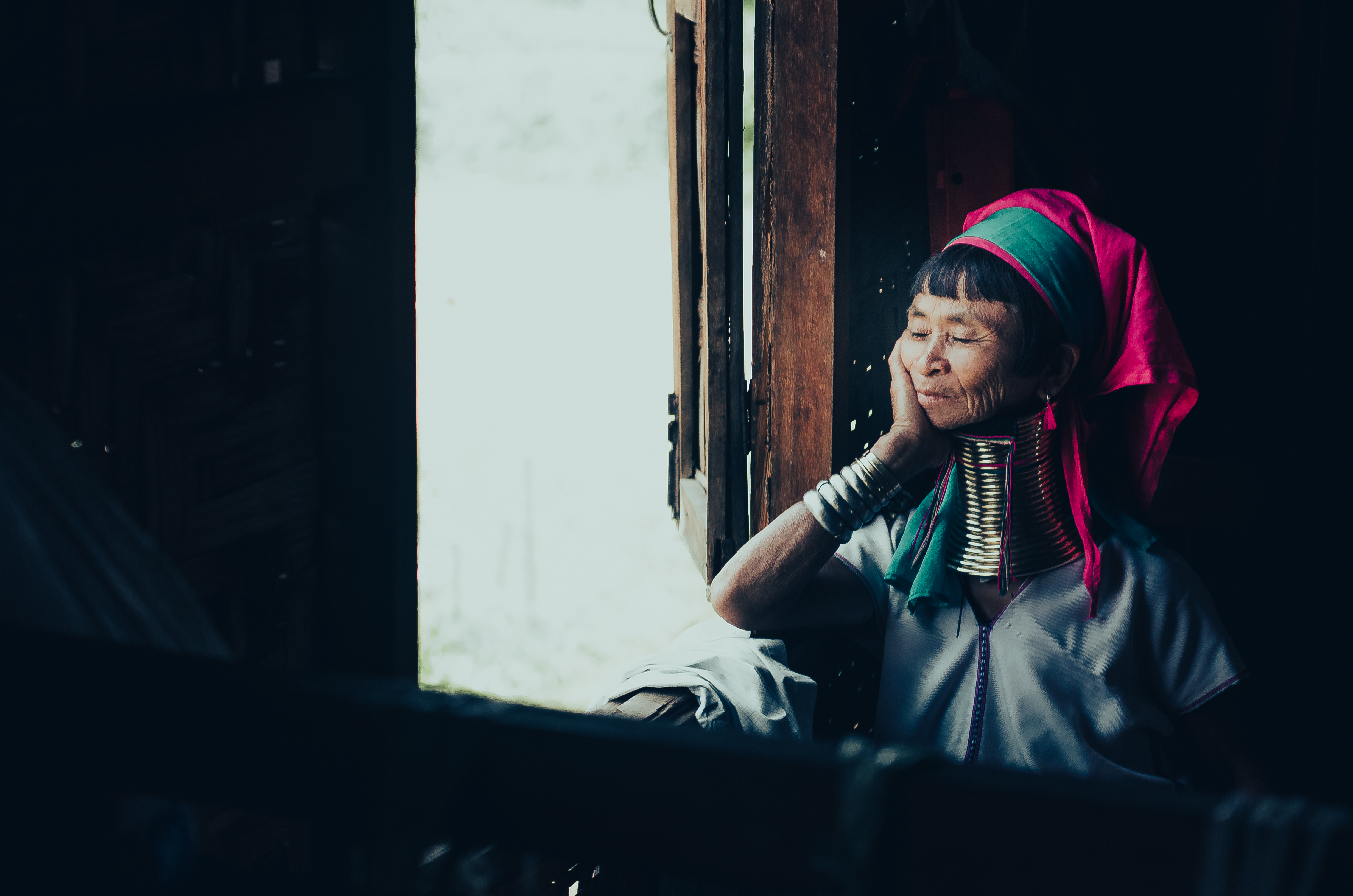 The neck ring is made of brass.
THANAKA
---
Girls from one of the tribes in Inle apply Thanaka to protect their skin from the sun.
We were about to end our tour when these girls caught my attention. It seemed like they were applying something on their faces. I got curious and decided to stop over.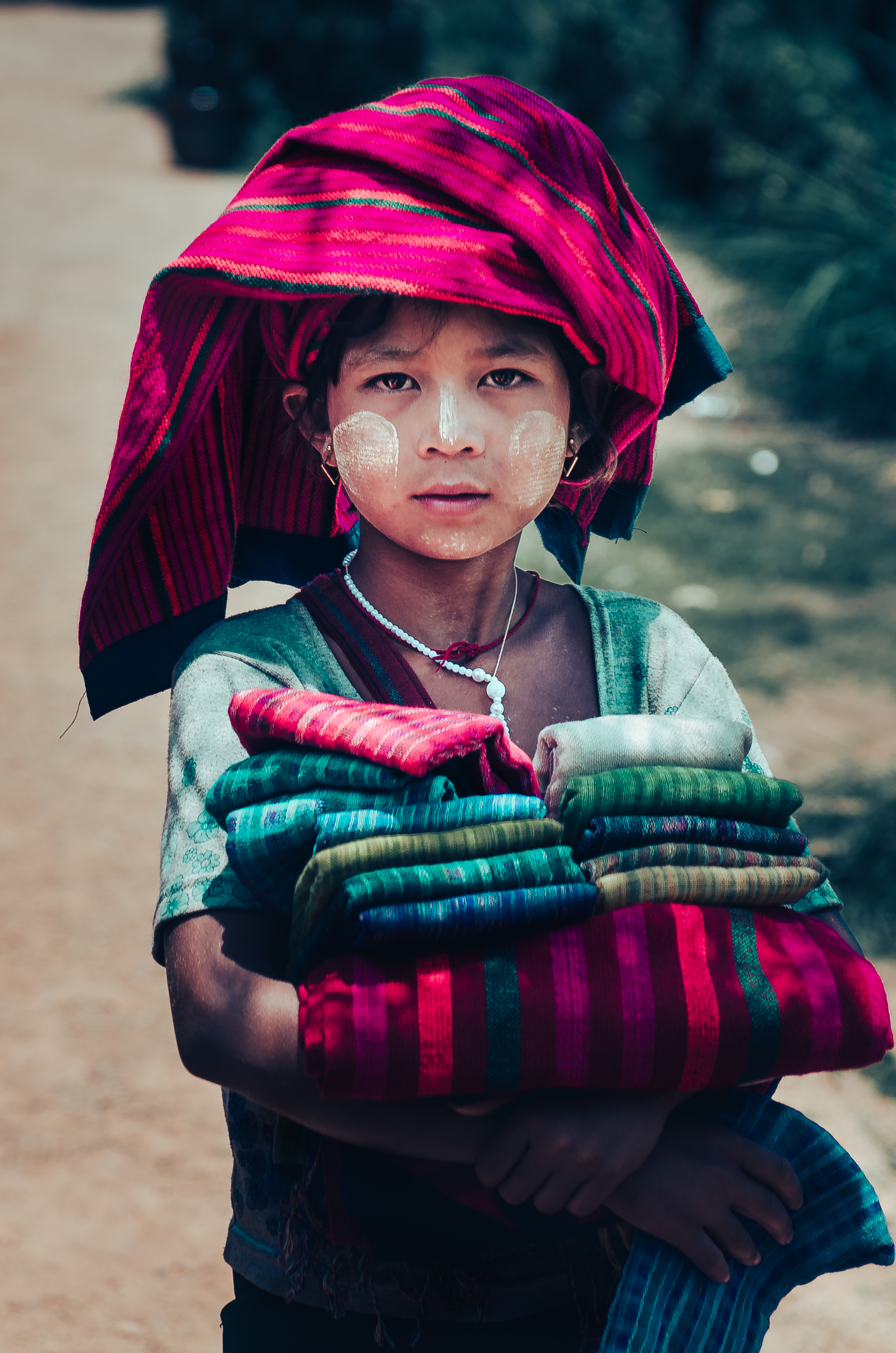 It is common for the women and girls to apply Thanaka to their faces and arms.
I found out that they were using a natural sunblock called Thanaka. It's made from ground bark and is believed to have a lot of good effects on skin like protection from sun, keeping it cool, lessen oiliness, minimizing the pores and everything you can think of. It's like an all-in-one beauty product - the secret to Burmese beauty.
Two girls checking out the photograph I took of them.

A mother and her children wearing the traditional sun screen.
---
Cruising along the different floating villages gave me valuable insights on how communities can adapt to its environment. I've seen how being resourceful and innovative helps in having a sustainable lifestyle.
Inle gave me an experience I'll never get anywhere else in the world. I have been to a lot of lakes but it is how their distinct culture is deeply rooted to their daily lives that makes it stand out.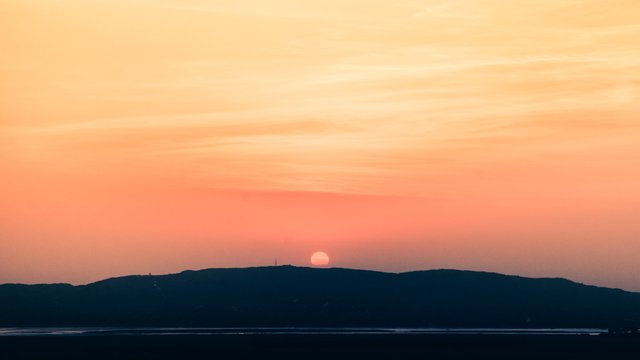 ---


Thank you for viewing! Let me know what you think of this series.
Warmest regards,
@legendarryll