Welcome to one of the most beautiful places I have ever seen!
Okay, prepare to get jealous. Yep, I'm serious. This is truly one of the prettiest places I've ever seen. I've never seen anything like it in my life, and this is just a few hours away from where I live. Why haven't I visited this place before?!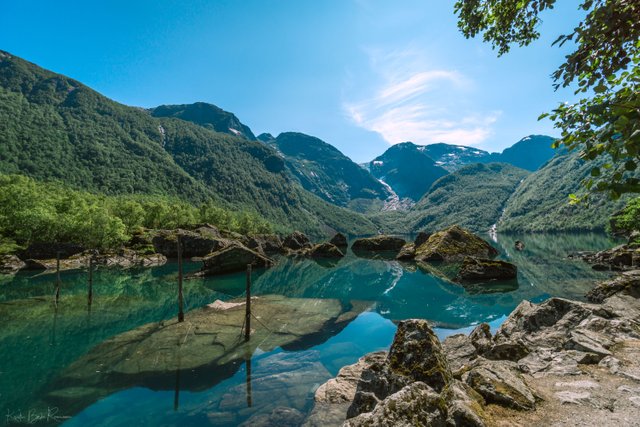 | | |
| --- | --- |
| Category | #landscapephotography |
| Camera | Sony a6000 |
| Lens | 10-18mm |
| Light | Natural light |
| Location | Bondhus Water |
| Settings | ISO: 100 | 11mm | F/10 | 1/200 sec |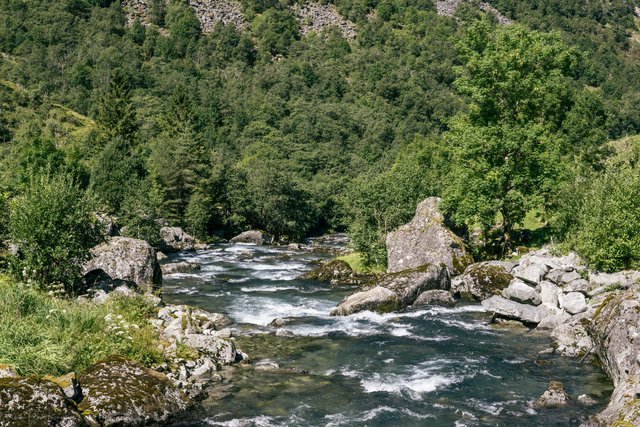 Let's start from the beginning. My mom and I have for a long time said we should go hiking here. It's a very popular hiking route, and I can totally see why. This summer have been so nice. I'm not kidding when I'm saying a normal summer where I live contains rain, wind, cold temperatures, and more rain. Not 25 degrees Celsius (77 degrees Fahrenheit) for weeks!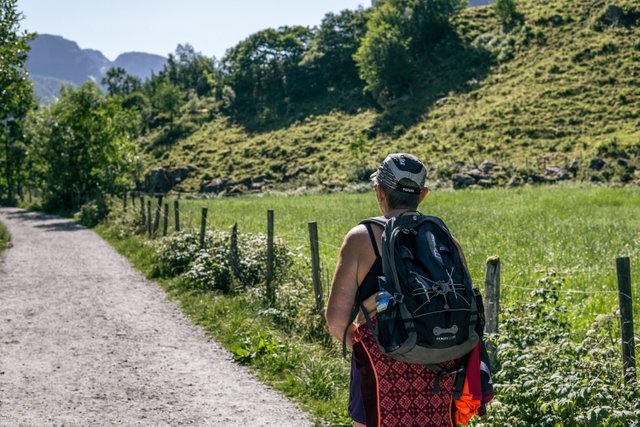 First of all, this hike fits all people of all ages. It's not hard at all, there are people with strollers, wheelchairs, bikes, etc. It's a hill, but not steep at all. We walked along a river coming from the glacier, and it was really beautiful. The road in the photo above represents how the road was all the way to the water.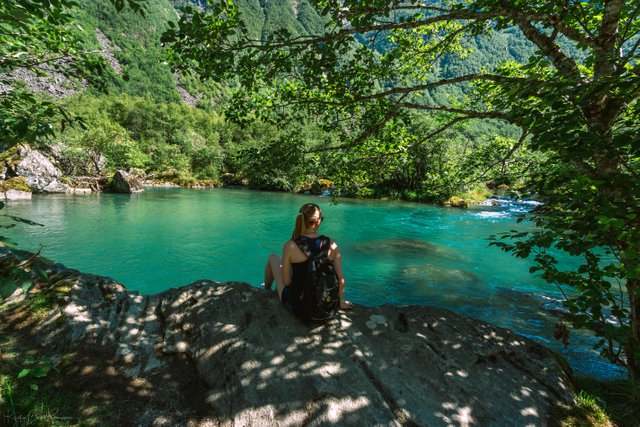 On our way up, we came across this beautiful part of the river. So peaceful. I went for a swim here when we walked back. You can see a photo of that cold experience further down in this post.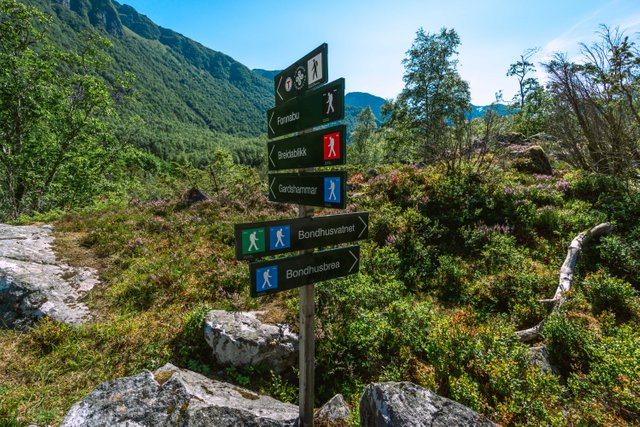 It's important to follow the signs up the mountain. If you want an easy route, you don't want to end up at the hardest route of them all for example. The routes are divided into categories. Green, blue, red and black. They are explained very well, but they also make a lot of sense. Green = easy, for beginners. Blue = For those with a bit more experience. Red = Experienced hikers. Black = Experts. They're explained in a more detailed way when you google the different hikes.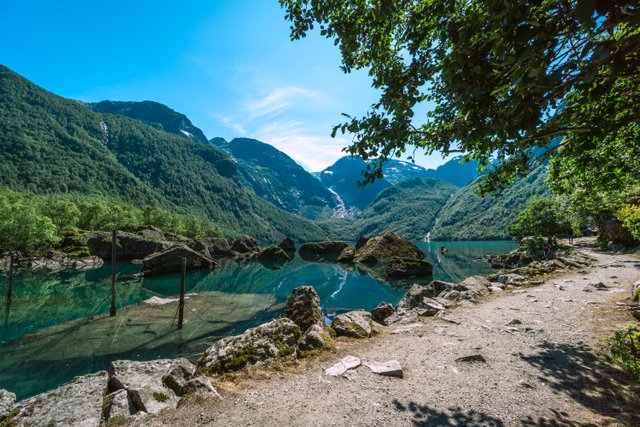 Arriving at the water, seriously took my breath away. I was speechless. As I've already said, I've never seen anything like it. Surrounded by these mountains, seeing the glacier at the end, and that crystal blue water. Amazing experience. My mom wasn't that surprised since she had already been there before, but she loved seeing my reaction.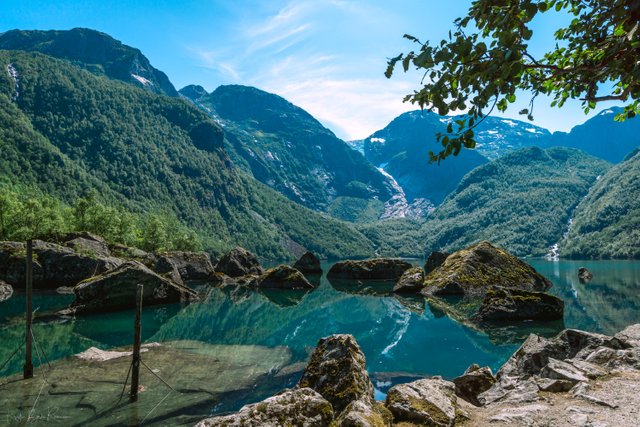 This is normally where most people take their break and return back. You won't come any further with bikes, wheelchairs, strollers, etc, since the road changes from nice and flat, to rough terrain. We drank some water, ate a snack, and kept on walking. I wanted to see the other side of the water, and we had only been walking for an hour. We wanted to see more. We walked along the water, which is called the "Isvegen", or "Ice road". My mom told me that many years ago, farmers started exporting ice from the glacier to Europe. So they carried it this route. Kinda cool to think about.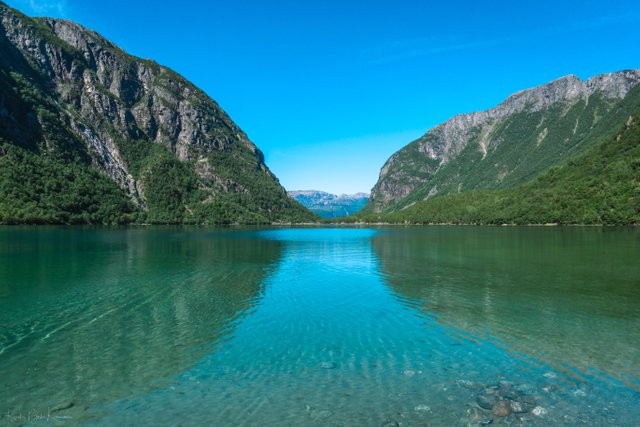 This was the other side of the water. Absolutely stunning! We sat here eating our lunch, and enjoying this view. We thought we actually would get to see the glacier up-close, but we would've had to walk even further. We were happy here, so we sat her for a while before filling our water bottles with glacier water (from a waterfall) and walked back.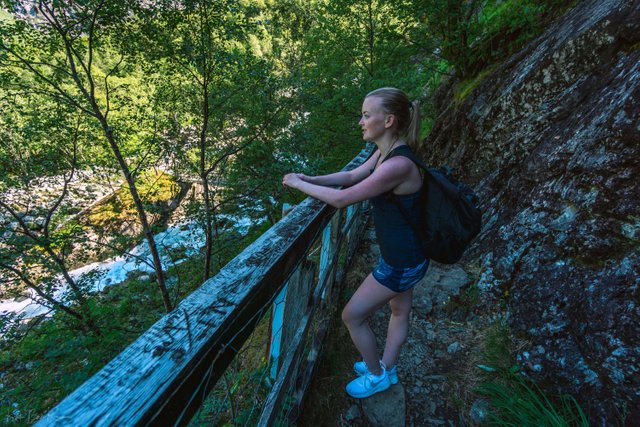 I don't know why, but I completely forgot to put on sunscreen. Stupid I know! Especially with my skin tone. Two million freckles and a skin white as a snowman.. So I got sunburned.. Never forgetting that again!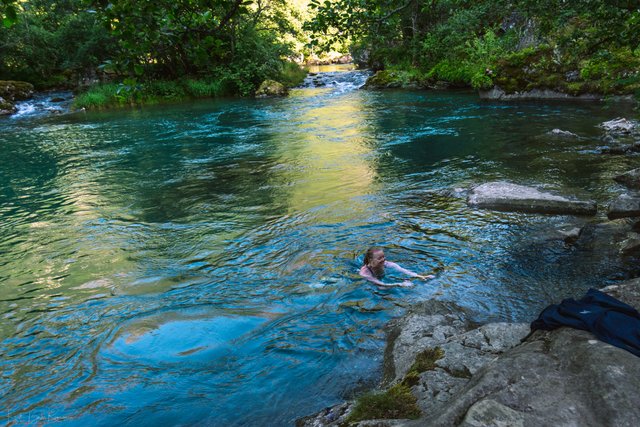 I'm ending this post with me struggling to get back up from the ice-cold glacier water! It felt awesome when I got up though!
If you want to read more about this hike, and see a map with the route, check this page out. Just hit that translate button up in the right corner of the page.
I hope you enjoyed reading this very long hiking-post. Leave me a comment if you have any questions, or just feedback. That is very much appreciated! I would also love to see your photos, especially if it contains any form of nature. I love beautiful landscapes.
Kristin.