Good morning, Steemit! As promised, I'm attempting to change my day to day schedule. I went to sleep around 2:30a.m. and was up at 7:50a.m. to get @guthrie ready for school. After dropping him off and coming back to get my bag, it was SO tempting to lay back down. I had to cut the naps off at some point, though. That's a big reason I'm staying up till 3:00a.m. wide awake. Today is going to be painful to get through, but let's hope it's the first step to getting back on a real schedule.
I'm going to share a few photos from a shoot I had during Viva Las Vegas with European pinup, Georgie Glamour. I've been really stressed lately. I've mentioned how far behind I am […in almost every Steemit post]. The pressure is really mounting as I'm being inundated with texts about when edits will be sent back […one or two really nasty texts, unfortunately]. The squeaky wheel gets the grease, I guess, but I refuse to put off the darlings that've remained patient and understanding the longest. Georgie is one of those clients.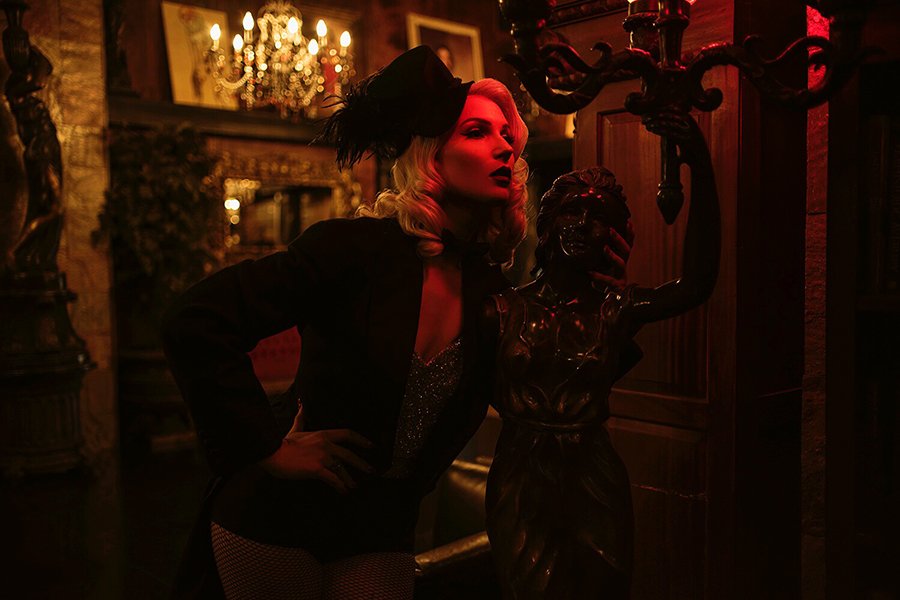 I worked on edits till about 11:00p.m., and spent the rest of the night till about 2:00a.m. getting a few photos of Georgie done. Georgie booked her session last fall. I was previously aware of her modeling prior to her getting in touch on social media. It was one of the shoots I was looking forward to the most. She has a classic look akin to Old Hollywood starlets with features similar to Marlene Dietrich. Blonde hair, crystal blue bedroom eyes and incredible cheek bones […which is endless fodder for my style of dark pinup].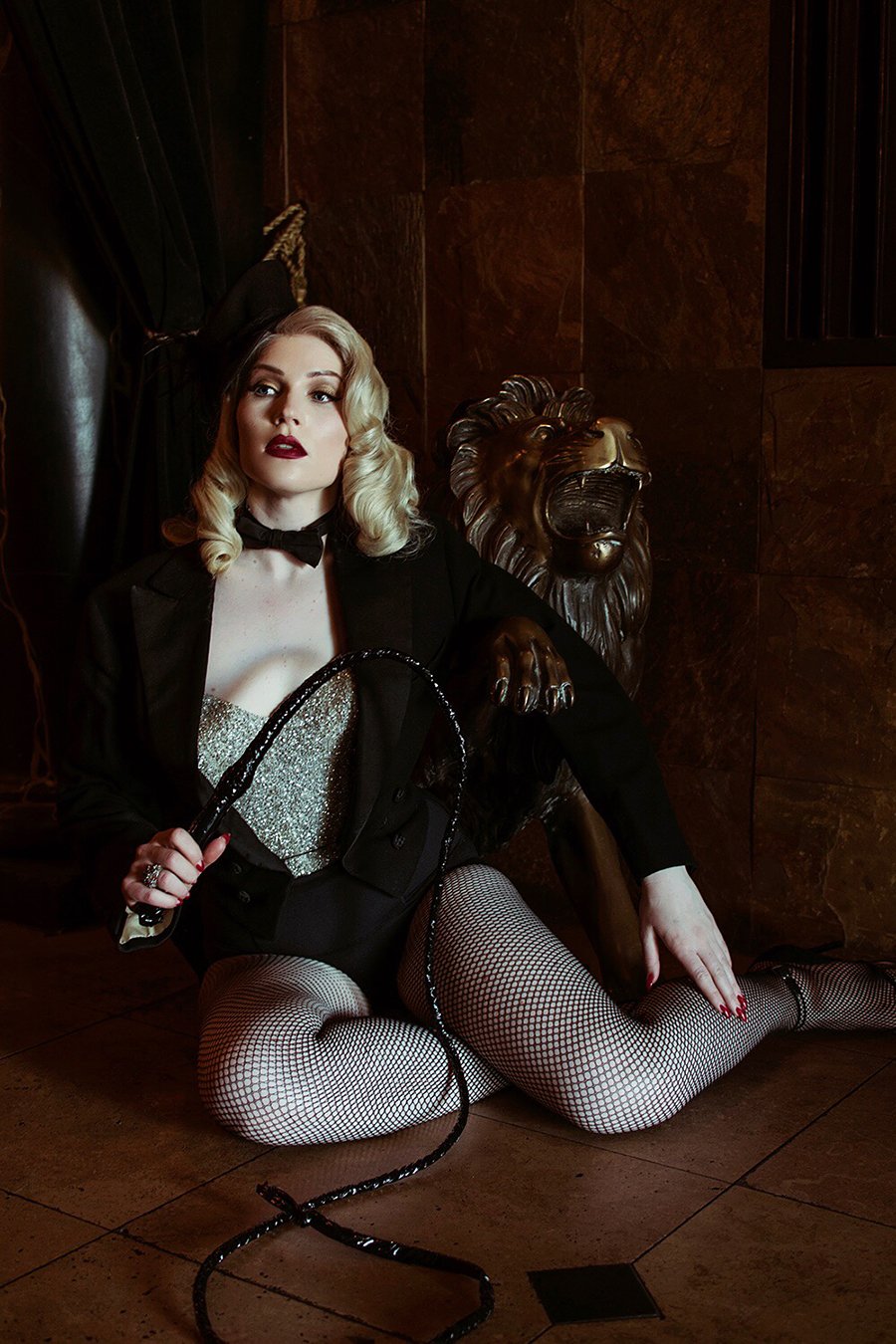 She met me at The Artisan hotel in Las Vegas. There, she laid out her wardrobe options. Two looks. One was the most creative take on a ringmaster concept, with a steam punk top hat, small vest coat with tails, and a bullwhip. It was perfect for The Artisan which such eclectic decor and art. Downstairs in the lobby, we were even able to find a gold lion to set her next to! How perfect is that? Her remarkable features, warm tones and low light created a seductive esthetic that I love.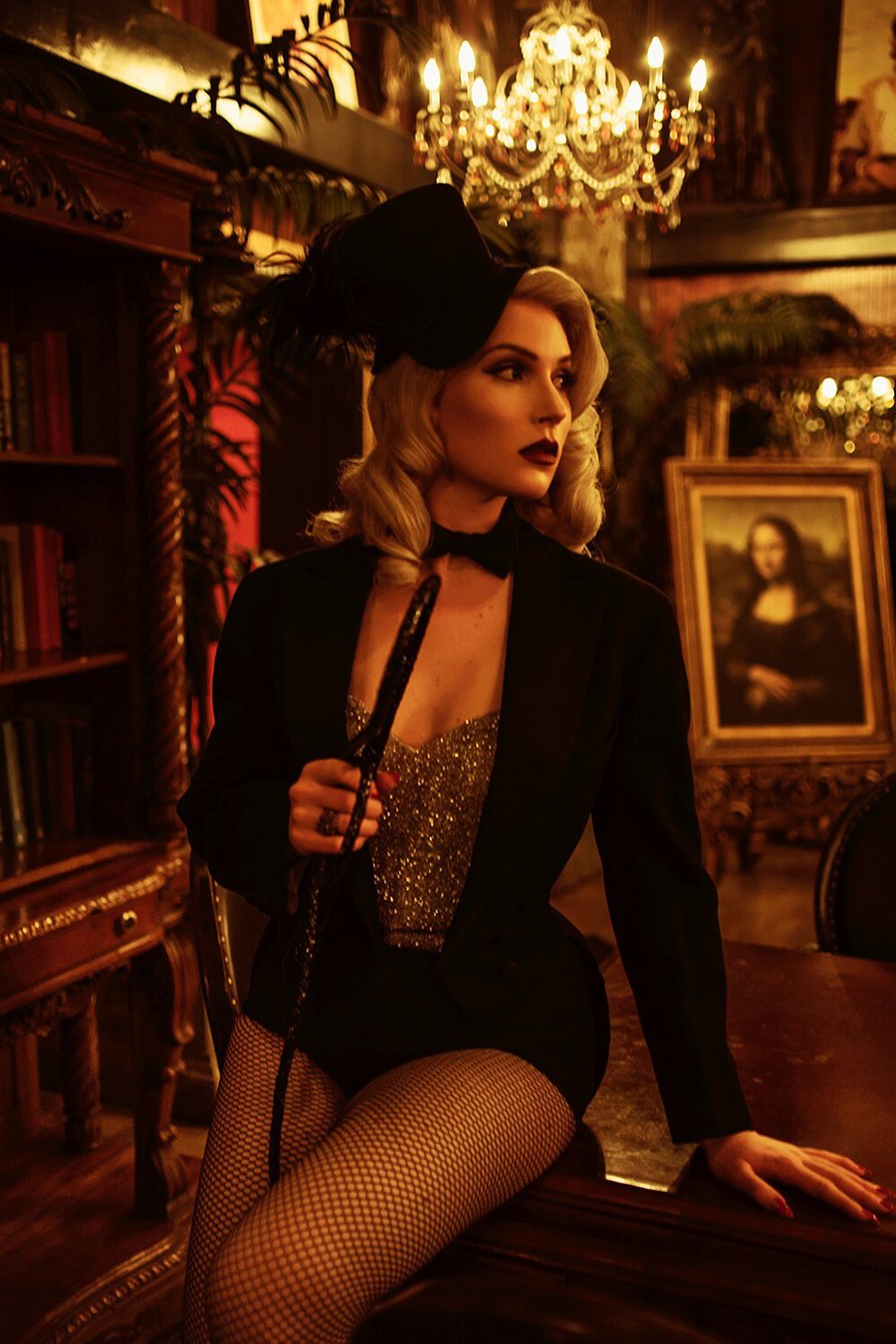 There are more photos of Georgie Glamour to come. This was an outstanding shoot and I'm slowly getting in to the bulk of my Viva Las Vegas shoots. Thanks for reading. For more photography, art, illustration and the stories behind the work, follow me here @kommienezuspadt!