[Bilingual] The Charm of Symmetrical Nature at the Unnamed Beach | Pesona Alam Simetris di Pantai Tak Bernama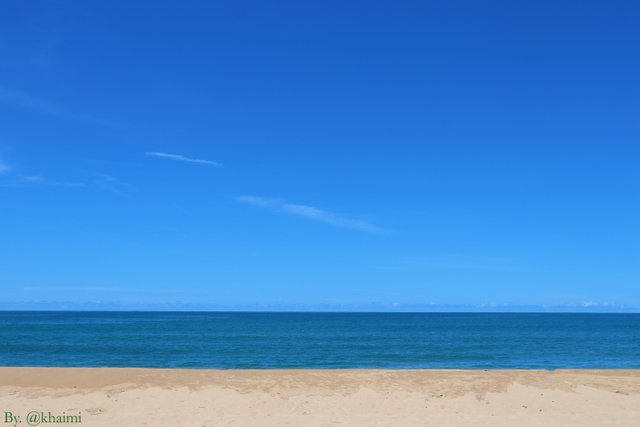 English Version
Well, this afternoon I read sir @chorock's post about Symmetrical Bridge in photography. Of course, reading more article and how someone teel about what he shot will get a lot of inspiration, is it right? This is because I love photography and I must learn how to be better to explain my picture. This afternoon, when I walked along the unnamed beach and took some photos for my post.
I hadn't thought about what I'd read before in his post, even though I understood the meaning of Symmetry. Well, when I have transferred all the photos to my laptop, I noticed some photos, unconsciously I took it parallel and balanced or symmetrical. And what makes me very surprised is why everything is equal, balanced and straight even though I don't use a tripod and don't think about the composition too much. This is my thought as an amateur because for me is how to get many photos as possible, then sort it which one is the best, that's all.
Just see how the surface line of the blue sea is so straight, and then how the color of the blue sky and the coastline, all become very proportional to me. Yes, this time I really didn't expect that to happen. I'm really very lucky to get it.
But behind it all, there must be something to be conveyed by a photo, is it right? One photo has thousands of meanings, said the wise man. Here I also learned that life must always be balanced. I got a wise word like this in the past.
Take care of your youth before your old comes,
Take care of your health before the your illness comes,
Take care of your rich before your poverty comes,
Take care of your free before your busy comes,
Take care of your life before your death comes
All of this advice is very proportional, reminding us of the world and life of the world, but we are also reminded to remember life after death.
How do you think about my shot ? feel free to comment if your have some correction, suggestion and opinion. Blessing. Before I forget, this is still unnamed beach, I will find more information about this beach.
Regards
All Pictures taken original by me, using my Canon EOS 800D, Location : Unnamed beach, Aceh Jaya, Indonesia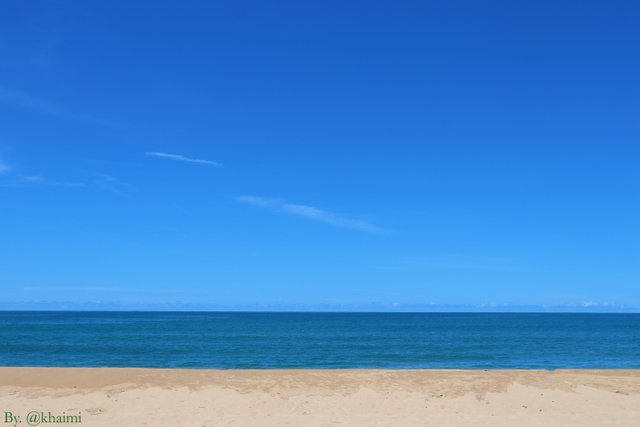 Bahasa Indonesia
Nah, tadi siang aku membaca postingan sir @chorock tentang Symmetrical Bridge dalam sebuah foto. Tentunya dengan membaca akan banyak memperoleh inspirasi bukan ? Ketika tadi aku berjalan-berjalan menyusuri pantai dan mengambil beberapa foto untuk postinganku malam ini, aku belum terpikirkan tentang apa yang kubaca tadi, meski aku mengerti maksud dari simetris itu.
Nah, ketika seluruh foto telah aku transfer ke laptop kesayanganku, aku memperhatikan beberapa foto yang tanpa kusadari kuambil dengan sejajar dan seimbang atau simetris. Dan yang membuat aku sangat surprise adalah mengapa semua menjadi sejajar, seimbang dan lurus sama rata padahal aku tidak menggunakan tripod dan tidak terlalu memikirkan bagaimana komposisinya. Pikiran seorang amatir sepertiku ini adalah bagaimana mendapatkan foto sebanyak-banyaknya, lalu kemudian lakukan sortir mana yang paling bagus, itu saja.
Lihalah bagaimana garis permukaan laut biru itu begitu lurus, perhatikan pula bagaimana warna langit biru serta garis pantai itu, semua menjadi sangat proporsional bagiku. Ya, kali ini aku benar-benar tidak menduga itu terjadi. aku Sungguh sangat beruntung mendapatkannya.
Namun di balik itu semua, pasti ada yang ingin disampikan oleh sebuah foto bukan ? satu foto beribu makna, begitu kata orang bijak. Disini aku juga belajar bahwa hidup itu harus selalu seimbang. Pernah aku mendapatkan kata bijak seperti ini.
Jaga masa muda mu sebelum waktu tuamu datang,
Jaga Waktu sehat mu sebelum waktu sakitmu datang,
Jaga Masa kaya mu sebelum masa miskinmu datang ,
Jaga Masa luang mu sebelum masa sibukmu datang,
Jaga Hidup mu sebelum matimu datang "
Semua petuah ini sangat proporsional, mengingatkan kita pada dunia dan kehidupan dunia, namun kita juga diingatkan agar mengingat kehidupan setelah mati.
Terimakasih dan salam hangat
Posted Using eSteem Surfer
esteem surfer


Meet the eSteem Family | Blog, Vote, Share and Get Paid. [email protected]
| ‍GitHub | YouTube
✍ Telegram | Discord
---