TEGENUNGAN WATER FALL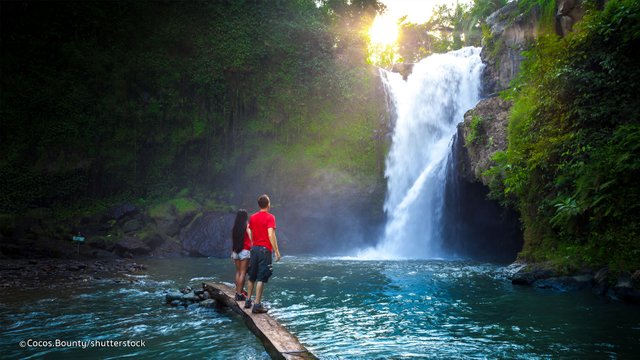 TEGENUNGAN WATERFALL IN BALI
(Waterfall near Ubud, Bali)
Location : Kemenuh, Sukawati, Gianyar
Tegenungan Waterfall is one for nature lovers who happen to be staying in Ubud or have neighbouring Sukawati among their tour itineraries. The falls are conveniently located halfway between Ubud and Bali's provincial capital of Denpasar, and is considered the closest natural attraction of its kind that you can reach within only a half-hour transfer southeast from Ubud town. Getting to the falls is a pleasant drive down paved village roads lined with stretches of green rice fields on both sides.
Upon reaching the end of the road, you are welcomed into a newly built parking and welcoming area, with ticket booths up front (tickets are IDR 10,000 or just under a dollar per person). This area is lined with art and souvenir shops, together with small local 'warung' stalls selling snacks and cold drinks. The largest restaurant here, Bebek Tamarind, serves great local dishes such as its signature Balinese style crispy fried duck, and is a good spot to hangout before or after going down to Tegenungan Waterfall.
The falls are only several minutes' walk down the trail beyond the shops, where you'll enjoy the impressively green valley panorama with cascading water as a centrepiece. Dense foliage frames the falls, and the water volume is impressive at almost any time of year, but normally at its strongest during the wet season (October to April). You can go down to the vast pebbly base and enjoy a dip in the plunge pool, but this is not advised after heavy downpours, due to the risk of flash floods.