Isn't it strange when we walk down a path it leads to the same place that we want to go unless that path leads you in a direction unknown or to change the direction you're going in your life. Metaphorically speaking of course however its true that things happen naturally unless we make the effort to change the natural flow of things. What if ewe had a google maps but for the brain that sorts out our wants and needs than takes the best path to that goal? I know what you're thinking that the human race has a lot of bad actors that would take advantage of that and use it against us in many ways as humans have a history of doing this sort of thing.
As humans we have a long ways to go before we can use that kind of technology in the way that benefits us with out the negatives of abuse by companies, groups, govs ....and so on. So what would happen if this kind of tech comes out to play right now? Would we become the best of who we are and wants to be or would we become drones, programmed to do the bidding of a powerful group of people that dem them self gods? I know this sounds a bit paranoid at first until you really do look at human history and see how we deal with opportunists in any kind of power and command over this kind of tech. I'm not saying we don't have good people in power but it's to few as what it takes to get and keep power means doing things that good people wont do...or at least most. This is but one piece of tech however it's not the worse to be abuse. I hear about all kinds of projects that can do much more damage and I think it's only a matter of time. Power corrupts absolutely doesn't it.
Well that was my thoughts while walking around on the trails to the lake, I snap this should to give you an idea of my perspective. Enjoy my Black and While photo.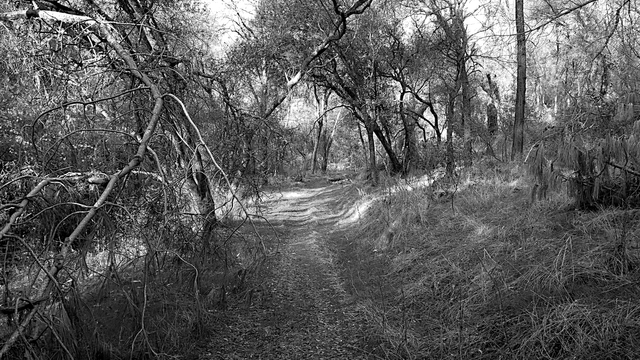 | Camera | Nexus 6 |
| --- | --- |
| Settings | Auto |
| Lens | Stock |
| Style | Landscape |
| Location | California |
| Software | Gimp 2 |
| Artist | Jonbit |

Joining shadowbot was the best thing I have done on Steemit. It helped me build up my account, get noticed, get upvotes while I post my original works all for free! Think of it as one big pool working together with the power of a whale!
How to Join Log in with your name and private posting key. Your account is created on the spot.