Got my coffee and while checking today's weather it looks like its going to be another hot one at 94°f so I have two choices go early in the morning or late at night, I'm up now so early in the morning it is! I step outside and walk down the path and as always I hear strange sounds in the bushes, you know how when you're walking down a path and the creatures like to follow you? I'm sure its normal so I keep walking down to the lake to see that beautiful view and right as I get down to the water I see the sun burst out beyond the mountain hills! Wow I say to my self as I'm snapping away shots with my camera!
I took a few more shots and started to walk along the lake side when I spot some litter so I pick it up to put it and notice some text on it that read "Don't be a litter bug" I thought to my self how ironic and tossed it into the recycling bin. I seen a few others who pick up trash that others leave behind and the lake has people who do that as a job and they do it well however somethings do get missed so people like us tend to that when we can. It's not a club or anything, just something some people around here do I guess.
I would love to see a deep layer of fresh sand put around here as beaches I think that would draw in more people put in a few valley ball nets and whatever else people want on the beach. It brings in more money and that means it's better taken care of. Also a better trail would be nice as some of the hills get so step that you are using your hands to climb up the path. With all that being said what a wonderful view. I hope tomorrows is just as great and well we shall see and until than we will continue yet another day and another photo of the sun rising.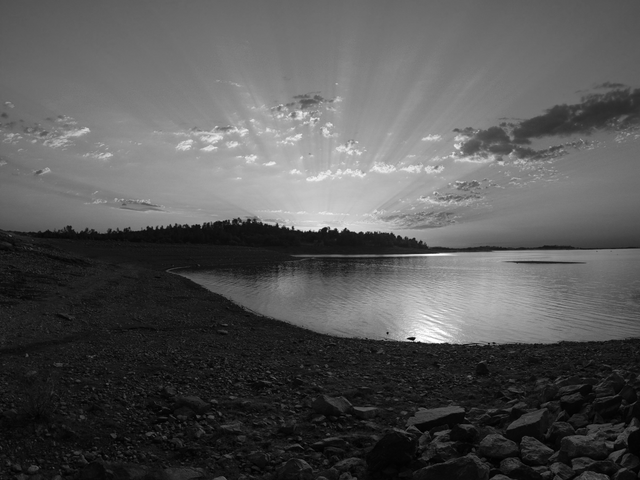 | Camera | Yi Action 4K+ |
| --- | --- |
| Settings | Auto |
| Lens | Stock |
| Style | Landscape |
| Location | California |
| Software | Gimp 2 |
| Artist | Jonbit |

Joining shadowbot was the best thing I have done on Steemit. It helped me build up my account, get noticed, get upvotes while I post my original works all for free! Think of it as one big pool working together with the power of a whale!
How to Join Log in with your name and private posting key. Your account is created on the spot.