I was just chillin in Luang Prabang when my buddy Bee called me up and invited me to his village across the river in the hills 10 km north of town. I told him I was totally broke and had less than five dollars and he said that was five more than he had and that I only need $1 to pay the trolley fee across the river.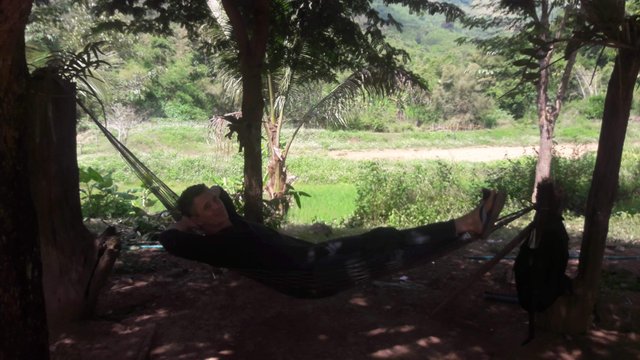 I've been here a couple times, but never took any pictures. These pictures I was able to get on my buddy's crappy Samsung failed to really capture the moment, the full moon, the beautiful stars on that clear night away from the light pollution, or the feeling of serenity being in the cool jungle.
Crossing the River
It costs $1 to use the ferry if you have a bike, but even less if on foot. It's kind of like crossing into another dimension because no tourist come here and it lacks anything western.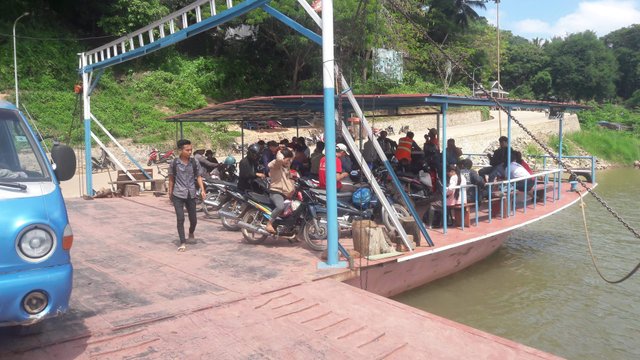 The $1 ferry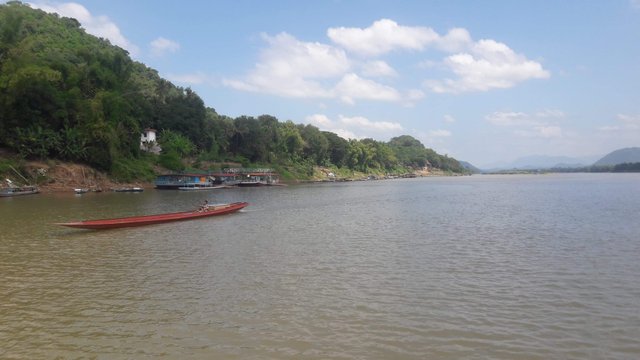 The Mekong River starts as melted snow in Tibet, then flows through China, Laos, Thailand, Cambodia, and Vietnam.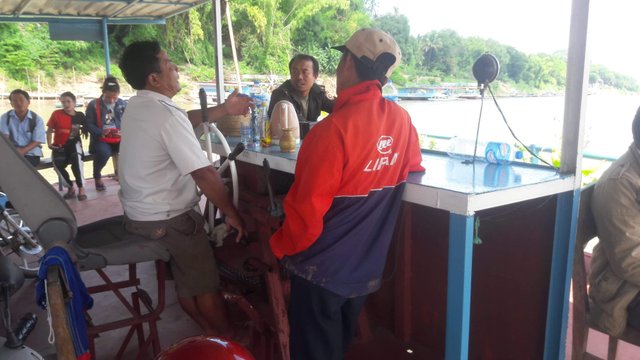 The ferry captain telling jokes with his friends.
Dirt Roads and Avoiding the Cops
I didn't have a helmet so we had to time our bike ride so it would be during the cops' lunch hour and we could avoid any possible fines. Cops are pretty chill in Laos so even if they did stop us it most likely would've been ok. Since we were both broke we just ate cheap sunflower seeds on the way.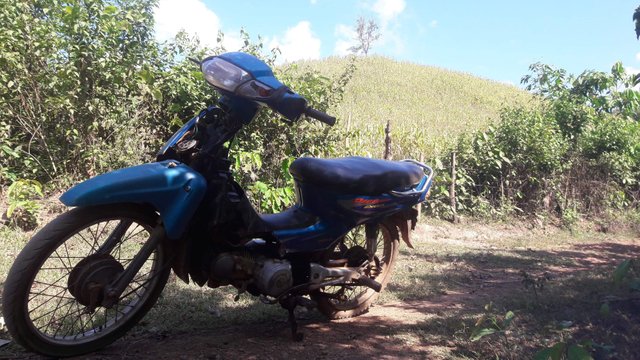 There wasn't any gas in this bike, but about a dollar of gas was enough to get us there.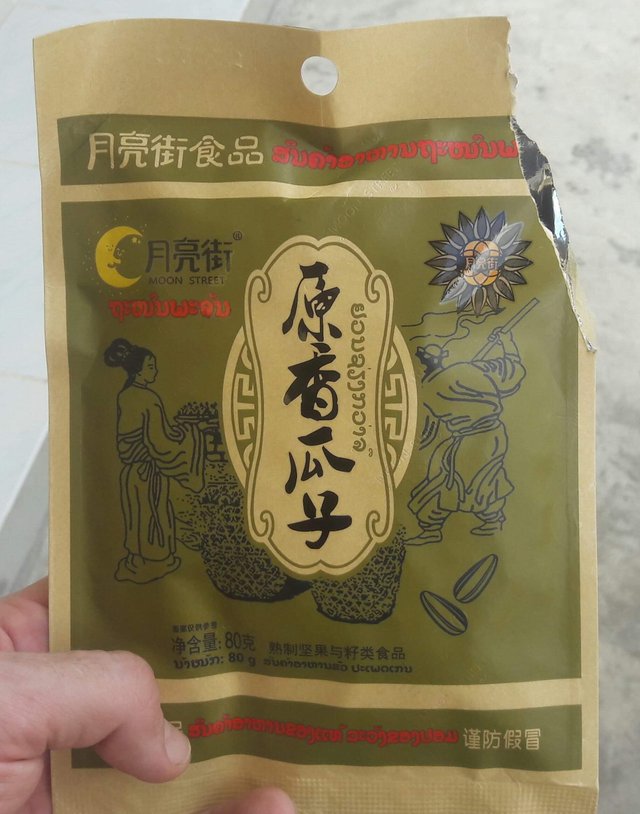 Fifty cent bag of Chinese sunflower seeds.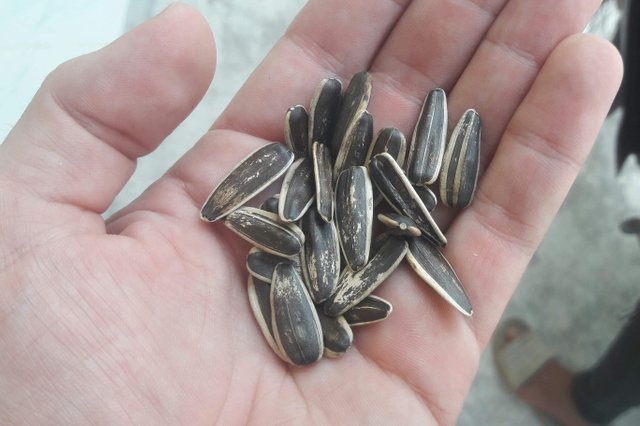 They aren't as salty as in the west. After living here for a long time David brand seeds are nasty and way too expensive for me.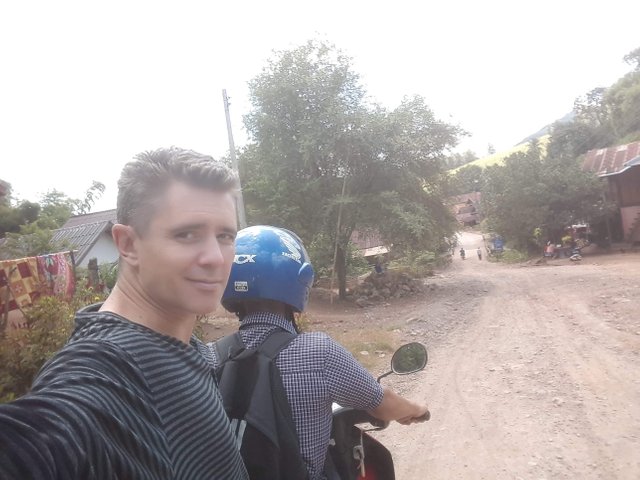 No helmet on dirt roads. Living life dangerously haha.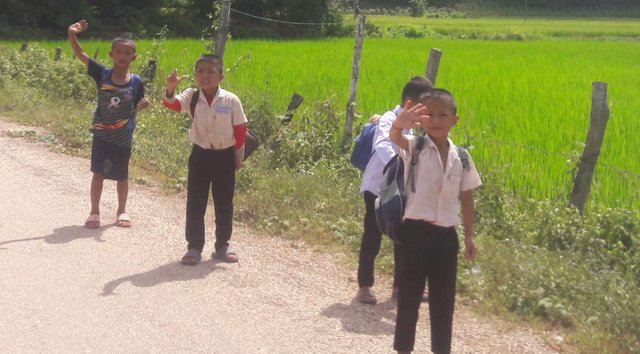 School children love to say, hello! When you say hi, or what's up, or how's it going? They have no idea what you're saying.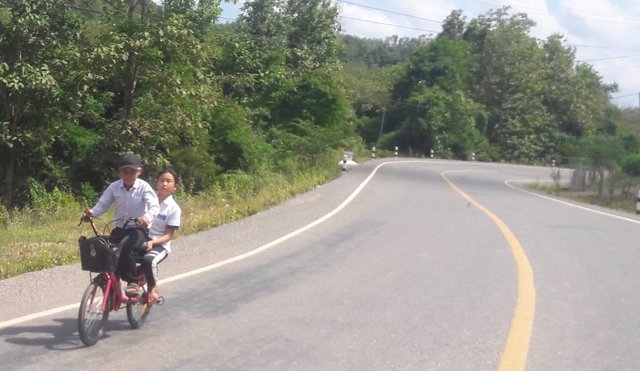 One of the things I love about Laos is people don't drive like maniacs imagining they're the star of Fast and Furious like in Thailand. I've always felt safe riding bikes here even at night.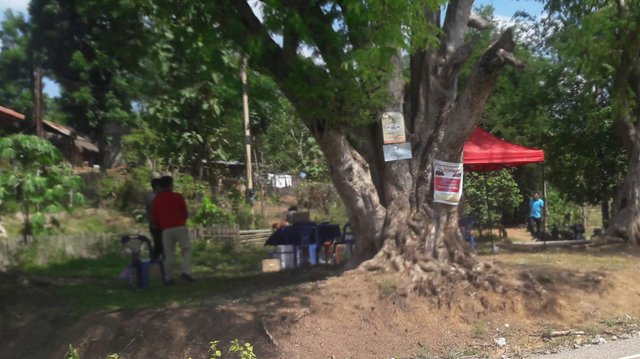 Perfect timing. It was almost noon, the hottest time of day, and the cops were eating their lunch under this tree.
Hello Pigs
After avoiding the pigs my buddy broke into his dad's farming shack looking for rice then the real pigs came to say hi.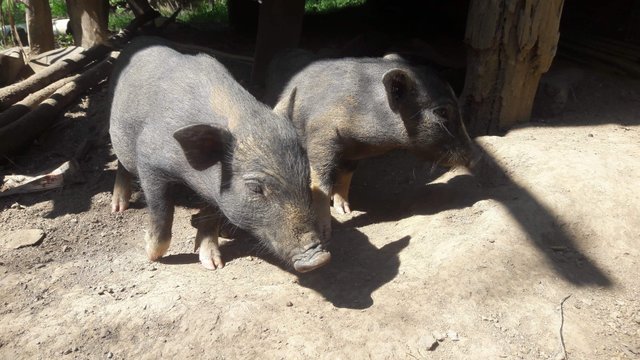 Don't be shy piglets. I'm not going to eat you. Not today anyways.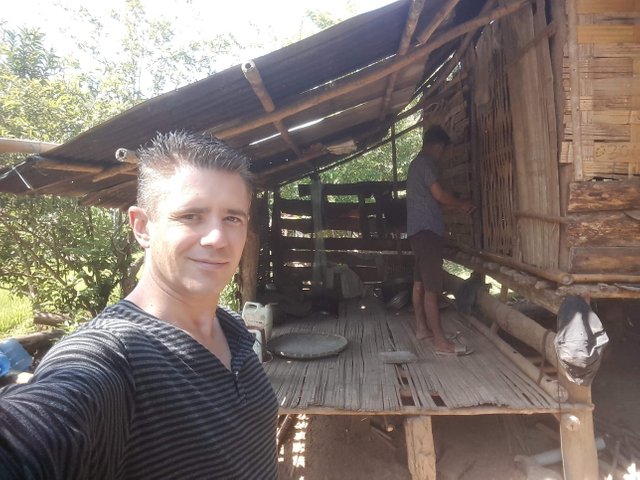 Smashing the lock to dad's shack.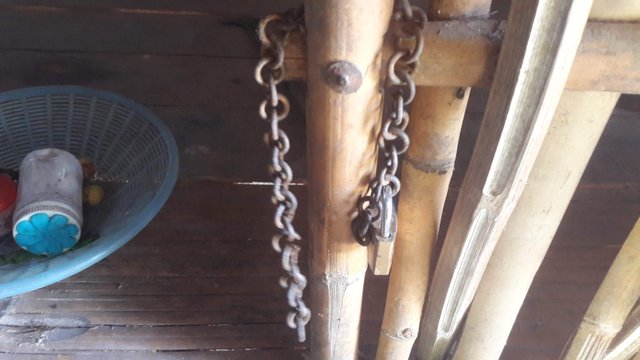 Everyone is good at smashing locks here. So what's the point? I guess it keeps the little kids out.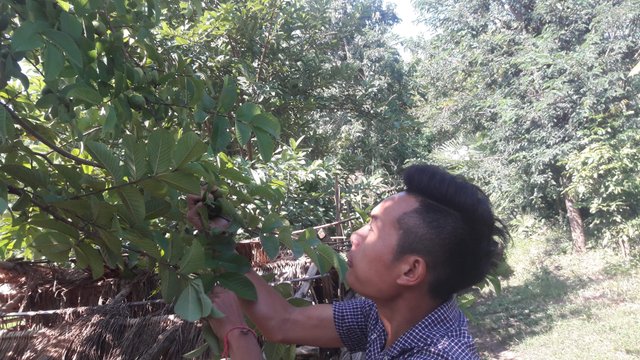 We didn't find any rice, but this tree had some fruit called "mak-see-da" in Lao language. I have no idea what it's called in English and neither did anybody I asked who was bilingual. Do you know the English name? You can eat it like an apple. It's yellow inside and has small seeds in the middle.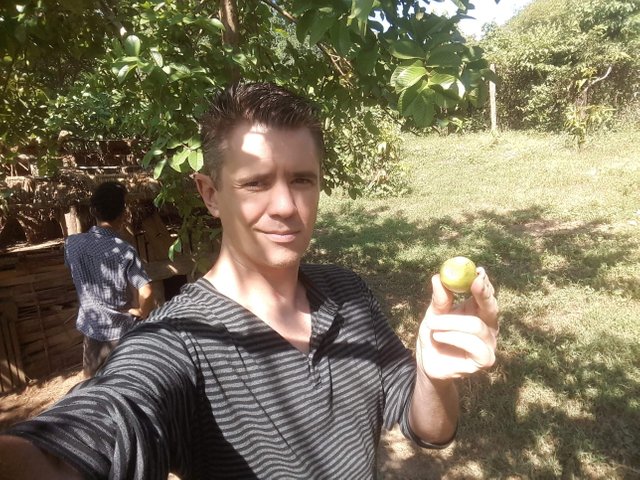 "mak-see-da" fruit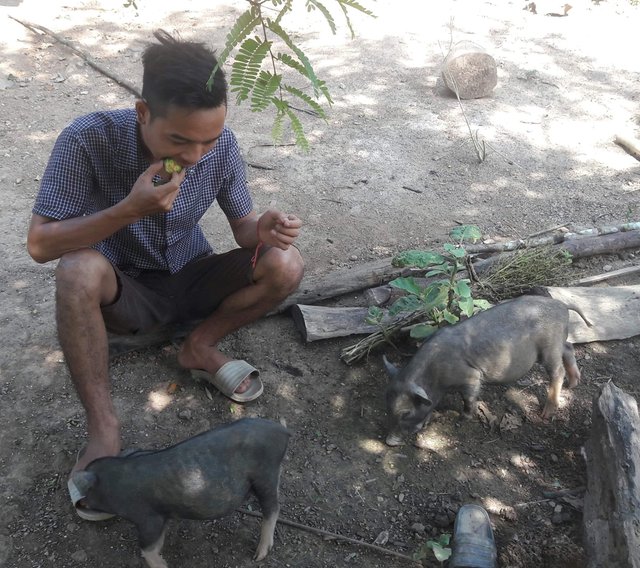 The piglets like the fruit too.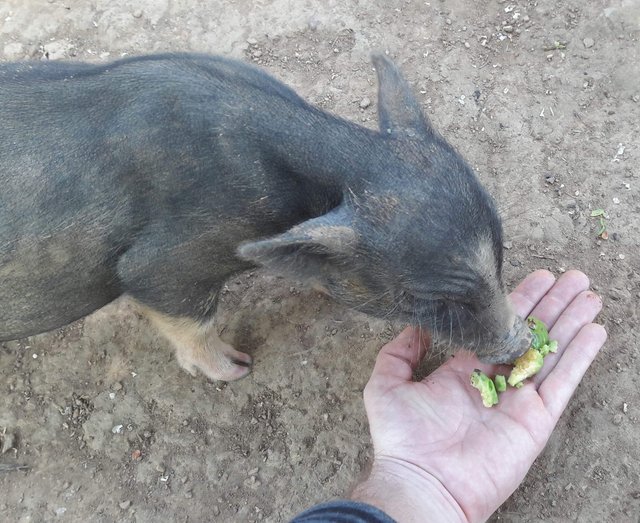 I feel kinda bad eating pork the night before, bonding with these piglets, then eating pork right after but, what are you going to do? Become a vegetarian? Yeah right!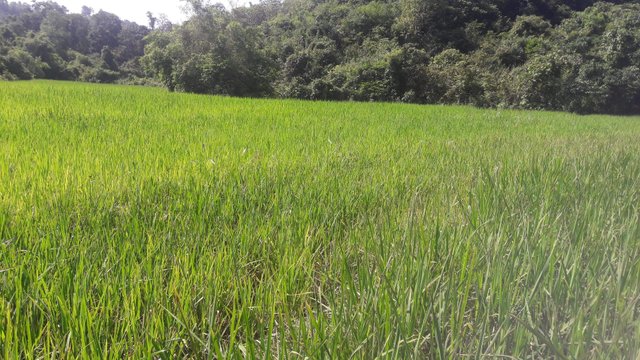 My buddy's dad's rice field.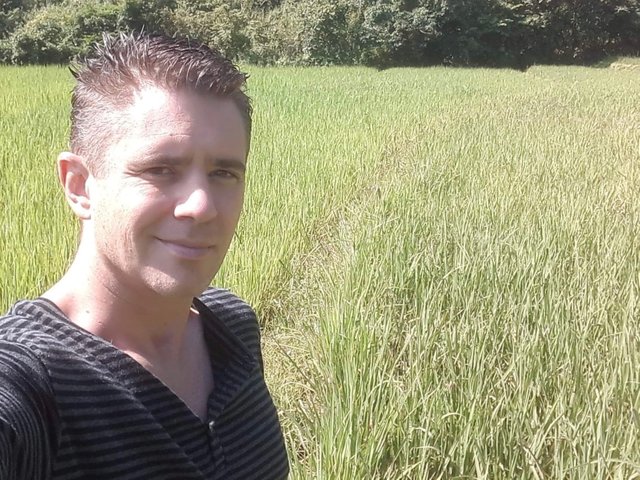 Facebook is so lame. It should be called Selfiebook or Fakebook, but I know how it works. Post just this pic without any details, just say, "Me in the rice field." and it will get hundreds of likes. Check out my Facebook page in the link below. I bet it get's 300 likes. I wonder when Libra launches if Facebook users will get Libra crypto with each like as we do here in Steemit. Imagine how addicting it will become when we get rewarded just for selfies.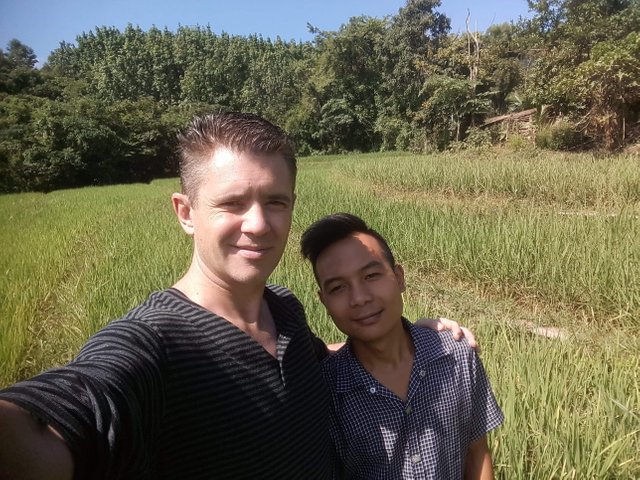 I told Bee that we should take a photo together and not just the field or my selfie. After looking at it I told him it looks like we're a gay couple. A 40 year old white guy and his little young Lao boy. He didn't think it was funny.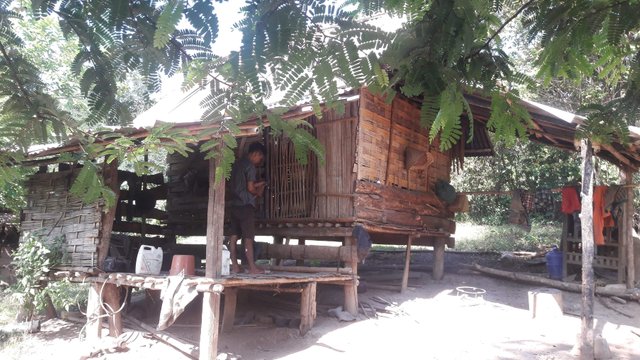 Fixing the lock we broke.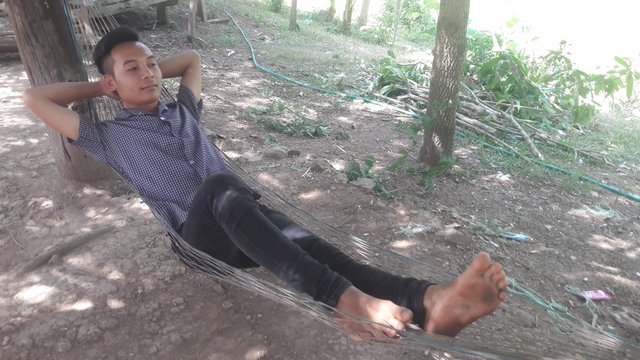 Chill out on the hammock.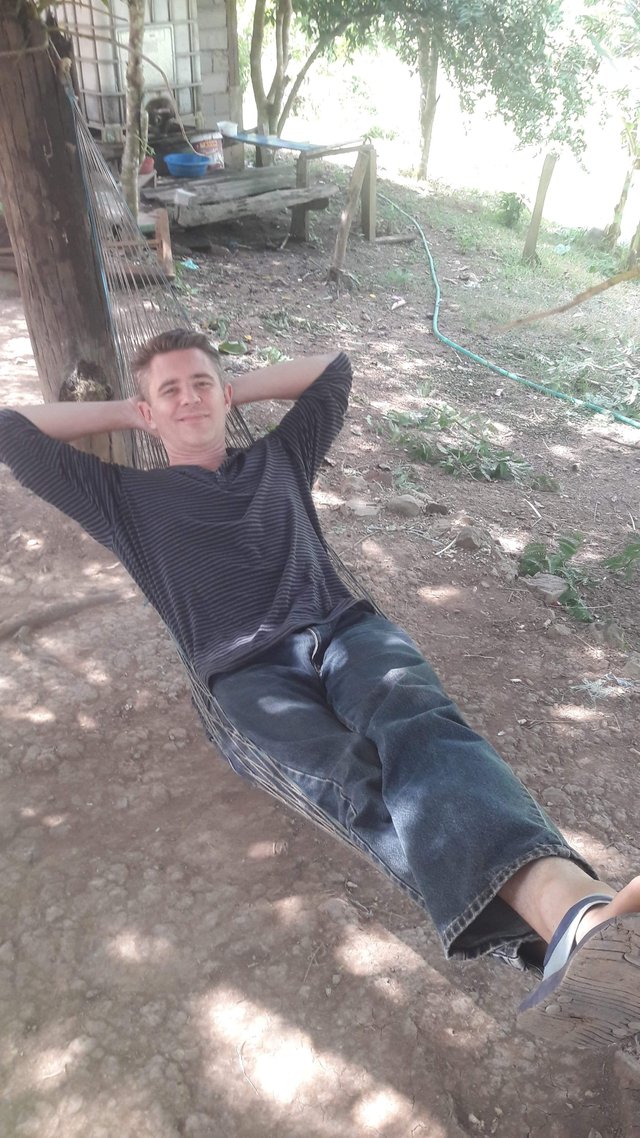 Wait till the cops go home then head back to town.
That night we went to a Lao funeral. Funerals are always fun here. We prayed to the ghost of the deceased and I thanked her for the party and letting me come there. I'm quite fascinated with black magic and ghosts so I always invite ghosts and any other spirits to join me. I don't speak to them with words, but I always invite them to come along with me. I've had lot's of buddies die in Iraq and Afghanistan and some who've killed themselves, but I always think of them when I take a shot, have a drag, or hook up with some hot girl. When I went to sleep that night I had the most vivid lucid dreams ever, so maybe she took me up on my offer.
Thanks for exploring 🇱🇦 Laos with us. I'm trying to get my buddy into Steemit so hopefully this post does well and he starts posting too. I have thousands of students but only a few have listened to me and started playing Steemmonsters and posting to Steemit and Dtube. I think the long passwords and confusing private and posting keys is keeping people away. I get this all the time, "Jay help me with my computer/phone it won't work." "Ok what's the problem?" I'll ask. "I can't remember my password."
If the average user can't use Facebook how the hell is Steemit going to go mainstream with how confusing it is? There should be a facial recognition or a biometric option for beginners and all this complicated private key stuff for when your account is actually worth something.
先生 เจ
Jeremiah Lee Custis
Personal Facebook Page:
https://Facebook.com/JeremiahCustis
Personal Youtube Channel:
https://www.Youtube.com/user/JeremiahCustis
Personal Blog:
https://Steemit.com/@JeremiahCustis
Language Blog:
https://Steemit.com/@TeachinThai
Solar for Siam NGO Facebook Page:
https://Facebook.com/SolarforSiam
Language Camp Facebook Page:
https://Facebook.com/LuangPrabangLanguageCamp
Let's help science together!
https://App.Boid.com/u/CPU4Good
Gaming Facebook Page:
https://Facebook.com/ConversationGaming
Conversation Gaming Youtube Channel:
http://www.youtube.com/channel/UCkxwjbgN0Js4vM-tiSvVMIA
SplinterLands (My Favorite) Get in the Game!
https://steemmonsters.com?ref=jeremiahcustis
Instagram: https://Instagram.com/JeremiahCustis
Discord: 3438
Telegram: @JeremiahCustis
Skype ID: JeremiahCustis
Zoom ID: JeremiahCustis