English

The 'Iranian poppy' (Papaver bracteatum) is without question one of the most impressive flowering plants in our garden. If you want to read more about this perennial poppy, which grows up to 1.20 m tall, you can find more information in one of my earlier articles.

However, this plant is not only beautiful, but also much sought-after by bees and bumblebees, which is why I wrote an article on the subject "Poppy and its diligent visitors" today.
I hope you enjoy watching the pictures! :)

Deutsch

Der 'Armenische Mohn' (Papaver bracteatum) gehört ohne Frage zu den eindrucksvollsten Blütenpflanzen in unserem Garten. Wer mehr über diese bis zu 1,20 m hoch wachsende, mehrjährige Mohnsorte lesen möchte, findet weitere Informationen in einem meiner früheren Artikel.

Diese Pflanze ist aber nicht nur wunderschön, sondern auch bei Bienen und Hummeln heiß begehrt, weshalb ich heute einen Artikel zum Thema "Mohn und seine fleißigen Besucher" erstellt habe.
Ich hoffe, die Bilder gefallen euch! :)
---
| | |
| --- | --- |
| Can you find the bumblebee and the bee in the picture? :) | Findet ihr die Hummel und die Biene im Bild? :) |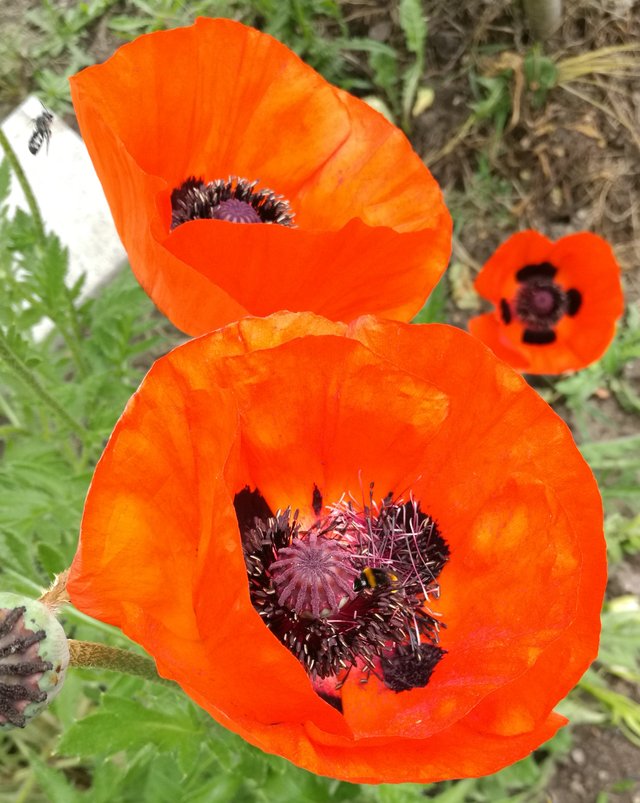 ---
Obviously this 'buff-tailed bumblebee' (Bombus terrestris) has caused quite a mess in the bloom when it was seeking for pollen.
This bumblebee species can be recognized by the white end of their abdomen and the two wide yellow stripes.
Offensichtlich hat diese 'Erdhummel' (Bombus terrestris) beim Verusch, sich reichlich mit Pollen einzudecken, ein ziemliches Chaos in der Blüte angerichtet.
Erdhummeln erkennt man am weißen Hinterleibsende und den zwei breiten, gelben Streifen.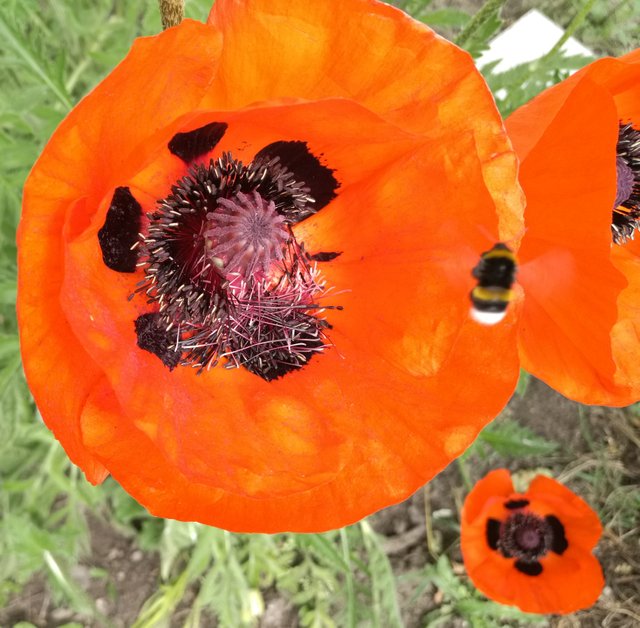 ---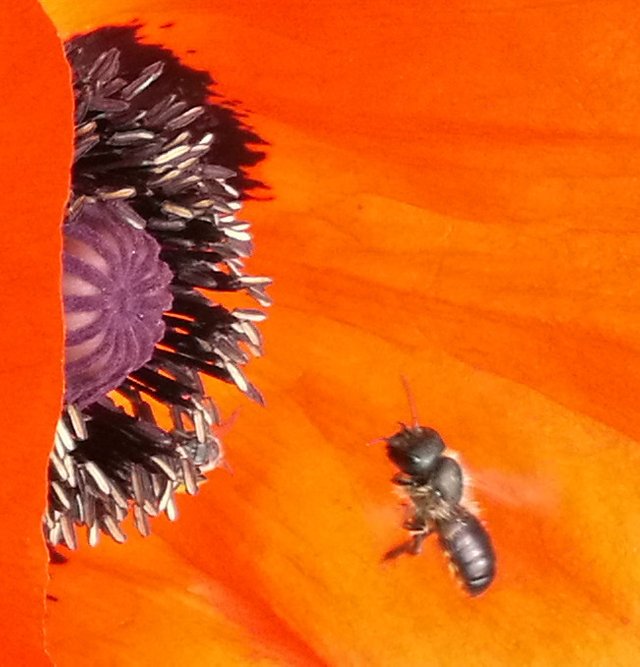 ---
| | |
| --- | --- |
| This picture has not become particularly sharp, but I chose it because of the splendid colours. | Dieses Bild ist nicht besonders scharf geworden, aber ich wählte es der prächtigen Farben wegen aus. |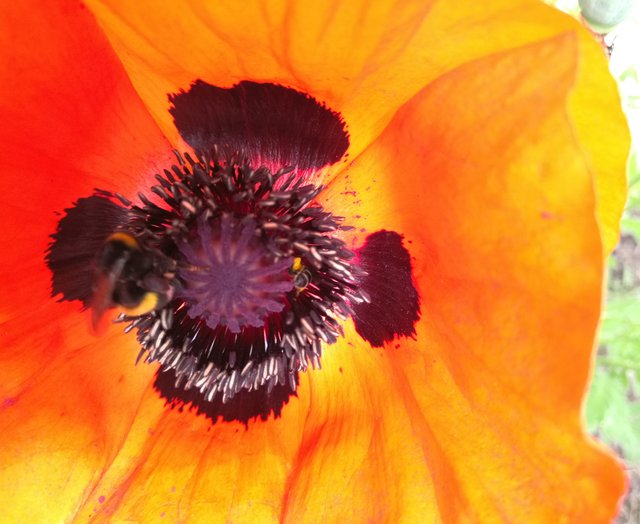 ---
| | |
| --- | --- |
| The baskets of this bumblebee are full to bursting with pollen. | Die Körbchen dieser Erdhummel sind prall gefüllt mit Pollen. |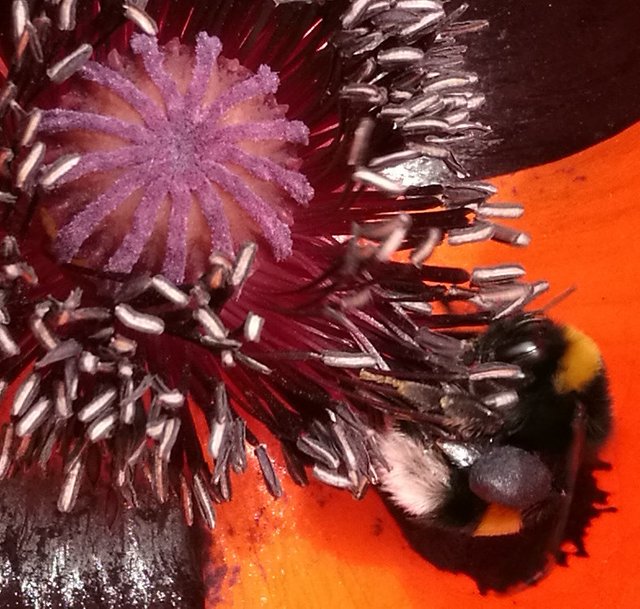 ---
| | |
| --- | --- |
| The insects must feel like in paradise or "Schlauraffen Land" in the huge poppy blossoms ... | Die Insekten müssen sich in den riesigen Mohnblüten wohl wie im Paradies bzw. Schlaraffenland fühlen ... |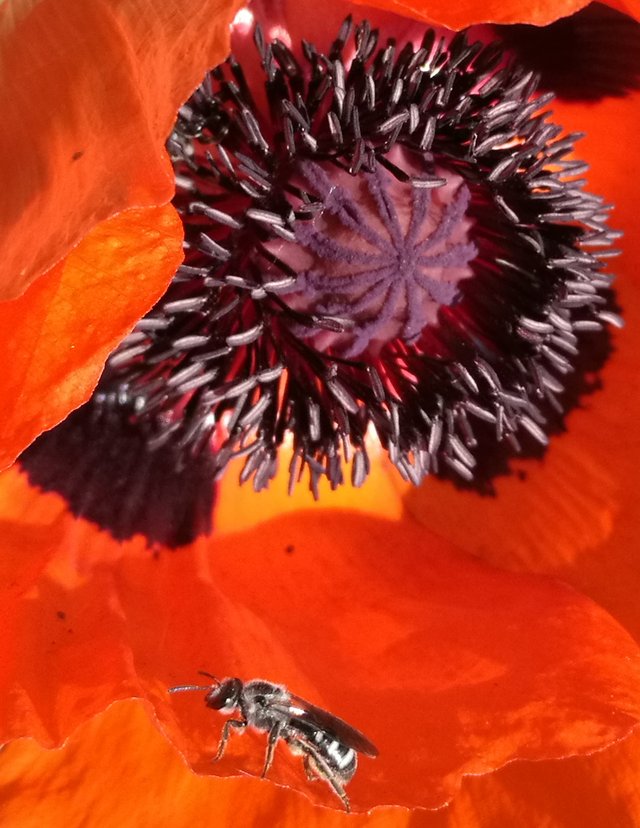 ---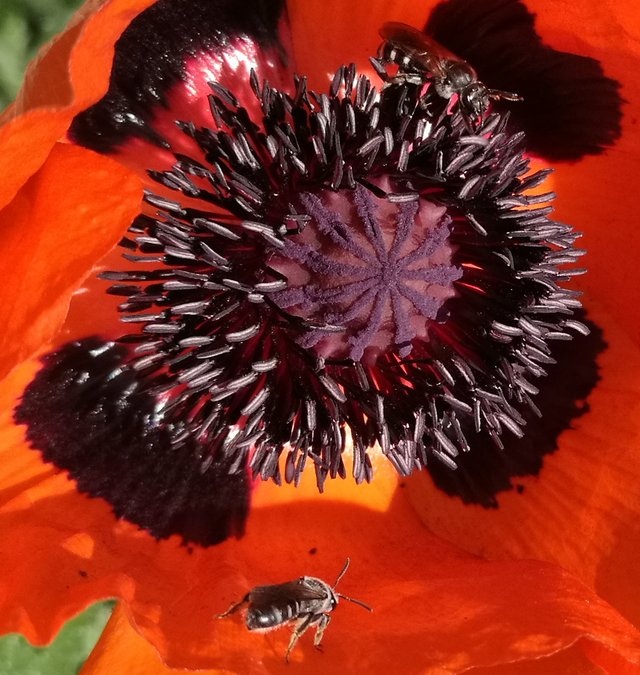 ---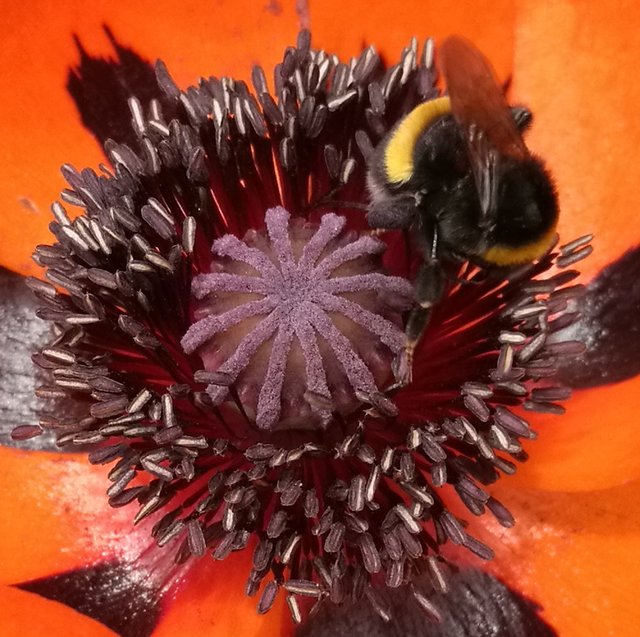 ---
| | |
| --- | --- |
| On the following two photos you can see the reddish eyes of the bumblebee. | Auf den folgenden beiden Fotos sind die rötlichen Augen der Hummel gut zu erkennen. |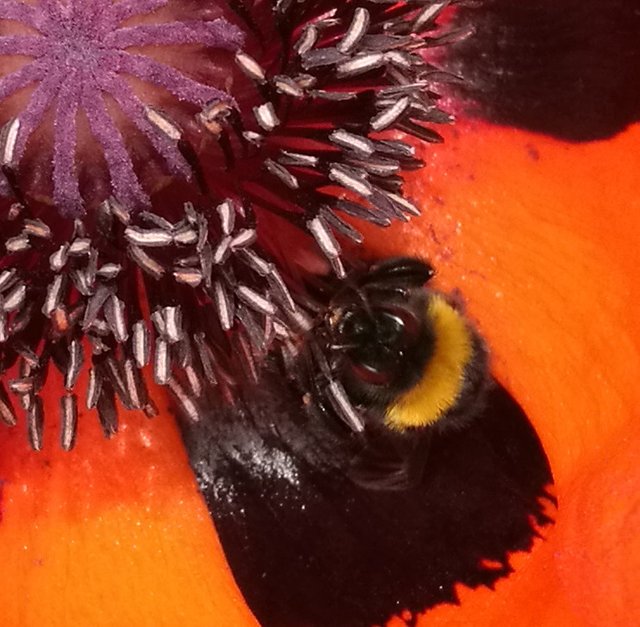 ---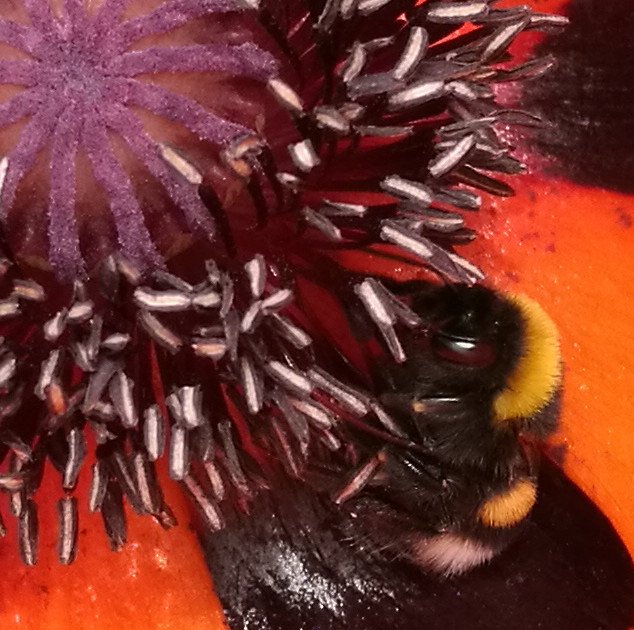 ---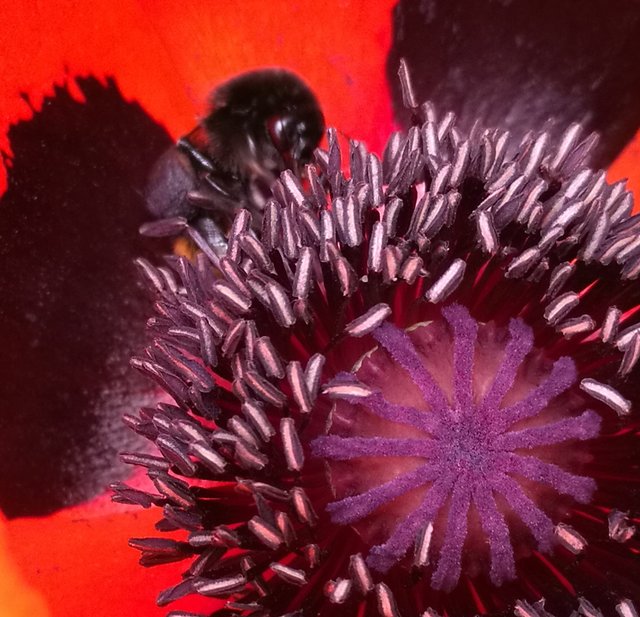 ---
| | |
| --- | --- |
| Finally an unopened bud of Papaver bracteatum. | Zum Schluss eine noch ungeöffnete Knospe von Papaver bracteatum. |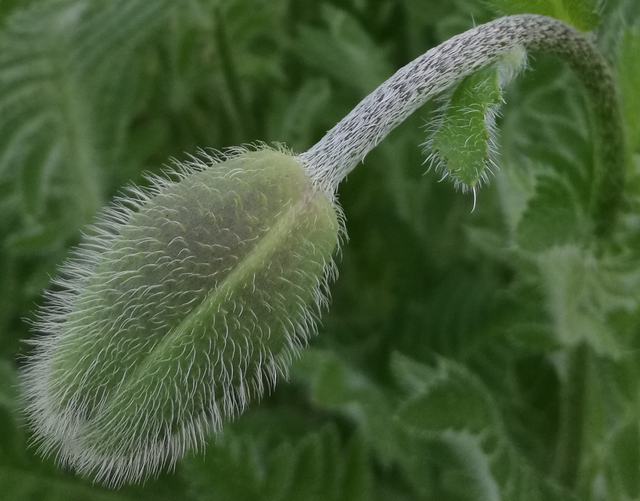 ---