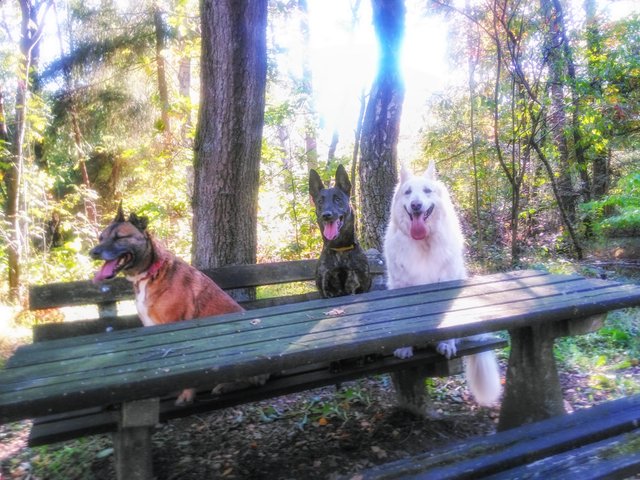 There is something like Animal Protection in the Netherlands. A good thing of course. Because whoever loves animals must also be good at them. I will therefore be the last to say that animal protection is not necessary.
But never, really, I expected that I would have to deal with this Animal Protection myself!
Today, a visit from Animal Protection has completely upset me.
I had just arrived home back with the dogs when suddenly a car came to the driveway. And no car that I know. That is strange because to be honest, I do not get that many visits here. Of course the dogs barked, what do you want? They are shepherds! Shepherds are guard dogs and although I keep them as house dogs, that does not mean that they have lost their instincts. On the contrary. They guard house and hearth and will defend me with all they can.
suddenly a car came to the driveway
Without dogs I quickly walked out to see what kind of visit there was and I was really surprised when I saw two uniformed people stepping out. And those uniforms, police? No! It was Animal Police! With a heavily weighing complaint. A complaint that literally shook me on my legs of indignation. A complaint that hurt me.
It was Animal Police!
The complaint would be that the dogs would be too thin. They would have fleas, I would not feed them, and I would never walk with them, and as the last part of the complaint. I would totally neglect my dogs! I was not worried about the inspection itself. No not at all. I know that I am good for my dogs. They are my everything, I go before them through the fire. Everything I can do for them, I do. They are worth more to me than my own life. So that there are people who just want to grab me ... That was what made me tremble with indignation. Especially since this is the second time that the animal police has to come for false accusions.
Second Time False Accusions.
The first time they said that everything was fine so I did not expect this anymore. Anyway, with every serious complaint they receive, they have to start looking.
This time they asked me the shirt of my body. How often and for how long I walk with the dogs, whether they ever run free, how much and how often I feed them ... In short, a third-rate cross-examination that I'm really upset about. Then it was time to have a show with the dogs ... who are certainly not too skinny, not too happy. And I have also said to the Dutch Society for Animal Protection that I prefer to keep them a little slimmer, so that they maintain a better condition. I have nothing with all those fat dogs that you can almost roll. That, in my opinion, is true abuse. But of course nothing is done about that, because let's be honest. Nobody calls for a TOO fat dog.
a third-rate cross-examination that I'm really upset about
An hour after they came, they also left. With two announcements. One was that they had come for nothing this time! Well, they were that before, completely for nothing, and that nothing has not changed. I certainly do not care for the dogs. On the contrary. They are simply spoiled dogs, but they are happy! The second announcement scared me ... If there is another report and they have to come to visit me again. Irrespective of whether it is a false report or not, they can take my dogs from me. That message briefly struck the ground under my feet.
they said that they can take my dogs from me
Take my dogs away from me? Oh no! No way! Never ... About my body that someone takes my dogs from me.
That threat paralyzes me for a moment. Makes me upset. But in the end I only know more and more with a great certainty that nothing or nobody comes between me and my dogs.