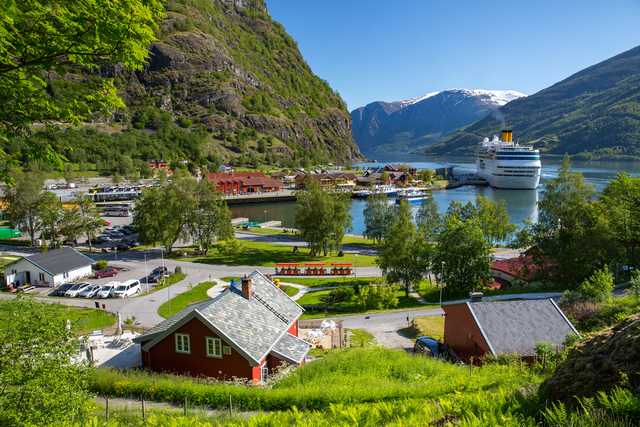 Formed in the shape of an S, nature herself has provided the first letter for many of the superlatives often used to describe the Geirangerfjord; stupendous, stunning, spectacular. Another often-used phrase used to describe the 20-kilomtre long between Hellesylt and Geiranger is "The pearl of the fjords".
The unique and exceptionally beauty has been confirmed by UNESCO by its inclusion on the World Heritage List in 2005.
You would have to be exceptionally blasé if you failed to be impressed by this astounding creation of Mother Nature, dramatised by the will of man to maintain a foothold on the steep mountainsides and glean a living here.
Impressive falls cast cascades of thundering water from almost vertical mountainsides, or tease the cliffs with feather-light gossamer veils of mist whose mission seems to be to create a never-ending display of ever changing rainbows to fill us with delight and wonder.
Let the breeze stroke your hair and the veils of soft mist kiss your cheeks while you feed the gull that follows you with a watchful eye into the reaches of the fjord. You will soon witness the famous falls, Dei sju systre, Friaren and Brudesløret the Seven Sisters, the Suitor and the Bride's and high up the steep cliff sides, or almost down at the waters edge you will see the now deserted alpine and fjord farms, that spice your experience and bear witness to a lost time in history, a time that's difficult to comprehend in our modern world.