Amigos en Steemit:
La hermosa naturaleza no deja de sorprendernos nunca y esto es muy evidente en la inmensa cantidad de flores que nos regala. Particularmente también me asombra la inmensa capacidad imaginativa de los humanos para bautizarlas dándoles nombres que las describen perfectamente Este es es caso de una flor muy especial: la Dama de la noche. Esta flor tiene el nombre bien puesto. # Y es que esta Dama es una Diva, digna de los reflectores.
The beautiful nature never ceases to surprise us and this is very evident in the immense amount of flowers it gives us. Particularly I am also amazed at the immense imaginative capacity of humans to baptize them by giving them names that perfectly describe them. This is the case of a very special flower: the Lady of the night. This flower has the name well placed. # And this Lady is a Diva, worthy of the reflectors.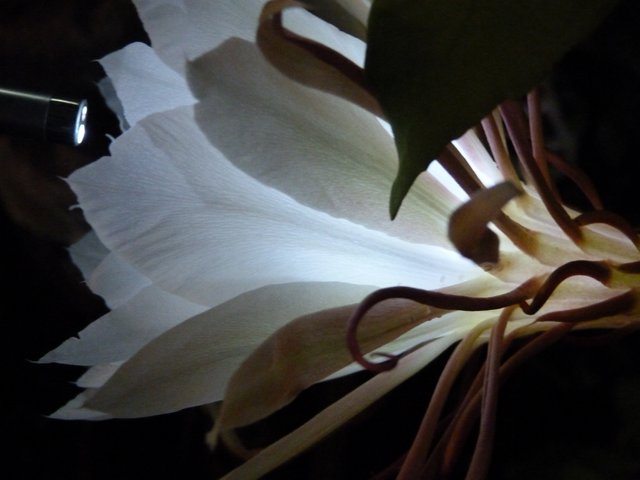 Quienes la cultivan, o la admiran, tienen con ella una relación muy personal, cuidan su planta con mucha deferencia, aunque es una planta que no requiere especiales cuidados: el proceso de floración se convierte en un acontecimiento comentado entre los círculos de amigos y motivo de congregación cuando el botón al fin se abre y podemos contemplarla en toda su belleza.
Those who cultivate it, or admire it, have a very personal relationship with it, they take care of their plant with great deference, although it is a plant that does not require special care: the flowering process becomes a commented event between the circles of friends and motive of congregation when the button finally opens and we can contemplate it in all its beauty.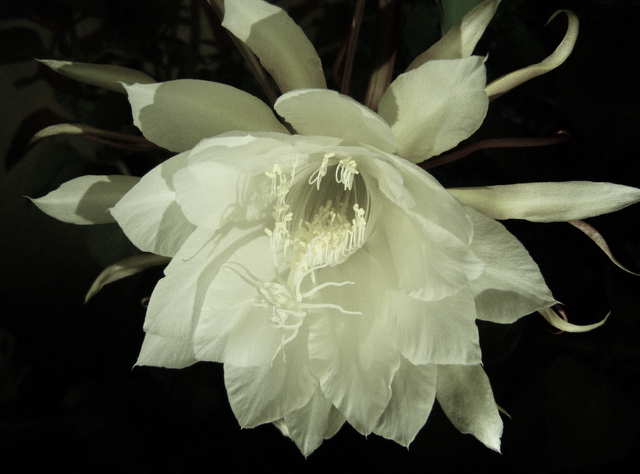 La flor logra su mayor esplendor cerca de la medianoche lo que requiere mucha paciencia de parte de su público. Viene vestida con pétalos translucidos (ninguna reina viste como ella, hubiese dicho Witmann), perfumada con un olor profundo, dulce y potente que llena el patio entero. Misteriosa y abierta a la vez, toda ella es una invitación a los sentidos. Una efímera belleza, un disfrute de pocas horas, al amanecer estará marchita.
The flower achieves its greatest splendor near midnight which requires a lot of patience from its audience. She is dressed in translucent petals (no queen dresses like her, Witmann would have said), scented with a deep, sweet and powerful smell that fills the entire courtyard. Mysterious and open at the same time, all of it is an invitation to the senses. An ephemeral beauty. A few hours enjoyment, at dawn it will be withered.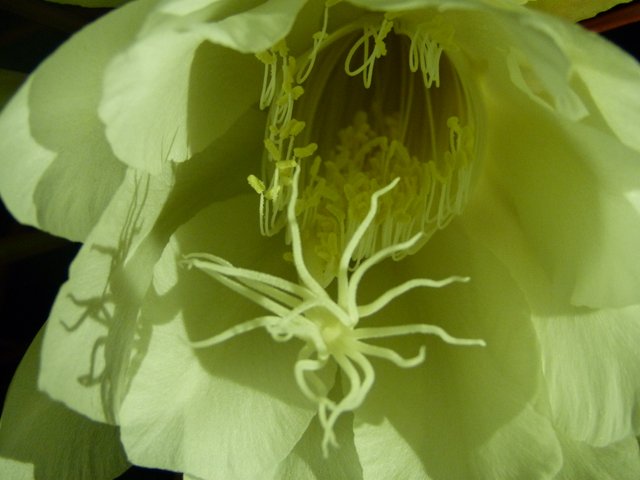 La Dama de la noche invita a fotografiarla, se presta para ser modelo en sus distintos ángulos. Si de frente es hermosa y perfecta, generosa a quien quiera ver su arquitectura para la reproducción; de lado es caprichosa y cautivadora, mostrando sus formas en armónico contraste: Un pedúnculo robusto que la une a su planta, al final de él un receptáculo amable y digno donde se apoya el cáliz con sus sépalos exquisitos, anunciando la impactante corola que contiene, con sus delicados pétalos níveos, aterciopelados, transparentes, perfumados...
The Lady of the night invites you to photograph her, lends herself to be a model in her different angles. If front is beautiful and perfect, generous to anyone who wants to see its architecture for reproduction; On the side it is capricious and captivating, showing its forms in harmonic contrast: A robust peduncle that joins it to its plant, at the end of it a kind and dignified receptacle where the chalice rests with its exquisite sepals, announcing the shocking corolla it contains, with its delicate snowy, velvety, transparent, scented petals ...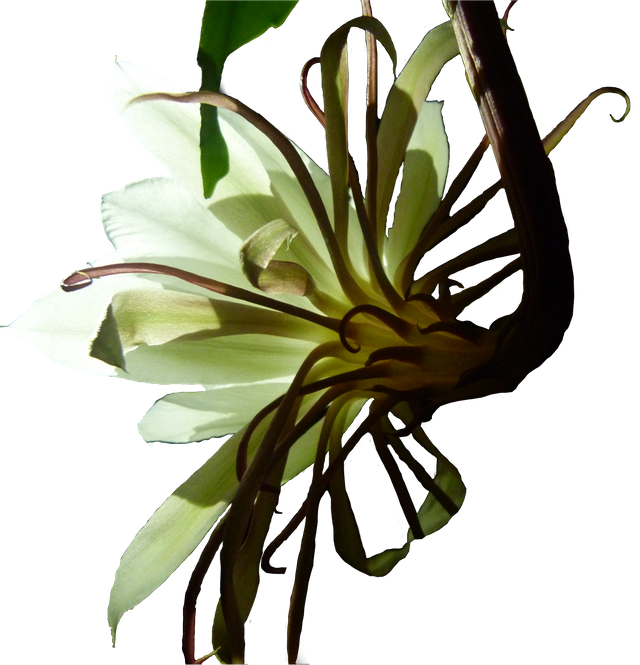 A estas alturas la flor ya estaba completamente humanizada y sabíamos que debíamos despedirnos de ella para siempre (hay quien dice que la flor contiene unos alcaliodes derivados del tropano, por ello no se recomienda tanta cercanía).
Yo quise hacer una última foto, mi hermano también. Él disparó de frente, su cámara dio un error de luz y emitió una luz roja. Yo la retrataba de perfil, capté la foto que les dejo para despedirme.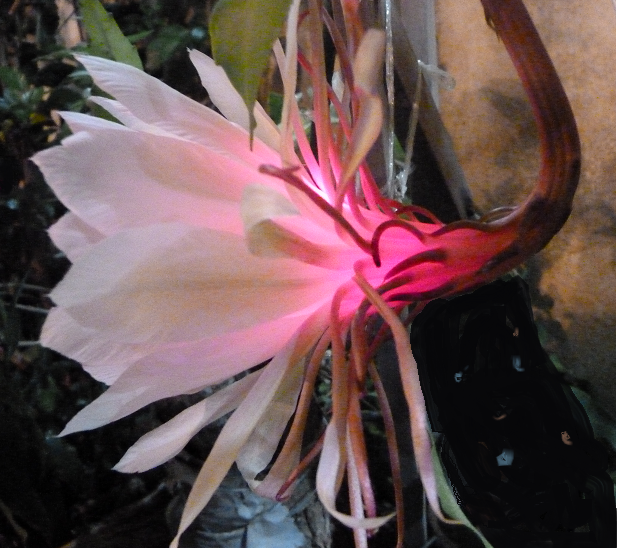 At this point the flower was already completely humanized and we knew that we should say goodbye to it forever (there are those who say that the flower contains some mayors derived from tropane, so closeness is not recommended).
I wanted to take a last picture, my brother too. He shot from the front, his camera gave an error and emitted a red light. I was portraying her in profile, I captured the photo that I leave to say goodbye.
Muy agradecida de su lectura.

Very grateful for your reading.

Las fotografías fueron tomadas con mi cámara

Lumix Panasonic modelo DCM-FZ40

--