There are still 2 more photographs of the Pastel Dreams shoot that I want to share with you. Today I'm going to share 1 of them, Empyrean, a photograph that has some Christmas vibes in my opinion.
At the beginning of the shoot, I didn't like this outfit at all, I thought it was too much, a bit overdone. But after editing al the other shots, I had to edit one of this look as well and to be honest, it came out much better then I expected it was going to be.
I think the "painterly" effect comes out much better in this photograph since the look itself already gives a vibe to the portraits that were painted in the Baroque period; the hairstyle, the outfit and especially the flowers we added with a stapler to the background. 
Some of you may find this kitsch, but remember, that was actually kind of the purpose of this shoot. It's still possible some of you don't like this work, which I would totally understand and not be difficult with at all since everyone has it's own taste and vision on photography. :D
If you like it, or think something could've been done better next time, do let me know in the comments! (Only constructive criticism please)
                                     "Empyrean"
                                             Model: Elizabeth Shuhlin
                                           Mua & Hair: Eline Van Gils
                                              Styling: Styling 10, Pics
                            Photographer: Gaëlle Spaas Photography (me)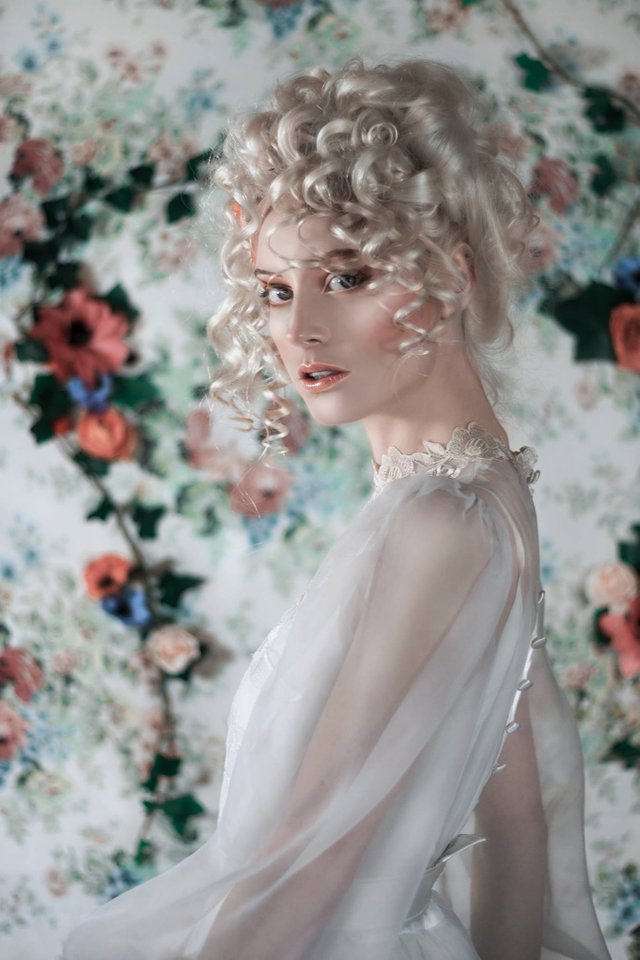 © All rights reserved by me
If you like my work, don't forget to upvote, comment & resteem! ^^
You can also find me on other social media as;
Instagram: https://www.instagram.com/gaellespaas_photography/  -  (@gaellespaas_photography)
Facebook: https://www.facebook.com/gaellespaas.photography/