Skagway Alaska: Gateway To The North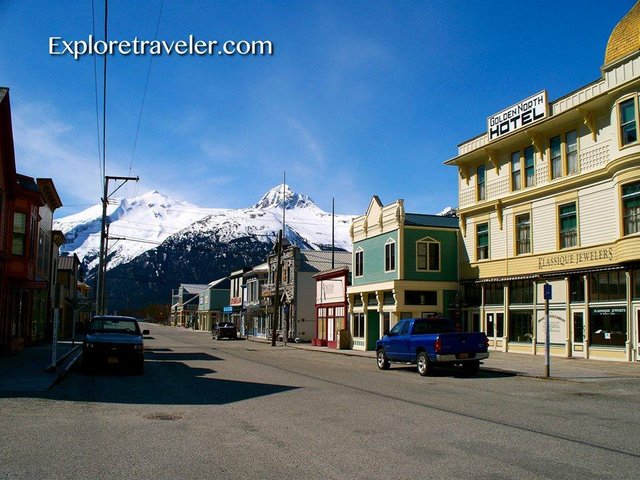 Skagway, Alaska: Gateway To The North
Welcome to Skagway, Alaska, the gateway to the Klondike and beyond. The town is yesterday alive and well! In Skagway you will hear the old honky-tonk pianos, and the cries of the prospectors. 
Gold has been found! 
Nothing much has changed here, and it is yesterday at its best! So come celebrate with us! Dance to the old honky-tonk piano! Kick up your heels!  Immerse yourself in the history of the Klondike! 
Enjoy everything nature has to show you in the northern most town in Southeast Alaska. It also sits on the side of a beautiful glacier, and nothing is prettier under the sun, and you can branch out from here and visit other areas, like Whitehorse in the Yukon, Canada. 
Check the site below for listings of events and accommodations. 
We'll see you in Skagway.
Skagway.com
One of the highlights of the area is the Klondike Gold Rush National Historical Park. The park was created in 1976 and commemorates all the many hopeful prospectors who flooded the area in the late 1800's. The visitors center is very informative and the hiking trails are great. If you feel ambitious, you can hike the famous Chilkoot Trail. This is a 3-5 day hike and not for beginning hikers. The trail is well maintained by the Park Service and is in good condition. You can also access the park website below.
Skagway is one of the most exciting port of calls for the cruise ships that go up the Inside Passage to Alaska. You can take this cruise out of either Seattle, USA or Vancouver, Canada. This is one cruise that we have done twice and no two trips are the same. They are an adventure waiting to happen! You can reserve your cruise on the website below.
Another option is the Alaska marine ferry system that travels up the coast. You can take  your car as well or walk on, bring your bike, or even your RV. Much like booking a train, you can purchase a sleeping 2-4 berth cabin as well.
There are many fantastic day tours available. Some are as little as one day and others can take up too ten days. Whatever you desire to see and do, Skagway, Alaska is your jumping off point for a great adventure.
Happy Travels,
© 2016 ExploreTraveler. All Rights Reserved.