Bond Villain/English Gent/Mob Boss Shoot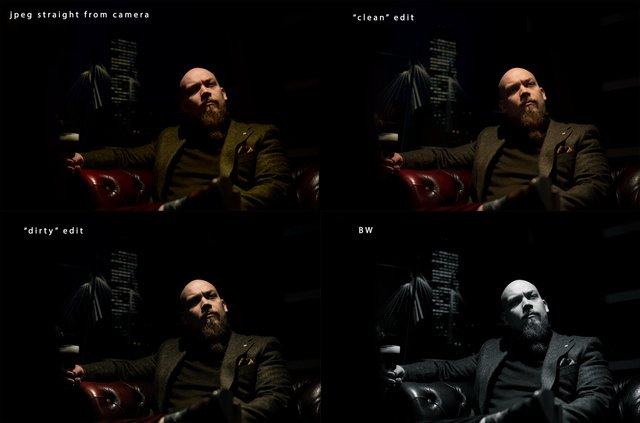 I happen to have a friend who embodies the characters in the title quite naturally, and there is an English bar in the city with really nice dark interiors, that I've been wanting to utilise for a shoot for the longest time. I put the two together today and we had a little photoshoot on this casual weekday. There was a surprising number of customers present but it's spacious enough to do a shoot without getting disturbed, or disturbing anyone else.
The scene, my friend, his wardrobe and posing skills, and the lighting made this shoot pretty much work itself out. All I had to do was to make sure my focus was on point and capture the best angles, before someone has a nicotine overdose from a cigar. Yes I make my models risk their life for the shot.
Now I'm starting to process images and I decided to make three different edits and put them side by side with the Japanese engineers version (jpeg straight from camera) of what the image should look like. I think this might be a practise I need to start doing regularly because it makes it clearer to see which version really pops or what way to lean on with further edits. I think in this instance the bottom row is what we aim for; a few classic black and whites, and more images with pretty heavy and gritty editing style. It's so much fun to edit pictures of guys, they can pull off a lot heavier edit and require close to no skin retouch.
I'll probably have one cohesive set ready to show later tonight