One Sunset, Two Lakes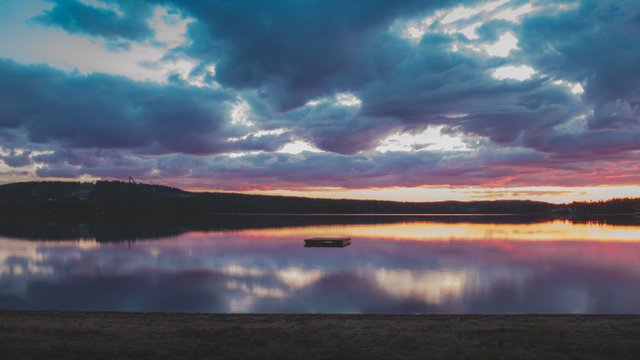 A little walk around neighborhood with Igor after long day at work and there it was again FOMO. Some stormy clouds with nice shades of setting sun. I made a quick decision and gathered my gear. Hell no, I wasn't going to miss out from this. I drove to the lake, not too far from my home, because I knew that the sun would be there even if I was already a little late for the great shots.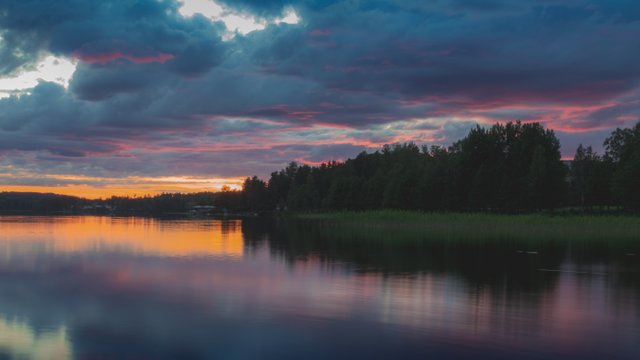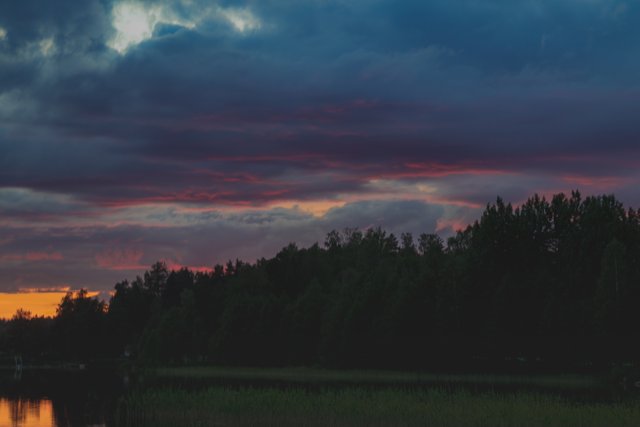 I haven't been in this place for years for some reason, but the sight was as I remembered it to be. Sun setting beautifully the opposite side of lake and surface of lake reflecting all the colors of sky making the sight double the drama. How could you not love sight like this?
Unfortunately I wasn't alone at the beach, bunch of drunken teenager making noise, well those I could handle easily, but there were some others too. MOSQUITOS, infernal amounts of them. I was determined to get my shots so I tried to ignore those whiny bastards. Both of them.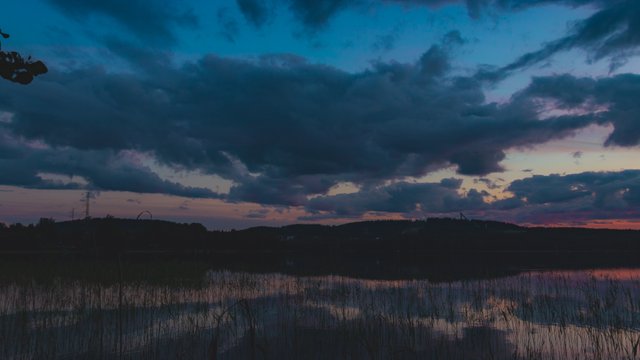 A few weeks(?) not sure when, I've lost the track of time because of working too much, I ordered remote for my canon so I could get some steady long exposure. The water of lake wasn't totally still so I tried to see if longer exposure time would smooth it up. Totally need a lot of practice still with that one but we are getting there. I think I got some nice dreamy effect in some pictures with longer exposure. Luckily I also had grey filter and C-pol with me, because even if the sun was setting, it doesn't really get dark in Finland during summer, especially during mid summer. In lapland of Finland the sun doesn't even set below the horizon. Try to catch sunset there….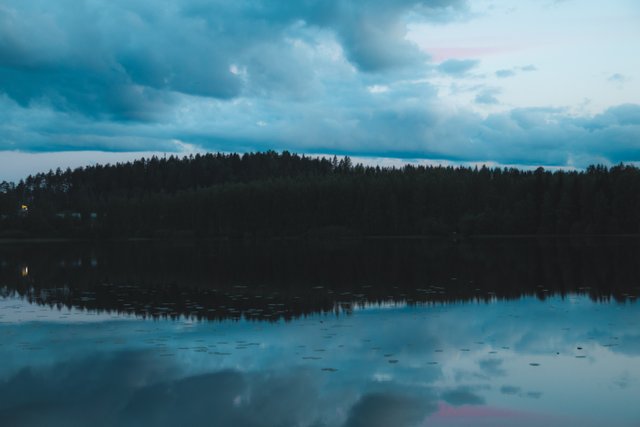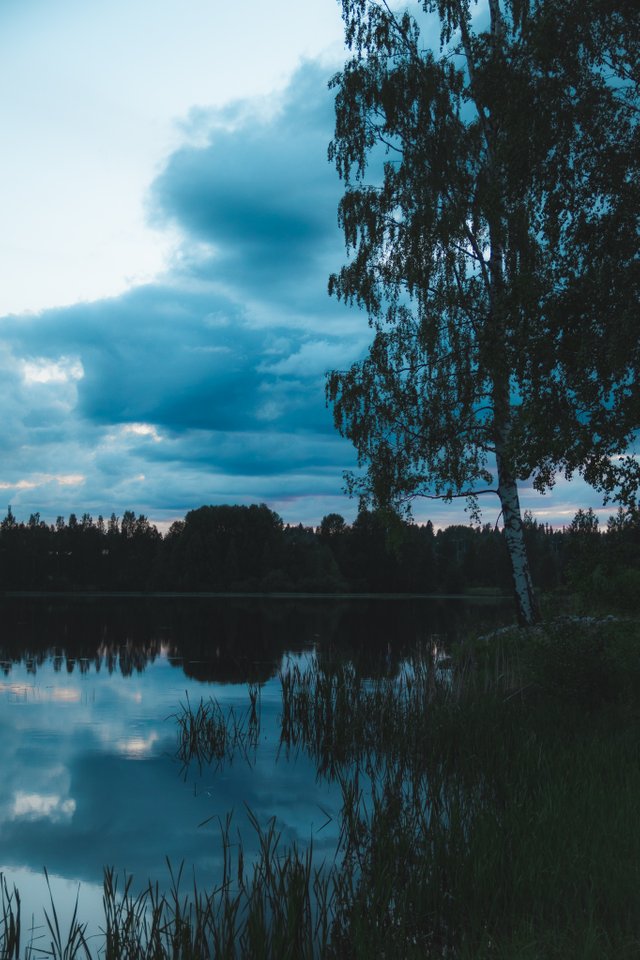 The infernal army of mosquitos tried to suck me dry, so I decided to head back home, but on my way back home something happened and I found my self sloshing in woods near another lake trying to capture the last rays of setting sun and the perfect blues of sky. This lake was in more sheltered place so the surface of lake was totally still, reflecting clouds like a mirror. You might think that there would be even more mosquitos in forest, but no. Maybe the delicious blood of drunken teenagers in the other beach was gathering all those whiny bastards together for a feast…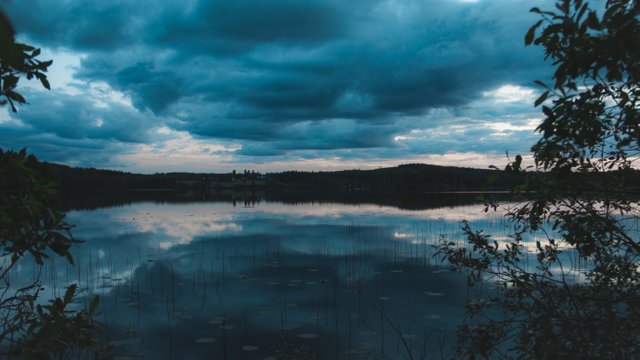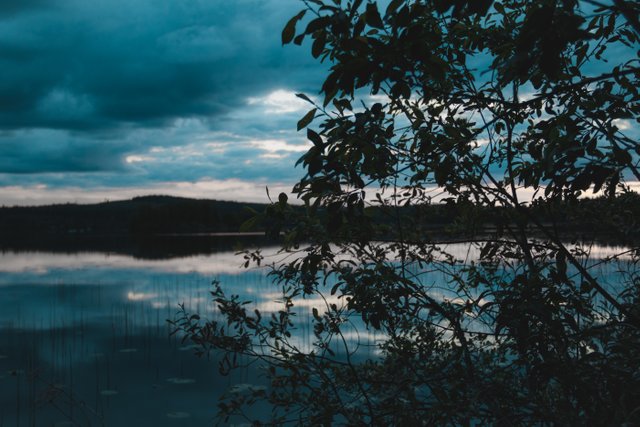 ---
Processing

---
As I referred in my last post, I've been trying to improve my post processing skills. And as you might see, my current style has very little to do with realism. I like to create dreamy and little hazy mood in the pictures. And even if I like to enhance the colors I don't want to go over the top. Here is also side by side screen capture from Lightroom, edited versus original. Yep, realism isn't my thing. Escaping it is. Apparently also when it comes to editing pictures. Photographers are right when saying that you should get as near perfect as possible with the picture in camera so editing is easier, and I think that's true. You can't fuck up great picture with some enhancing, but it is really hard to make gold out of lead.
The photos above was captured with Canon EOS 800D, and with various lenses. 30mm f/1.4 and 18-135mm f/3.5-5.6
Prosessing is made in Lightroom, damn, that thing is worth it.