Today I finished a project for a client, and I took some time to decorate a little bit for christmas. Nothing extraordinary, as you can see in the pictures, but it cheered me up a little bit! (Next cheering up: when cryptos recover!)
---
Some blue lights. I used them last year on my little tree, but they didn't agree with my eyes.
TV, PS4, Snowglobe and a Christmas (fake) Flower. Now, the only thing that's missing is a special someone to play PS4 with!
---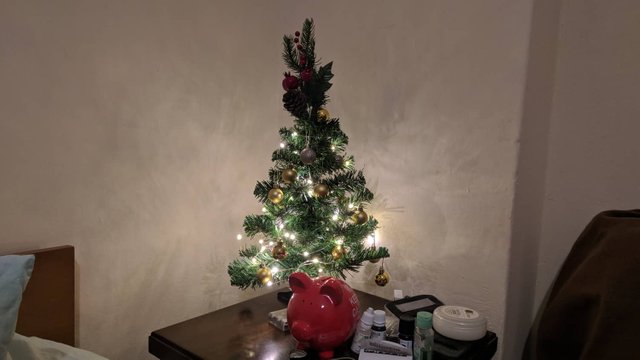 Here is the previously mentioned tree. By mistake I added the same pic twice xD That's what you get when you are tired!
---
If you can spare an upvote, a resteem or a few minutes of your time every couple of days, feel free to follow the @aristotle.team account. When everything falls into place, I'll starting posting more regularly pics, songs etc, as I've been doing the past few months.
Also, If you can spare some Steem Power, you can always consider delegating to @aristotle.team! If you are interested in supporting Aristotle and his "gang", we have some convenient delegation links here:
10SP | 20SP | 50SP | 100SP | 200SP | 500SP | 1000SP
---