Photography and Lightpainting near the Water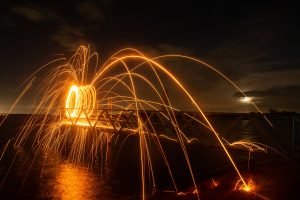 Hi Guys,
*From the day I moved to my new home, I joined a photograph club. You might have seen my two blogs about the exposition a while ago. Now this time we had a special activity where my longexposure experience came in handy. We were going to do some light painting with steel wool.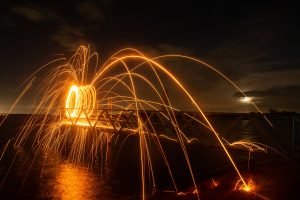 Before I show you few of my photo's I'll tell you what steel wool is. I don't know if this excists in the rest of the world, but this is what we use to clean some serious dirtness. It comes in different varietys of thickness. The finest steel wool is easy to lit and that's exactly what we did.
All you need besides your camera equipment is the following:
Attache the first to the second and lit it with the third photo. Make sure to stay safe and always protect yourself against the wool that will be flying around like madness.
Now if you already haven't please make sure you read my buddy's post as well @guchtere
https://hive.blog/hive-174578/@guchtere/photographyleavealittlesparklewhereveryougo-ag6ezahe0hjnel0rk3in
He and I started working on this before my photo club got the idea.
And now, my photo's who satisify me the most.
Check out the sparks hitting the water. That is steel bouncing on water whilst being on fire.
This bridge idea was fenomal to try.
The hard wind and the passing cars made this even more... "Interesting"
Check out the sparks hitting the water. That is steel bouncing on water whilst being on fire.
Below we tried a nearby tunnel. I think I like the color one best because of the grafitti on the walls.
So this was my first, second and third try doing lightpainting with steel wool. Have you ever tried this? Let me know what you think.
---
Thank you for taking the time to read this. Leave a comment, reblog and upvote this post. It is highly appreciated.

Steemmonster Guild
We're a group of players who love the game and are waiting for the upcoming feature the guild wars. Surfingnomad is a guild where you decide how much you play and donate. Why donate? To grow our guild we need to raise a certain amount of DEC and Daily Quests to reach higher levels. When we reach the higher levels you will earn extra DEC rewards in ranked play but also get discounts in the shop. These discounts and extra DEC rewards depends on the level of the guild. Would you like to join us on the battlefields?
---
Posted from my blog with Exxp : https://surfingnomad.nl/photography/photography-and-lightpainting-near-the-water/
---