Kinderdijk (Netherlands) during Corona is a Once in a Lifetime!
Sounds a little exaggerated but think about it. Every openair museum or national park is closed for tourist. And now it is open for people who are in Holland at this moment... Crazy!
Before last week it took ages for us to have a proper adventure together and this week we have two in a row! Going to Kinderdijk might seem a little unsafe for some, where there are thousands and thousands of tourist entering the city of windmills every week. During Covid-19 it is almost deserted, atleast if you go after 18:00 o'clock.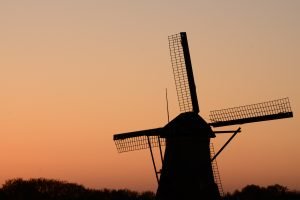 As a photographer it is rare I haven't been there my whole life. It is super Dutch with all the windmills, little canals and flat landscapes. Today @guchtere and I wanted to show you how beautifull it can be.
Click on the photo's to enlarge them
Kinderdijk
Literally transelated as Childdike is known for being the first place in the Netherlands that had electricity. This has nothing to do with the windmills. The windmills are on UNESCO's list and therefor famous to all our tourist.
Today we wanted to stay safe, avoid as many people as we could and visit Kinderdijk at night.
Long exposure photo's are necessary to attract enough light. Everthing that moves during my 15-30 sec photo is a blur. Look at the water at the second photo below. Notice the water reflecting at points where it didn't move, the rest is all blurred.
Click on the photo's to enlarge them
And if you wait long enough you might be lucky and get the moon and a bright star above your composition. Don't forget to click on the photo!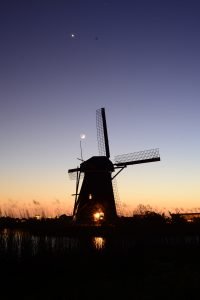 ---
Thank you for taking the time to read this. Leave a comment, reblog and upvote this post. It is highly appreciated.

Steemmonster Guild
We're a group of players who love the game and are waiting for the upcoming feature the guild wars. Surfingnomad is a guild where you decide how much you play and donate. Why donate? To grow our guild we need to raise a certain amount of DEC and Daily Quests to reach higher levels. When we reach the higher levels you will earn extra DEC rewards in ranked play but also get discounts in the shop. These discounts and extra DEC rewards depends on the level of the guild. Would you like to join us on the battlefields?