When you look at this photo you see great composition and a stunning photo. Most people think when they see an expensive photo that the photographer is out for the quick money.
But let me elaborate a bit more. This photo has got some history. If you care please read on, because it's ne of the crazy things you do as a photographer if you have an idea that devlops in your head, either spontaneous or after careful planning. In my case it wasn't carefully planned - the only thing I planned was to take a photo. But now from the beginning...
It was a Saturday sometime in 2012 or so. I had my trusty Astra 1.7dti topped up with oil (too much of that actually) and decided to take a photo. As it was Scotland I didn't really think of any location yet but agreed on the rough direction. Down "South" somewhere. Maybe Carlisle or so. So I set off on my journey and quickly discovered the warning light for the oil coming on. Careful as I am (ad thankfully back then a member of the AA) I phoned them and got them to reduce the excess oil from my engine near a roadchef motorway halt. After an agonising wait of around 35 minutes I treat myself to some food and set off down south. Carlisle it is. The drive takes me around 1.5 hours or so and I finally arrive with a spontaneous plan to shoot the castle in Carlisle. Unfortunately for me it's closed and so I find myself stralling through the city taking some snapshots.
Not being satisfied with my bounty I stop, fter a quick drive out of town and start thinking where I could potentially go from here. Wales is an option, Cardiff to be more precise. Or.....and now I've got this crazy idea that should define the rest of my trip. Stonehenge!!!!
I always wanted to go there - plus y parents really love the place but can't get there as they live abroad. So my mind is set up and my TomTom is put to action. Wow - the drive will take me 5 hrs and 20 minutes. OK at least I've got a goal. Let's go! So I set off at around 5pm and made my way down. Now with the ideain my head I start to think about the shoot. When I arrive it'll be night. Excellent. Some flash photography. I map out where and how to shoot to capture the sunrise. Of course not thinking about any gates or fences along the way and hoping to make it through to get this beautiful shot, the golden hour shot. Unfortunately after driving for some 2 hours I find myself very sleepy and decide to pull over to sleep somewhere. Not having planned anything it proves that at some resthouse near the M6 there is exactly 1 room free. A no thrills room which I book.
After having watched one of the terminator movies I leave around 9 the next morning towards Stonehenge. Still 3.5 hours to go to get there. The drive there is nice and goes rather quickly. The sun is out and I think it's gonna be a nice day. Unfortunately once I arrived at the site with my ThinkTank backbag and mount of gear, the weather decides to take a turn for the worse. tonehenge is surrounded by a walking path of which 80% is blocked off due to some issues. So I have around 50 meters of small walkway to my disposal to take the shot and angel that I want. Which in itself is difficult with a small footpath and plenty of visitors. Add some heavy rain and strong winds to the mix and you got yourself a dream of circumstances that would anyone motivate to take 10 snapshots and leave quickly.
Well not in my case. I decided to use a small bridge that led under the street to get to the car park to serve as my lens changing spot. To shelter my camera from the rain I took my swiss army knife and cut some holes in it t put it over my camera as a rain shield. Half of my equipment was blown over and I had to manage that as well. So anyway. After having spent 8 hours onsite in wind and rain - not feeling my arms, legs or any other body parts anymore I made my way back at around 6pm to the car. Happy but a bit exhausted I punched in my coordinates for home. Lovely! Only 8.5 hours of driving back to Scotland. Back in the days not a problem for me.
So I made one pitstop of which I'm very prod and arrived back home at 00:30am. 5 hours of sleep before I had to go back to work. That was by far a crazy weekend for one shot that made it to some living rooms over the world. And if you wonder hat shot of the many I took could tell you this story of how it came to light. Here it is:
Carlisle b&w shot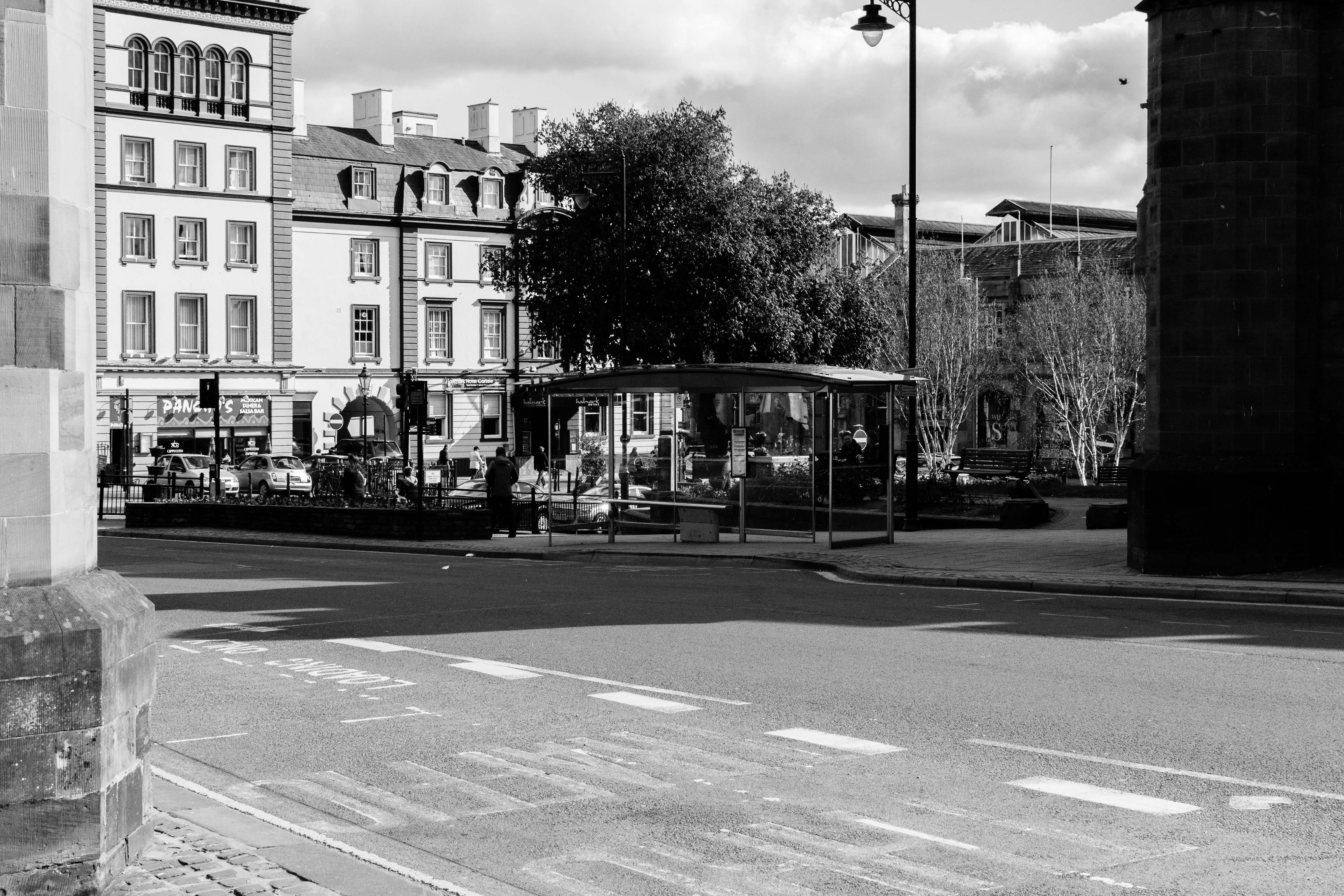 Snapshot of the closed castle / fort: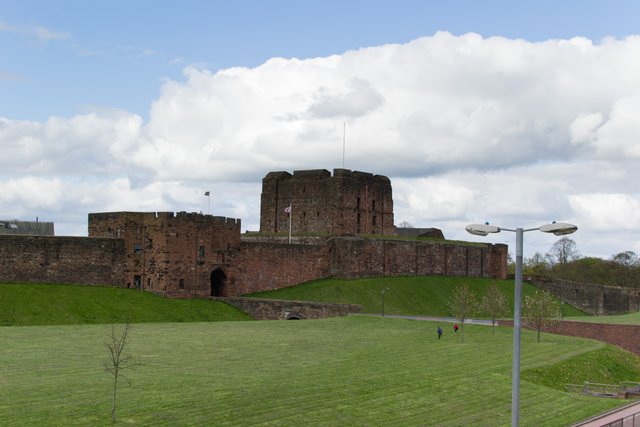 And drumroll - the money shot!