Good morning Steemit,
I showed you my Saturday look for DragCon a few days ago, but I wanted to share with you my Sunday look that I never got around to wearing (I ended up not going on Sunday). I really loved this look, and considering I started making it 3 weeks before the Met Gala, I like to think that it would have gone over well with the religion theme they had.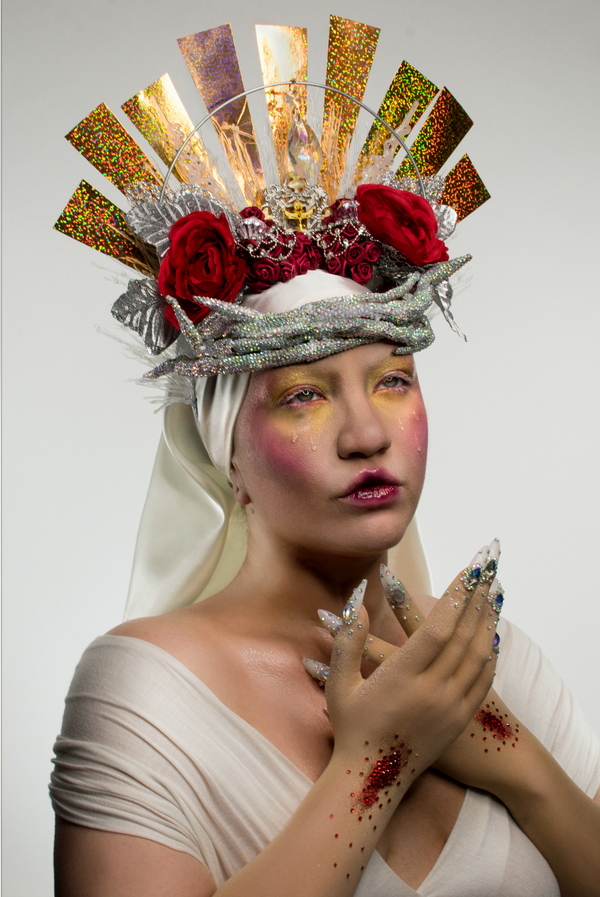 The headpiece isn't exactly as refined as I had it in my head, but isn't that just called being a tortured artist? ;) I also wasn't able to finish the back of the headpiece, and didn't want to walk around with an unfinished headdress on. It was perfect to take photos of, so my girlfriend snapped some photos for me.
The gloves are my favorite part. They are nylon gloves with no seams that I rhinestoned. I just want to wear them everywhere, honestly.
A dear friend of mine is having me do a pop-up Photo Booth for her event on June 10th, so I'm going to be making some cool props for that. I'll do a post later of some of them!
Have a great day! Like, comment, resteem! xo