I neglect my mailbox. If it had the will and physical capability, it would long ago have left its dysfunctional relationship with me to go and find fulfillment with a little old lady who has an abundance of pen pals and receives bulky envelopes daily, filled with crochet patterns from her sewing circle. In this digital age there's hardly ever anything of importance to me to be found in it. At times several weeks can go by with me giving my mailbox nary a glance. However recently I received email notification (the type of mail I do check) that a certain item had shipped, so for the past several days I've more diligently made the short trek to that small metal box and inserted the tiny brass key hoping for a prize. And today I was rewarded!
---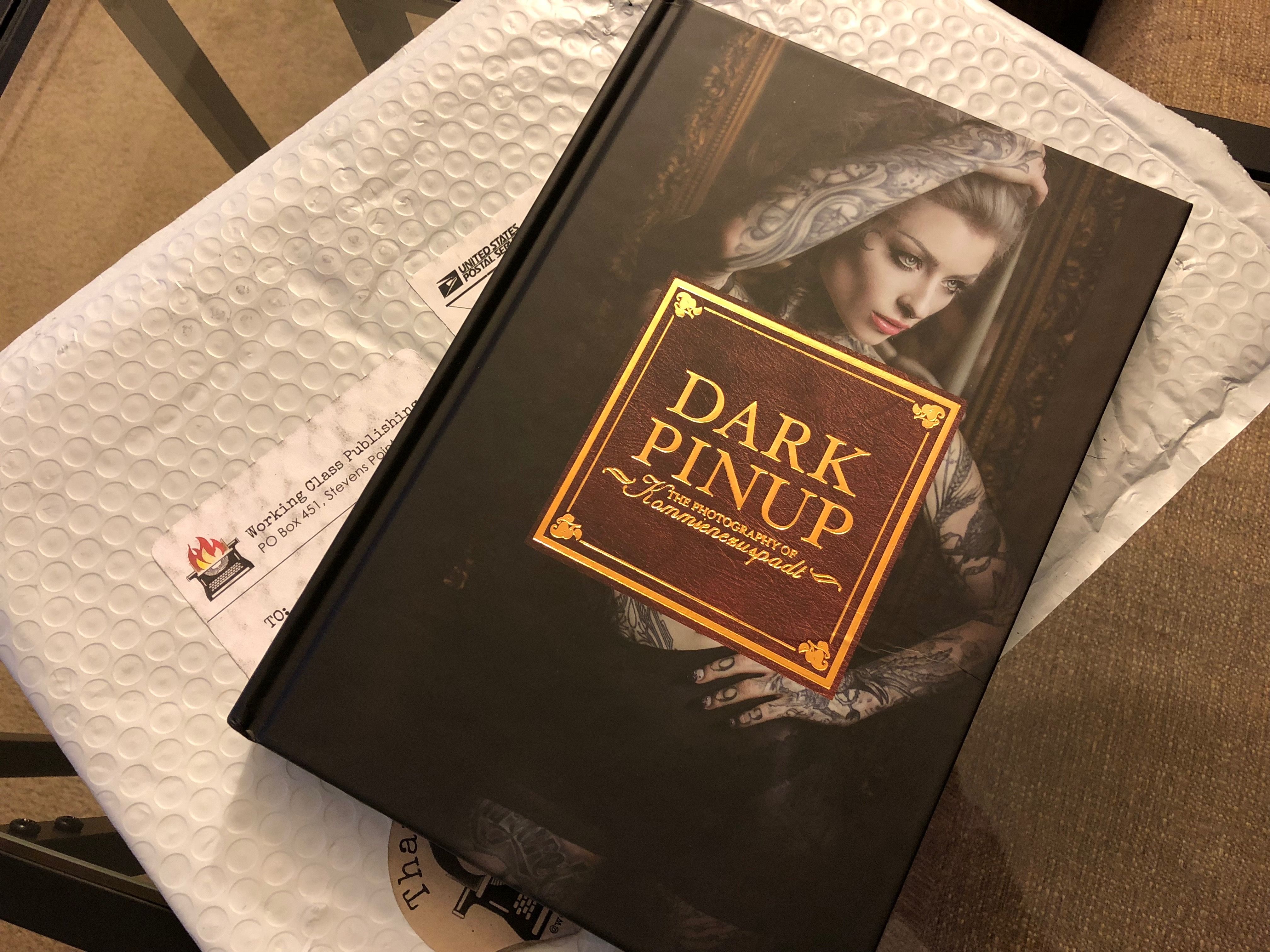 ---
Today my copy of Dark Pinup arrived!
---
Here's the official info on this wonderful volume to help bring you up to speed.
The first book by incredible photography talent Lars Kommienezuspadt. A brooding collection of portraiture done in Kommienezuspadt's signature style - diegetic lighting and cinematic frames that bring a beautiful new perspective to the world of pinup photography.

 Dark Pinup is presented in three chapters: 
 Shadows - the dark and sexy work that has defined Kommienezuspadt's career
 Illuminations - a contrast to the shadows, natural light pouring through windows and flooding the narrative
 Proclivities - a tasteful exploration of eroticism in photography

 Featuring Ryan Ashley (Ink Master Angels), Roxi D'Lite (Miss Exotic World), Cora Harrington (The Lingerie Addict), Masuimi Max, Holly Madison, Cherry Dollface, Vintage Vandalizm, and many, many more!

 Foreword by Thomas Kuntz.

 Hardcover, 240 pages, 10" x 6.75"

---
Dark Pinup is gorgeous.
This is a high quality compendium of the work of Lars Kommienezuspadt, Steemit's very own @kommienezuspadt, published by Working Class Publishing (@wcpublishing). If you've followed Lars' blog, you already know the stunning quality of his photography, and if you haven't then go check it out now.
The production quality of this hardcover volume is top notch. Kudos goes to @wcpublishing. I'm a book lover, so I even just savored the smell of the paper and binding as I opened that envelope and unwrapped it. But of course the paper and binding quality would be worthless if @kommienezuspadt hadn't been able to fill it with samplings of a decades worth of brilliant art.
The sections flow wonderfully. I particularly felt the dichotomy of moving from Shadows to Illuminations. It was like spending the afternoon in a dimly lit cafe or theater and then stepping through the doors into the light of day that you'd kind of forgotten was out there. Then of course we move into Proclivities, where after a brisk walk in the sun you sequester yourself away for something a bit more private...
The foreward by Thomas Kuntz and the introduction by Kommienezuspadt himself are both excellent pieces of writing, as are the brief introductions to each section. Perhaps spoiled by reading Lars' blog here on Steemit, I did find myself wanting more! Dark Pinup is all about the art. The photos even remain uncluttered from captions or credits as these are all expertly handled in pages of credited thumbnails at the end of the volume. I recognized many of the images from following them on @kommienezuspadt's blog and am so used to having his accompanying voice discussing some of the thought process and challenges behind the images; or relating harrowing or comedic stories of the life of travel and logistics that this body of work has required. If there's ever a companion volume that also explores the best of Lars' blogging and memoirs as well... it'll have a place on my shelf right alongside Dark Pinup.
The book is still available for order at http://workingclasspublishing.com
---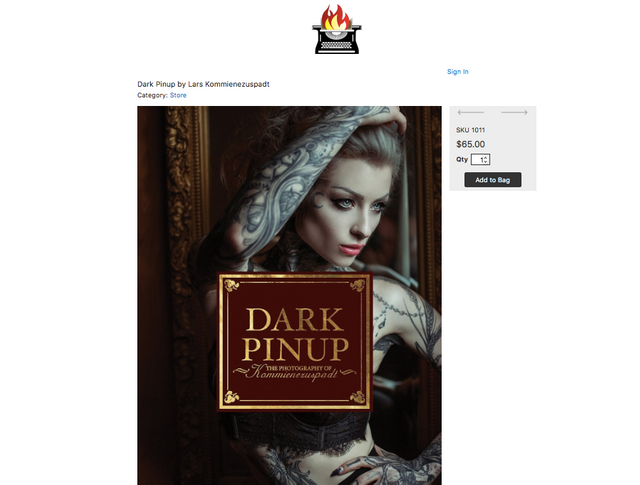 direct link to store page
---
I know the release process of this book has of course been much more emotional for Kommienezuspadt, but this mail package has even given me plenty of cause for reflection.
I interacted with Lars here on Steemit through a mutual love of comics and illustration and quickly learned to eagerly await his writing and photography as well. I've had the opportunity to meet Lars a couple times in person and he's pushed my artistic dedication and skills as well as those of countless others with his activity and commitment to the art community here on Steem, and by leading through example and inspiration with the completion of projects such as Dark Pinup.
Steemit brought all this into my life. Hell, I even paid for Dark Pinup with a Bitcoin linked debit card! These are things I would have scarcely envisioned a little over a year and a half ago when I first signed up to Steemit.
So a big thanks to @kommienezuspadt, @wcpublishing, @steemit, and everyone who's made this experience a rewarding joy so far. I truly believe this is just the beginning of Steem related packages flooding my mailbox and front stoop, as Steem fulfills its purpose of allowing creators to realize their dreams and bring their projects to the world.
Now back to another leisurely flip through the pages of Dark Pinup...
-Bryan Imhoff
---
Support the growing comics community here on Steemit! by joining the @steem-comic-con!