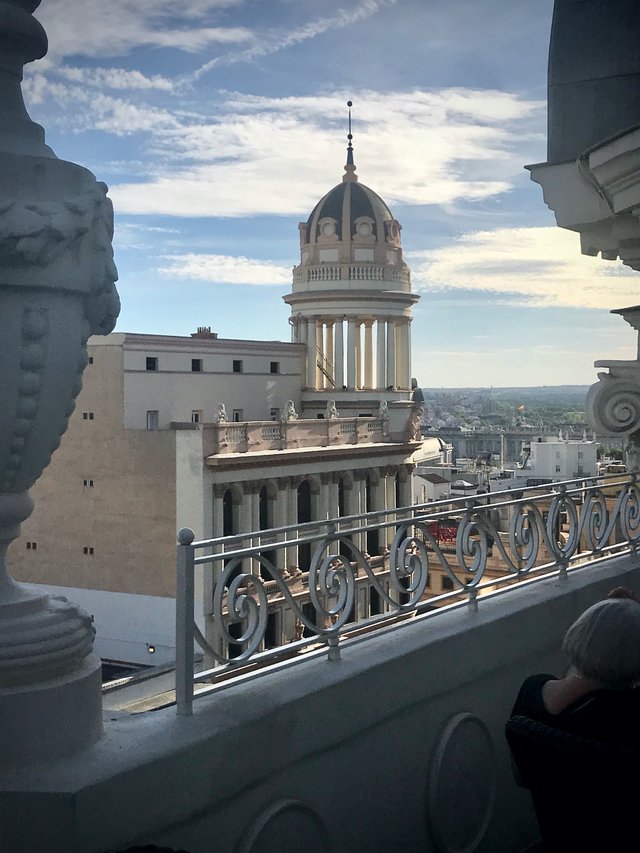 No building in Spain is complete without a cupola.
Auspicious ornamentation. It appears to be the Spanish way. Your contribution to architecture is nothing without the crowning glory of an ornate cupola to grace the skyline.
From my room at the glamorous Atlantico Hotel, this beautiful cupola appears regal and stately. It peers over Plaza del Callao below, a small bustling square of Spanish hope in a crowded capital.
Edificio Metrópolis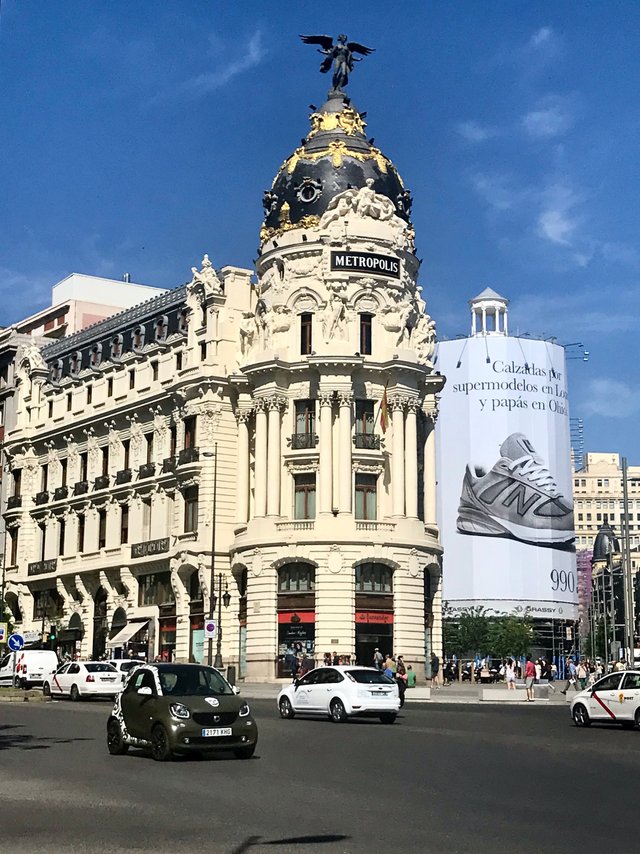 Dating back to 1911, the Edificio Metrópolis suggests the splendor of Spanish power. Richly finished, the black and gold trim of the cupola speaks power. Power over the new world. Power over the old.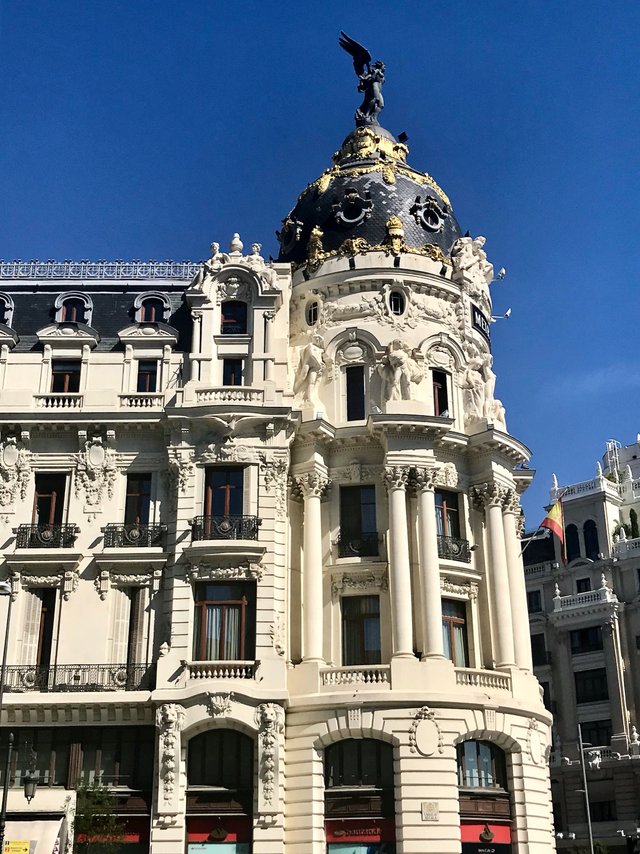 Replete with columns and sculpture, the Edificio Metrópolis stands over the start of the Gran Via, Madrid's central artery. One of the most recognizable landmarks of Madrid, it dominates Calle de Alcalá and Calle del Caballero de Gracia.
Iglesia de las Calatravas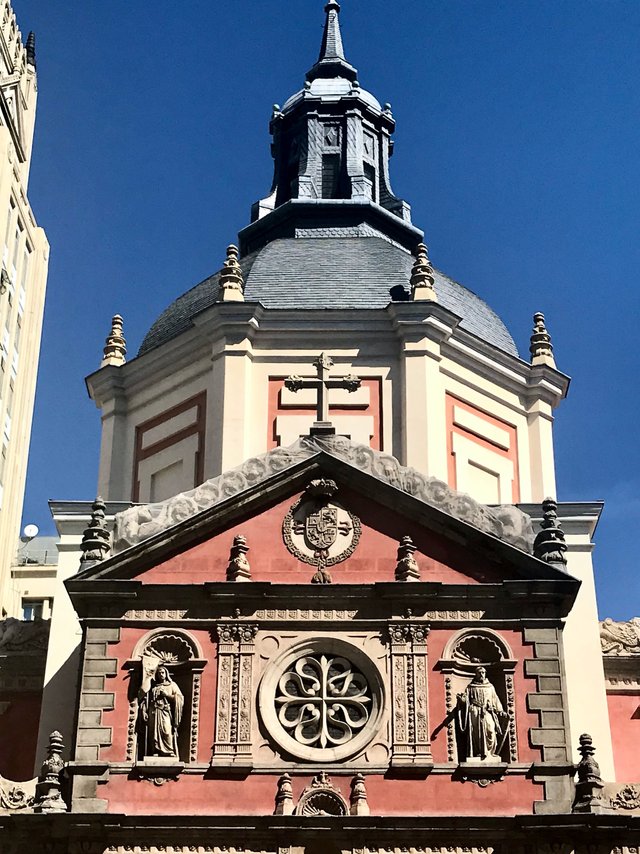 Churches are no exception to the culture of cupola. The Church of las Calatravas, 1690, is somewhat demure against the buildings that rose up over it. However, its simple cupola bespeaks quiet grace and deportment among the more opulent designs of the capital thoroughfare.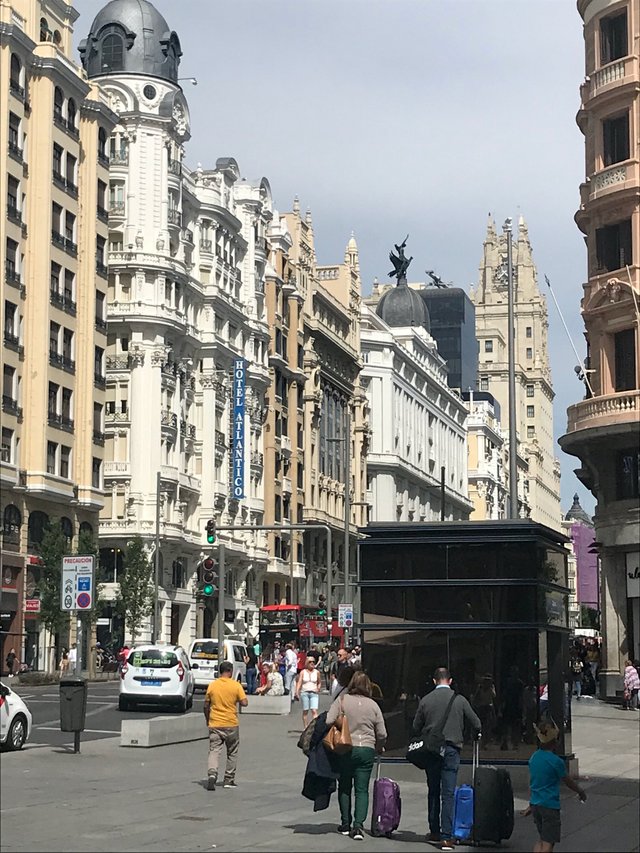 All along the Gran Via, cupolas and spires reach up into the heavens, an invocation of the power of God. Each structure thrusting upwards with more vigor than the next, as if God's grace could be purchased with altitude.
As I strolled along these streets, I wondered what these streets looked like when Spain ruled the world. Surely, these spires and cupolas were not the idea of latter generations. Back in the day, Madrid's houses of worship surely won all competition for auspiciousness. But today? Where they cannot compete for height, perhaps they still hold sway with statement.
I am neither artist or architect. But the skyline of Madrid suggests that skyscrapers, alone, can not inspire like design and detail. The grandeur here in Madrid, in Spain, sings a song that might not be heard elsewhere. It is a note that once heard, cannot be forgotten.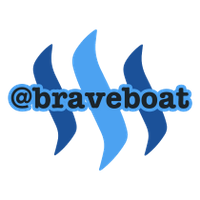 All original photos except those otherwise noted.