It would have been the perfect day to go inside.
Landing in Paris at 9 AM on a Red Eye, I had exactly one day to see the sights before I jetted off again to Greece. Aided by my daughter and her French-born husband, we set off on a whirlwind tour of all things French Icon.
On a day where the winds were cold and sharp, and snow fell intermittently, we zipped around Paris to see the Eiffel Tower, the Champs-Élysées, Notre Dame, and a quick stop for wine and charcuterie. I would be back in a few days, but we were so excited to see the sights, that we just kept going.
The Louvre isn't just a museum. It's a maze of interconnected buildings stretching out along the right Bank of the Seine. I didn't realize where I was until I caught sight of the iconic Grand Louvre Pyramid. Built in the 1980's, the pyramid serves as entrance hall to the main court, the Cour Napoléon.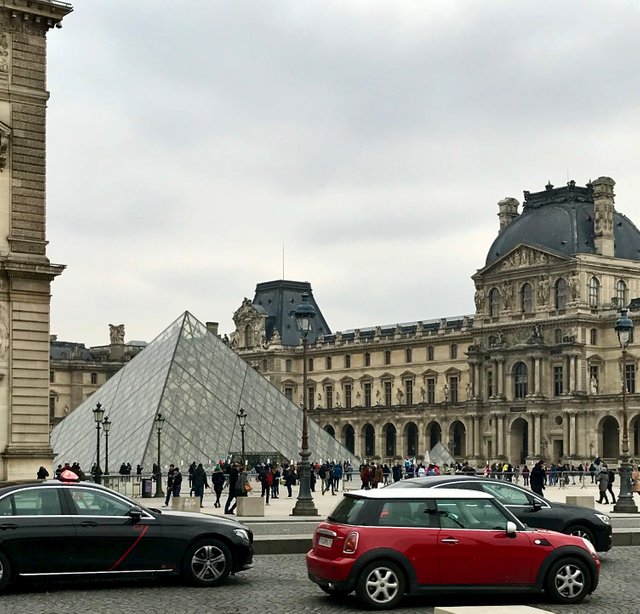 Feeling we didn't have enough time to truly appreciate the museum, we kept moving. Unfortunately, upon our return from Greece, we didn't get back to the Louvre despite several days of opportunity to do so. Nevertheless, I look forward to future trips to the city, and devoting an entire day to roaming the many halls and exhibits, which showcase almost 40,000 works of art.
At the least, I left with my own works of art. Photos of the Louvre and the Grand Louvre Pyramid. And no trip to the Gift Shop necessary!