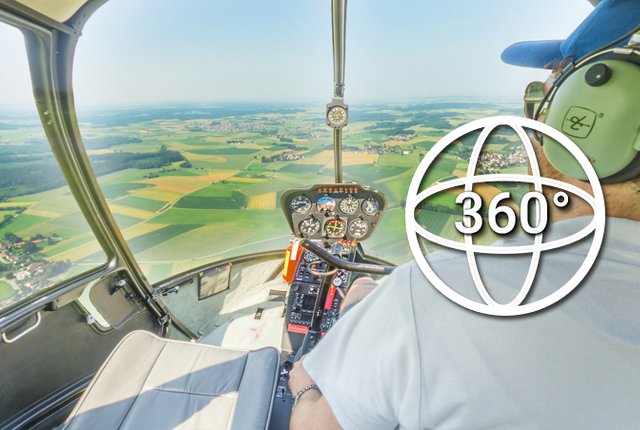 Helicopter Flight in 360° and high resolution.

You may have noticed that my panoramas have much higher quality than "one-shot-panoramas" you would usually find in facebook showing action-events. One shot-cameras are easier to use for action scenes as you press the button once and you have taken a complete 360°-shot. However doing so,
you could not expect achieving high end quality which also gives the possibility to zoom deeply into details... and
you yourself would be on the picture (at least in a helicopter it is difficult to hide :-)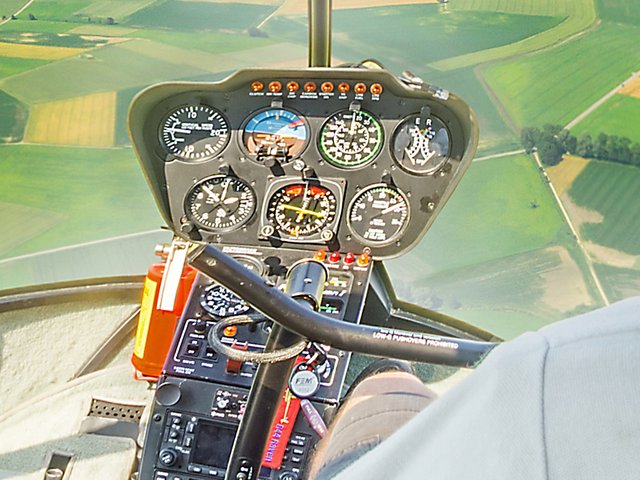 Well, as it is also very difficult to set up a tripod in the air... vibration is quite strong a soon as the engine is running, and didn't want to be on the picture (because I didn't want to cover so many interesting things to see in there, I decided to shot the interior of this aircraft standing on the ground. I took out the seat-cushion-pad and installed my tripod. The pilot and the friendly passenger (he was actually from the company of my customer) didn't move like frozen for the time I took the 4 shots. The view outside was taken afterwards. I went up with the pilot but we left the door in the hangar. While flying I was lashed with a belt, so I could step and lean outside to take many shots while the pilot was flying a 360°-turn.
This way I had taken a complete air-panorama, similar to a drone-panorama, but with much higher resolution, that could be used in post production to fill up the windows.
---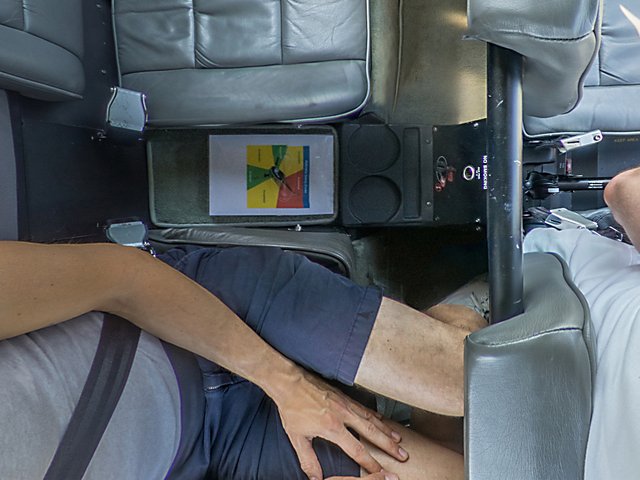 After having told you a lot about my little secrets, I hope You enjoy exploring all the tiny details in that aircraft, zooming deeply into the picture.
The idea behind this shooting was to give a very realistic impression of how it feels and looks like to be a passenger in a helicopter. You are welcome to have a close look at all the little details. The area outside are little villages close to the small town Fürstenfeldbruck in Southern Germany where I live.
---
Click on the image to enlarge interactive 360°!
Thank You for following my story!

I will upvote your friendly comment!

If you resteem my post I will:

give a look at your posts
upvote those of your posts that I like