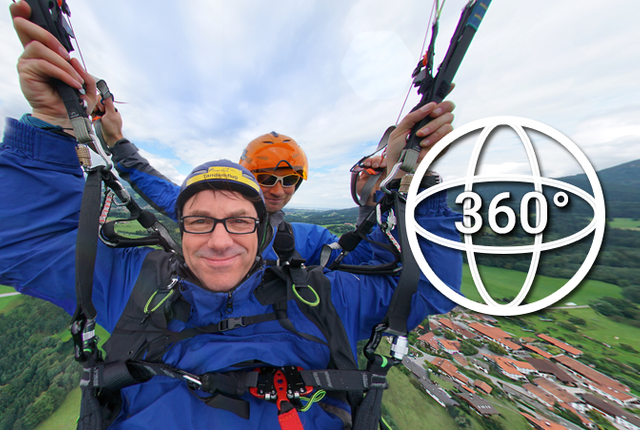 Paragliding flight in 360°
This was one of my most difficult panoramas I ever shot.
Although I have been a parachuter doing my military services a long time ago,
this was my first time paragliding and I was very excited.
The reason was, that my client Meventi certainly expected me to come back with that panorama, shot in insight - outside perspective as always, in best quality. Usually actions like this are shot using action-cams with low quality as they can easily be combined in rigs for one-shot-solutions.
Actually, as I was not sure if I could manage to stitch free hand shot fisheye-shots done while flying together with a paragliding pilot... I hired a "360°-photographer using 6 Gopros to shoot a paragliding flight in low-end-quality... as a fallback solution in case I would fail.
As a joke, back in munich , after having done my job in Samerberg - Chiemgau, presenting the results in front of the marketing heads and CEOs of Meventi using a beamer in a big meeting room, I first presented the result of this easy "low end-one-shot-solution"... Terrified faces were looking at me after silently observing the low resolution panorama with kind of "muddy" colors showing up in front of them. Then a feeling of relieve when I switched to my high end result.
My strategy
Did you notice... all 4 hands are occupied holding straps... so who is taking the picture?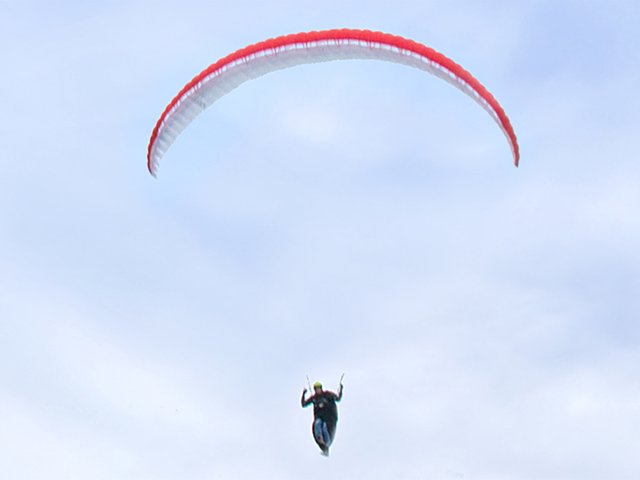 Well, this panorama is not only composed using 4-direction-shots, but these 4 directions were shot several times with different actions taking place. For example the direction shooting right into my face holding the camera using a grip (nodal-point adapter) that usually is fixed on a tripod, holding in arm length distance right in front of my face. The bad thing about this "technique": everything up there is very different from a still standing tripod. Landscape changes as we are flying and my hands are not really a high-quality substitution for a fixed tripod on a floor. As if this wouldn't be difficult enough... level 2 was my foolhardy plan how to hide the camera holding arm (mine).
---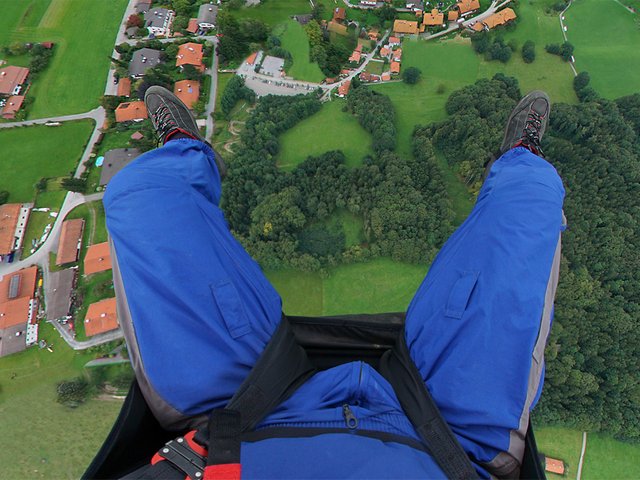 The first task was to explain my plan to the pilot, who in the same time had to explain many things to me, specially regarding safety issues and when I should run and so on... remember this was my first paragliding flight!
The plan was to remote-control the Sony-camera using a wifi-application on my smartphone which I fixed on the pilot's suit using a thin cord. On my command the pilot pressed the shutter button on the phone, on another command he changed hand holding my smartphone and we did another shot. Correspondingly I changed hands holding the camera in front of my face. To be able to change hands and not covering anything, the camera had to be hold without a safety string. Keep in mind that I am not a rich person...my camera is the most valuable thing I own (I do not own a car)... so You might understand how concentrated I was on holding my cam when flying. Try to think about this when watching the interactive panorama further down... and imagine how I felt when suddenly wifi-connection was interrupted. The pilot untied the string from my phone and gave it to me (while I was also holding my camera)...but we managed to fix this "crisis"... I could get wifi working again... and in the end we landed softly with complete equipment. It took me a weekend to stitch the material.
---
Click on the image to enlarge interactive 360°!
Thank You for following my story!

I will upvote your friendly comment!

If you resteem my post I will:

give a look at your posts
upvote those of your posts that I like