The dance of Shadow and Sun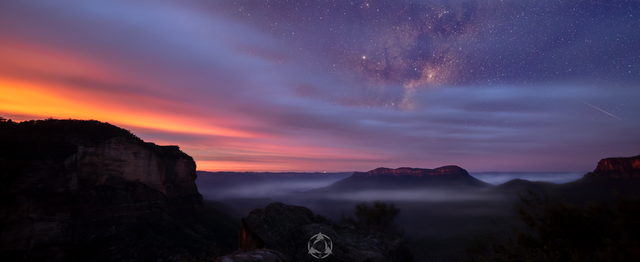 -The dance of Shadow and Sun
The division of the dark and the light, is threaded together by beauty so bright, its primal origins of mud and slime, earths anchor tugs at the mind, suffering the fertiliser of woman and man, absorbing it's nutrients to ascend, knoweth no great divide, just pendulum swings that help move the tides, toward the knowledge of life's great work, good and evil bound as one by the dance of shadow and the sun.
This is a combination of two images blended in photoshop, I have added the mist to the valley too to enhance the dreaminess of the image.
Sometimes I take a photo, like the one of sunrise here and when I get it home and look it on my computer it just sparks and idea, I'll get a flash of how I could take it to the next level.
This I started out only wanting to have a quick play seeing what it would look like with the Milky way added and which in turn lead to me spending about half a day editing this photo.
Overall the image isn't particularly sharp, so it's not my most technically successful photograph but it was windy and this was about a 50 second exposure but I don't really mind so much for this sort of image, it's more about the atmosphere and mood for me.