Welcome 👋 to the wonderful Steemit community!
Eventually I've been able to organize and edit the MotoGP's pictures. I really hope, even in a small way, that this script and the images below will let you revive the emotions that I
had on Sunday, the 3rd of June at the Autodromo Internazionale del Mugello.
---
All pictures below are property of mine, shot with either iPhone 6s Plus or with a Canon EOS 1100D with 18/55 lens.
---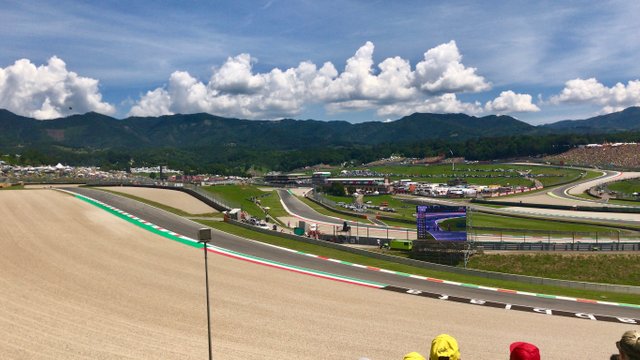 What a view...

I arrived the day before in Montecatini Terme, where unfortunately I had an awful hotel experience (gecki anyone?). After an extremely early breakfast to start soon enough, I drove for a few Km that separate me to Scarperia, the small town that refers to the municipality of Scarperia e San Piero, which is the home of the globally famous circuit of Mugello.
9 o' clock, car parked. The slow walk (or climb should I say) toward the hill, under a burning sun starts. Our seats are in the Simoncelli's turn, or turn 58 as its number was. The emotion starts to ramp up even before entering the circuit: sounds of syngle cylinder, twin cylinder (GO DUCATI!) and loads of 4 cylinders from the rising Sun companies start to fill up the air. Even more involving is the sight of families and children smiling at motorcyclists. Here we are, and the show is about to start.
What a way to remember what does it mean to be Italian. I let images talk from themselves, they really do, more than any world I could say.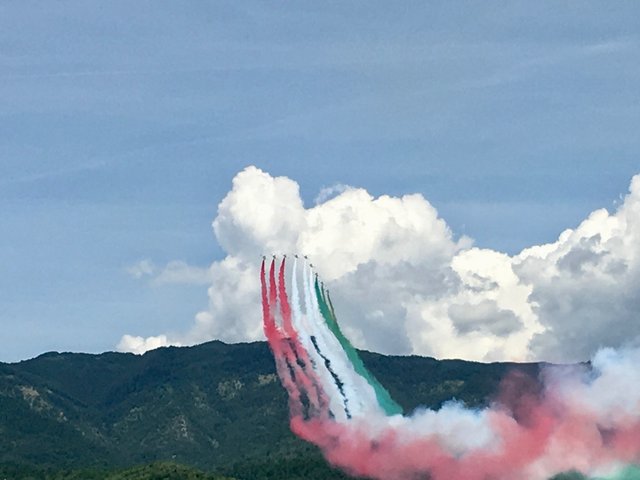 Frecce Tricolori
---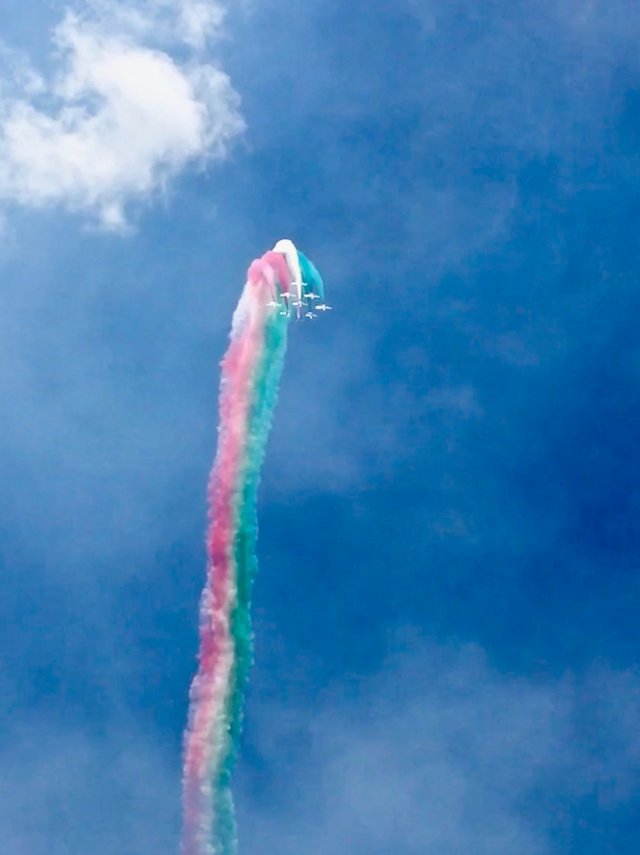 Pride
---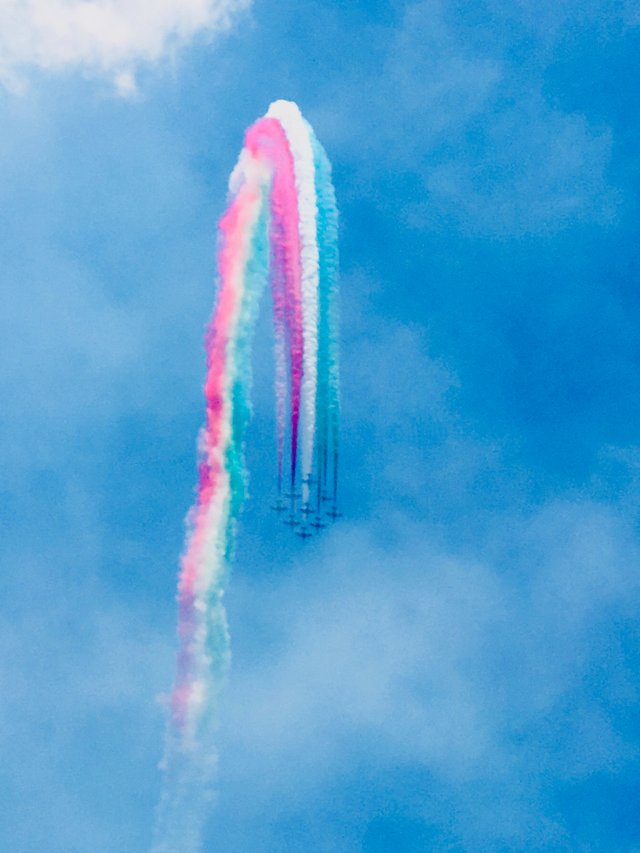 Italia

What to even say. Seeing the Pattuglia Acrobatica Nazionale flying over the track, towards the hill and doing evolution has been astounding. A lot of foreigners were at the race, most of them moved as the italians were. Moments of silence, almost religious, in a timeless moment, almost surreal.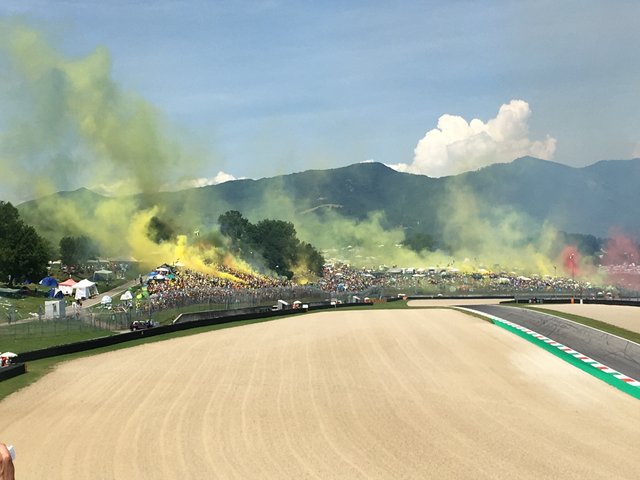 Yellow
---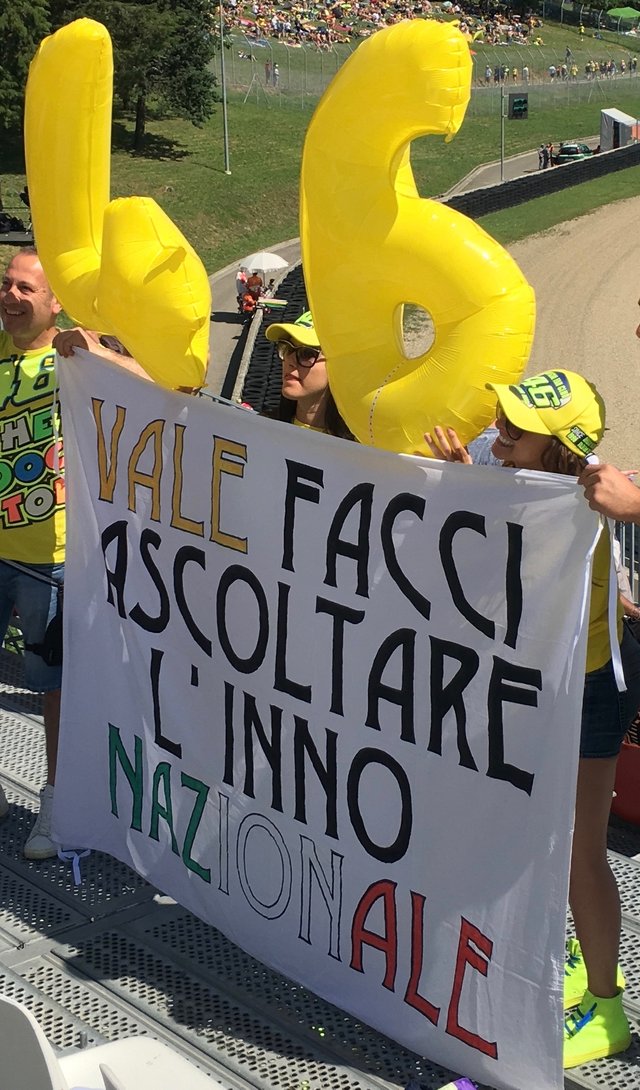 46
---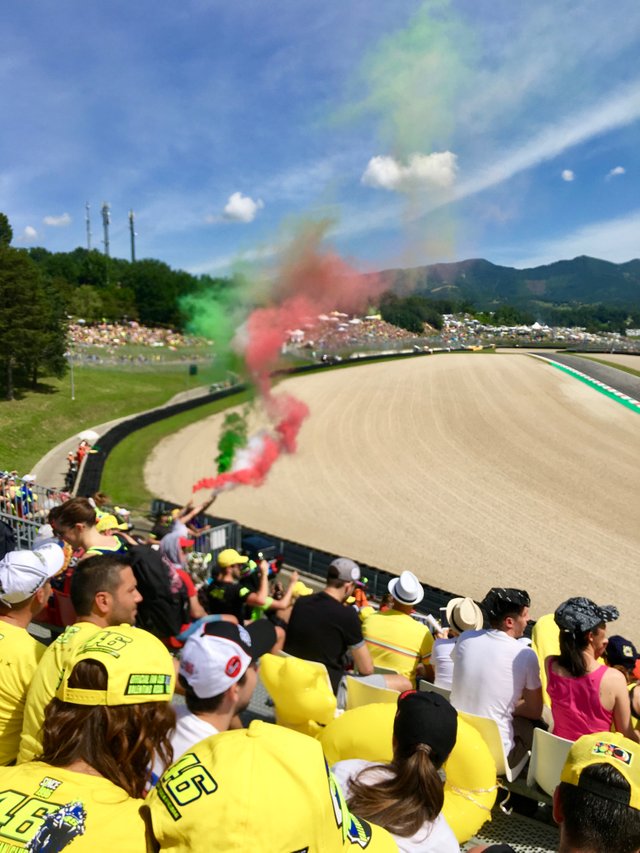 The Doctor
---
Mugello hills convey an extremely peaceful sensation, with a strong contrast between the green surrounding that tries to keep the deafening noise of engines on the race quiet.
Moto3, unbelievable; Moto2, super high pitch; MotoGP, delirium.
Each shift from pilots seems to be a bomb dropping, and than another one, and one more. There is no time to think, the important is to rasp each tenth from the clock. From the Simoncelli grandstand it was possible to see a double passage of drivers, both Arrabbiata 1 and Arrabbiata 2.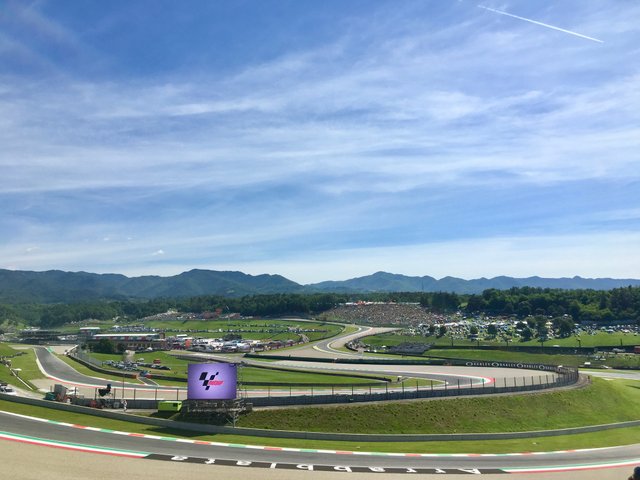 View from Simoncelli Grandstand
---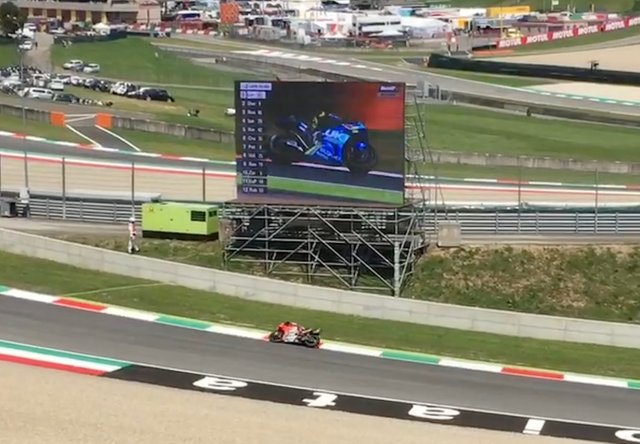 GO DOVI GO! 🔴
---
The race ended with a double goal from Ducati team, even if Valentino Rossi got the pole position. First place was Lorenzo, followed by Dovizioso and Rossi. No Italian hymn unfortunately, but the enthusiasm for the Italians from Romagna was really there.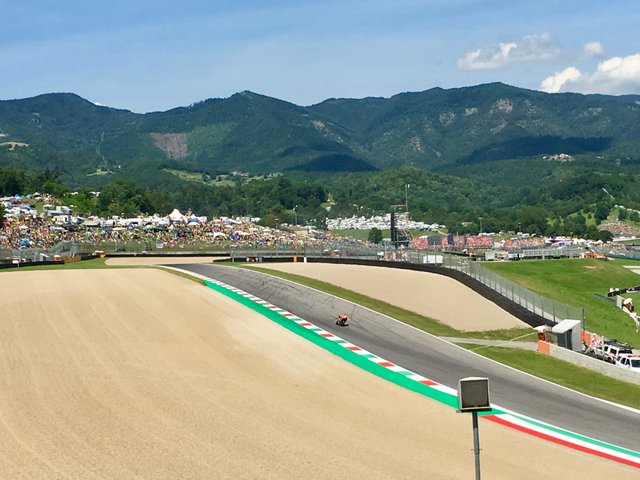 Andrea Dovizioso driving towards a well awarded ending
---
I tried to write those words on the spur of the moment, trying to express the emotions I felt at his best. Born in Bologna, as a real petrolhead, I can't wait to go back to Mugello. I suggest to all the people looking for some octanes to really go and visit this amazing temple of speed. Did you ever go seeing MotoGP or F1 races? If you did, were did you go?
What are your special moments linked to Mugello?
Let me know in the comments below ✌️