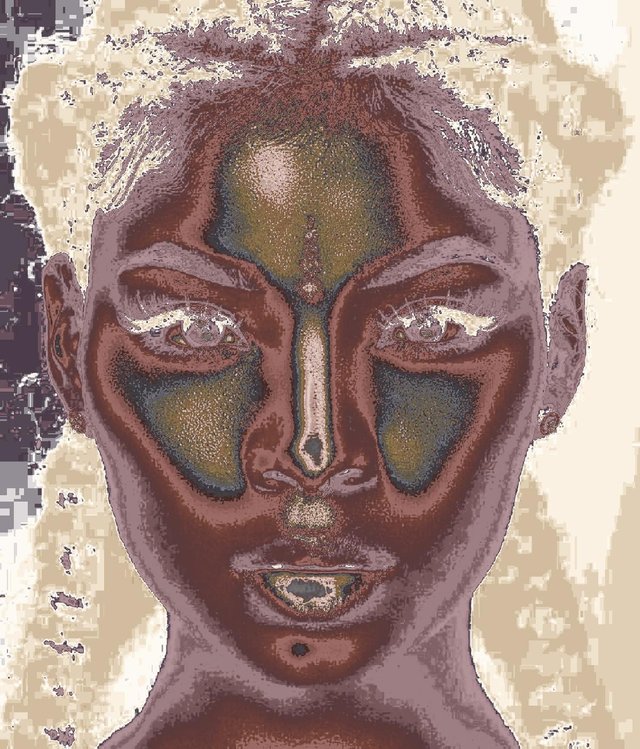 So I decided to make a painting of an expression from a photograph of a lady which speaks black as a beauty. I will keep this simple, the real picture only depicts black beauty, then I decided to edit it and give it my own meaning, I hope you all see what am seeing.
THE HAIR
Her hair being white speaks the beauty in a woman, the beauty God gave them from heaven, the beauty that every woman out there cherish, am sure most women takes care of their hair, as it's the main point where the beauty begins, you see different women with different hair style, some women even trim their hair, some make it natural, some add wig to it to make it more beautiful, and in this image am posting that I painted with my adobe Photoshop,
Her hair is symbolizing her beauty,
it symbolizes the glory she has as a female,
it shows she can be anything she wants to be ,
it shows she can make decisions on her own either right or wrong.
it's a natural hair with no attachment.
THE FACE SIGNS
The face signs that runs from the forehead to the nose then on both cheeks and then on the lips symbolizes the pain every woman goes through to make herself beautiful,
it symbolizes the pain they face,
*the pain they see, *
the pain they feel just to look beautiful,
it shows how hard it really is to make herself look pretty ,
it shows how strong she is, how strong she handles everything,
it shows the strength in her, it shows how powerful she is,
it shows how she makes her decisions (both the good and bad decisions),*
it shows what happens when she feels love, and when she feels hatred,
it shows the words that come out of mouth whenever she makes a speech,
it shows whether she's strong or weak.
Thanks for reading and I hope you are able to get a few point from the post, don't just read and leave, drop a comment, say something about the picture , say what it shows that am not seeing, Lets all learn. Thank you.
The Pain and Gain behind every Woman Image.