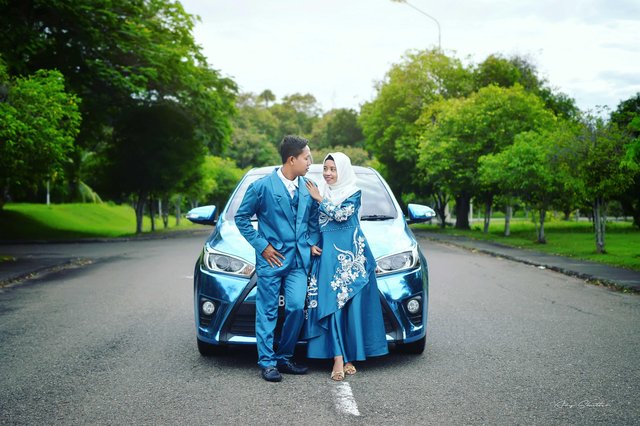 Selamat pagi semuanya,, pasti semua sudah pada tidur kan...? Semoga selalu bahagia dan juga selalu dalam lindungan Allah swt.
Jadi, pada kesempatan kali ini, saya akan memposting sebuah foto prewedding yang saya abadikan hari selasa pada tanggal 10 juli 2018 di perumahan Pt.Arun lhokseumawe. Adapun konsep yang saya sajikan adalah sebuah konsep yang simple antara pengantin dengan gaun warna biru yang di sinkronkan dengan sebuah mobil yang juga berwarna biru, maka yang harus saya atur adalah tempat yang cocok untuk memadukan antara pengantin dan mobil tersebut. Setelah saya pikir dengan matang, tempat yang cocok adalah sebuah jalanan yang kosong tanpa lalu lalang kendaraan lain, di hiasi dengan pepohonan yang serba hijau, maka tempat yang sangat strategis saya pikir ada di perumahan PT.Arun.Karena di situ memang terbentang jalan aspal yang lumayan luas di sertai dengan pepohonan yang rindang nan hijau, sehingga membuat perpaduan foto menjadi lebih fresh dan lebih elegan. Setelah saya konfirmasikan dengan pengantin tempat tersebut, dan pengantin pun setuju dengan ide saya, tanpa berpikir banyak lagi saya dan pengantin bergegas menuju ke lokasi perumahan tersebut. Alhamdulillah setelah mengeksekusi beberapa foto di area tersebut, saya merasa puas dengan hasil yang memang seperti yang sudah saya susun sebelumnya, memang foto sebuah benda yang tidak dapat bergerak, namun sebuah foto bisa menceritakan banyak perihal yang ada di sekelilingnya.
Nah... Inilah rangkaian postingan saya kali ini, jika ada yang salah mohon di maaf kan, baik dari segi tulisan, perkataan atau alur cerita, itu semua karena saya hanyalah manusia biasa yang serba kekurangan dan juga tidak pernah luput dari kesalahan.
Sekian....
Salam hangat selalu untuk semuanya...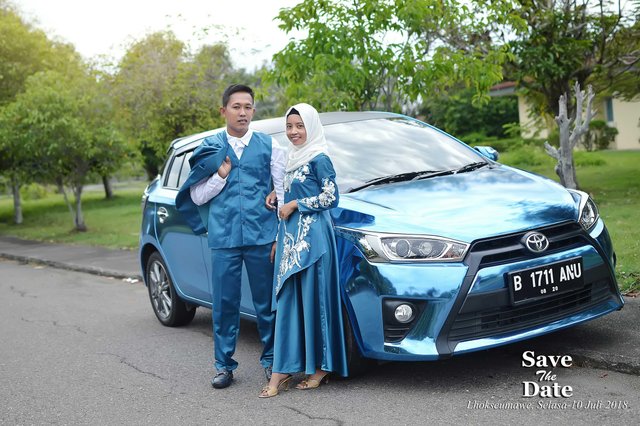 Good morning everyone ,, surely everyone is sleeping right ...? May be always happy and also always in the protection of Allah swt.
So, at this time, I will post a prewedding photo that I took on Tuesday 10 July 2018 in Pt.Arun lhokseumawe housing. The concept that I present is a simple concept between a wedding dress with a blue color in sync with a car that is also blue, then what should I set is a suitable place to combine between the bride and the car. After I thought carefully, a suitable place was an empty place with then, other vehicle passes, decorated with green trees, a very strategic place that I thought was in PT.Arun's housing. a fairly wide asphalt in accompanied by shady trees nan green, Incorporating a fusion of photos to be more fresh and more elegant. After I confirm with this place, and I agree with my idea, and I do not know anymore. Alhamdulillah after executing some photos in the area, I feel satisfied with the results that are indeed as I have compiled before, it is photos that can not move, but a photo can tell a lot of things around him.
Well ... This is my series of posts this time, if there is something wrong please apologize, either in terms of writing, words or story line, it's all because I'm just ordinary human who lack and also never escape from mistakes.
So ....
Warm greetings always to all ...
| | |
| --- | --- |
| Category | PreWedding Photography |
| Settings | 1/2000sec F 2,2 |
| Camera | Nikon D3200 |
| Lens | Nikkor 35mm afs |
| Iso | 200 |
| Location | Lhokseumawe-Aceh-Indonesia |
| Shoot | @aryshutter |
Thank you for visiting my photography blog.
Regards...